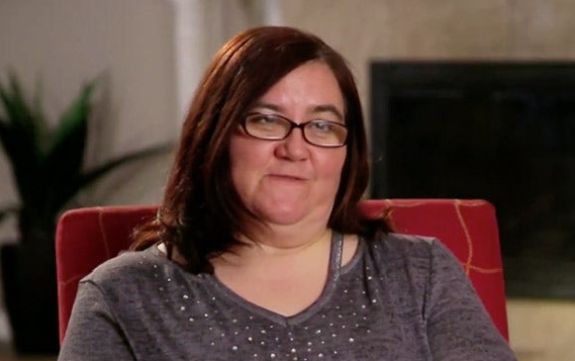 Danielle Jbali says she's in danger of losing her home, and she's reaching out to 90 Day Fiance fans to ask for financial help.
The Season 2 standout— who is now divorced from her husband from the show Mohamed Jbali— took to social media over the weekend to announce that she is unable to pay the rent due on her mobile home.
"I feel like no matter what I do I can never get ahead," Danielle wrote in a message posted to her private Facebook. "I am trying to go to school to better myself and get a better job. I have even had to get another job because the employer I work for now cut my hours to 20 hours…"
Danielle also wrote that she may have to leave her mobile home.
"I bought this trailer hoping that it would be a home for me and my girls," Danielle wrote. "I will probably have to leave my home because I had some financial issues the last few months and got behind on my lot rent…I work my tail off doing Cameos [which are made-to-order videos for fans, by the way], what hours I work, promoting products and selling autographs to come up with money."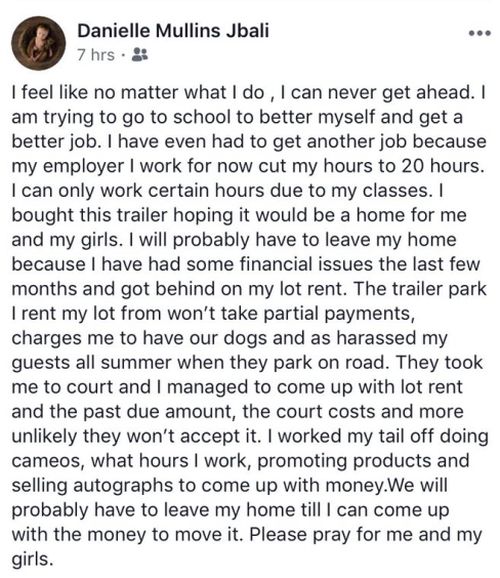 A fan of the show who saw Danielle's Facebook post created a GoFundMe page to help raise money for Danielle, but some of the show's viewers scolded Danielle for asking for handouts.
"Danielle went back to school, took on a second job and is trying to do the right thing and rise above her past troubles and should be applauded for that," the GoFundMe page's description reads. "I truly believe that the real friends she's made along the way, myself included, would be willing to help a friend in need. Let's all get together to help her a little so that she will be able get her head above water once again."
After the page was posted, Danielle took quite a lashing on social media. She later posted a lengthy message to Facebook to explain the fundraising page, and to break down her current financial crisis.
"People are judging really hard and don't know the whole story. So I will set the record straight," Danielle wrote. "I work two jobs and go to school full-time trying to better myself so I can get a better job. One job I work 8 hours as a home health aide and the other job I take care of mentally handicapped adults and that job cut my hours down to 20, due to only 1 client being at the house and a full-time staff came back to work from medical leave.
Danielle explained that she is currently battling with the management of the mobile home park she lives in with her daughters.
"I got behind on lot rent for my home that I own," she wrote. "I have had two replace one of my bathroom floors due to black mold, I had two water line breaks, and then my hours got cut. The mobile home park took me to court and I came up with the money but it is the matter of them accepting it or not. If they don't accept it, I will have to leave the home I own and find a way to move my trailer out of the park.
"I found a place to put it but it is coming up with the money to move it. I did not ask for money in my original post, I asked for prayers. I had a friend approach me to see if she could start a go find me. People are judging before they know all the facts."
As Starcasm reported, the people who star on "90 Day Fiance" are paid much less than the stars of a lot of other reality TV shows. The site reports that the "90 Day Fiance" couples are paid only $1,000 per episode for their first season with the franchise, and an additional fee (sometimes) to appear on the season's Tell All episode. Danielle is likely not receiving any money from the show now, since she is not currently on TV.
At press time, the GoFundMe page had only raised $122 of its $10,000 goal.
RELATED STORY: "90 Day Fiance" Star Danielle Jbali Addresses Her Alleged Hygiene Issues, Reveals Why She Still Uses Ex-Husband's Last Name & More