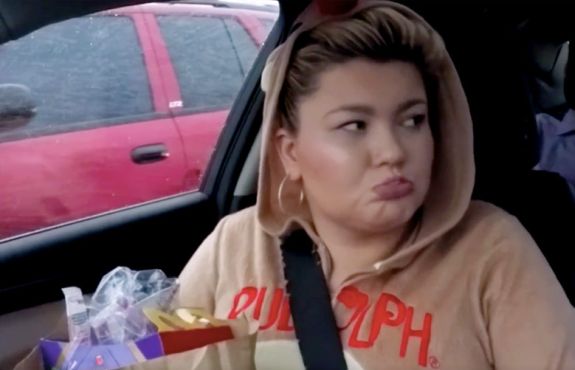 The holiday season is upon us, which means you're probably trying to find the perfect gift for everyone on your list. Instead of going to Old Navy and buying one of those weird fleece jackets for your sister (that never actually do anything other than make you sweat and smell weird), or re-gifting that stale tin of Christmas cookies, why not get them something they really want: like a poster-sized Teen Mom mugshot… or a Barbara Evans framed portrait!?
The Ashley has scoured The Interwebs to find the funniest, most amazing (and sometimes downright creepy) Teen Mom OG and Teen Mom 2 products! These delectable selections will make the perfect gift for the MTV reality TV fan in your life!
3-D Jenelle Evans Mugshot Canvas Art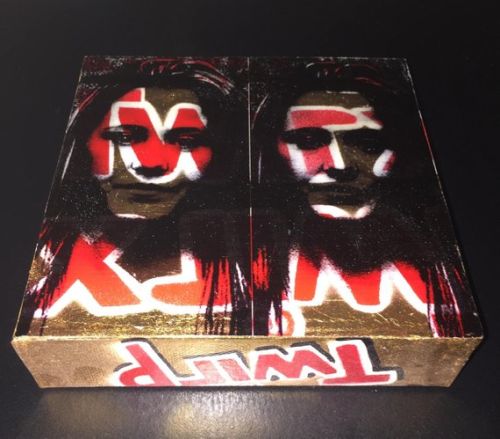 All of Jenelle's mugshots are truly works of art, but this masterpiece takes things to the next level! This artist has created a 3-D canvas painting of one of Jenelle's many mugs, and finished it in fine gold leaf paint. This is a one-of-a-kind piece, so whoever you gift this to will be the only person in town who can proudly mount this over their fireplace!
Buy Jenelle's 3-D Mugshot Art here!
Barbara Evans Quote Stickers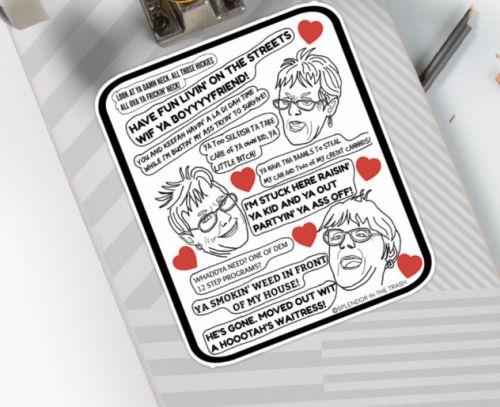 Gift these amazing Babs stickers to the "bitch of a daughta" or boooooyfriend in ya life! These sticker packs come in three sizes and can be placed on anything from "ya phone" to "ya laptop" to the "windows of ya cahhhr!" They feature some of Barbara's most famous quotes!
Buy the Babs stickers here!
Farrah Abraham Face Mask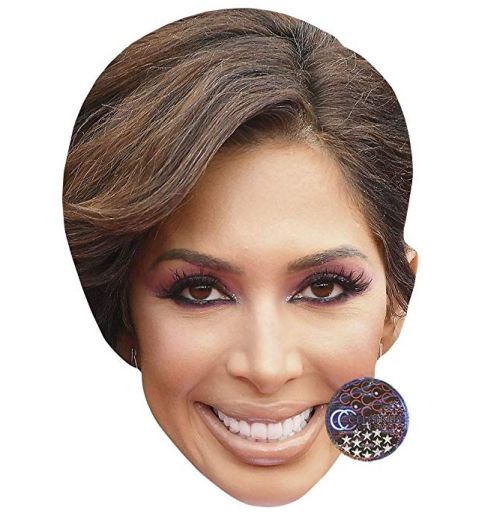 Farrah Abraham changes faces all the time, so why shouldn't your friends!? This life-sized cutout mask of the Backdoor Teen Mom's mug can be worn when your pals want to disguise themselves, or when they want to pretend to be the "Number One Celebrity In Our Nation!" (Sorry, the mask does not include detachable "Froco" sunglasses!)
Order the Farrah mask here!
"Jesus God, Leah" Coffee Mug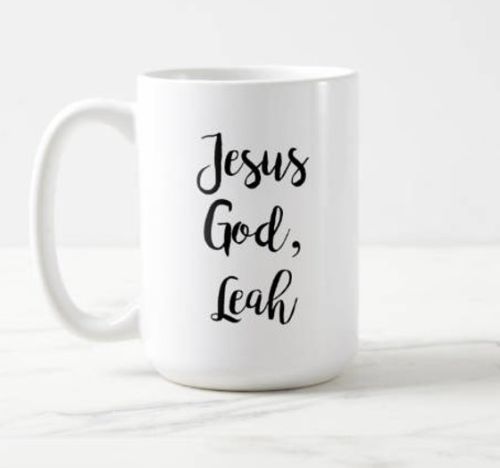 Your friends can start their morning off right by sipping from this amazing coffee mug! Featuring Corey Simms' most-famous saying, this cup will make them the envy of everyone in the work break room!
Order the "Jesus God, Leah" coffee mug here!
Jenelle "Feather" Flask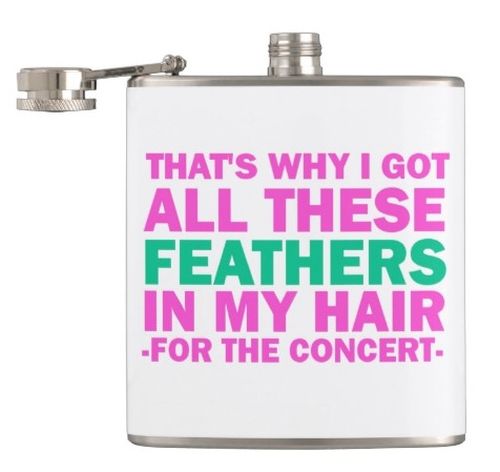 Don't you hate it when you get to the Ke$ha concert and you have to pay the high cocktail prices of the concert venue? Buy this rad flask— which features a quote from the infamous "Kesha Concert" episode of 'Teen Mom 2'— for your pal and you guys can get all sauced up without having to go so broke that you have to steal your mom's credit cards!
Buy the "Feathers In My Hair" flask here!
Maci & Taylor McKinney Bar Shirt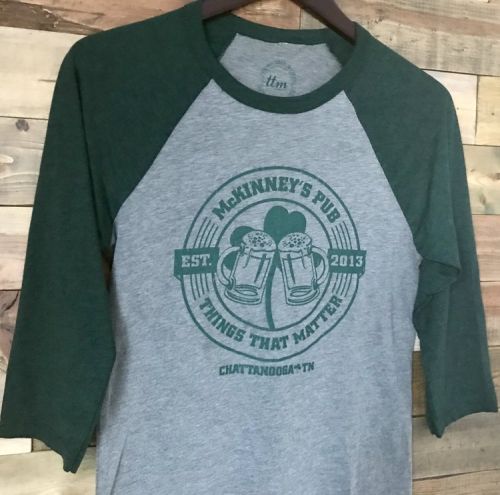 'Teen Mom OG' fans always joke that Maci and Taylor drink so often when they're home, that they may as well live in a bar. It appears that the McKinneys agreed because they added this "McKinney's Pub" shirt to their Things That Matter offerings!*
*Twelve pack not included
Buy the McKinney's Pub shirt here!
Briana DeJesus "Baby Daddy" Mug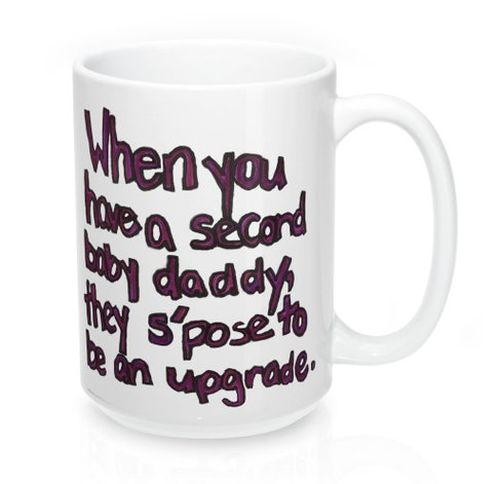 Did your friend hump a random guy she met in a club, only to discover she got knocked up by a loser…again?! This coffee mug would make a great gift for her! Briana DeJesus famously declared that you're supposed to upgrade each time you gain a new baby daddy, just as this coffee mug proclaims!
Get the Briana "Baby Daddy" mug here!
Giant Amber Portwood Mugshot Poster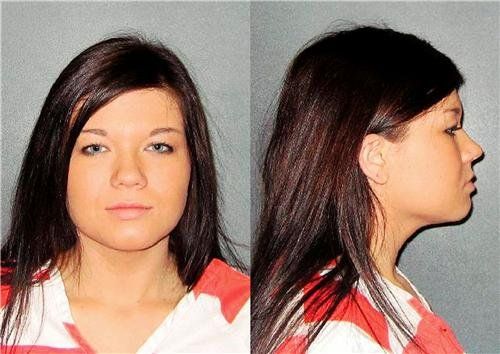 Let your guests feast their eyes on this glossy wonder while they feast on Christmas dinner! This poster features Amber's prison mugshot and is available in multiple sizes, including 40 x 60 inches! That's a whole lot of mug! It's suitable for framing and/or hanging on your dining room wall!
Get the Amber mugshot poster here!
Barbara Evans Framed Portrait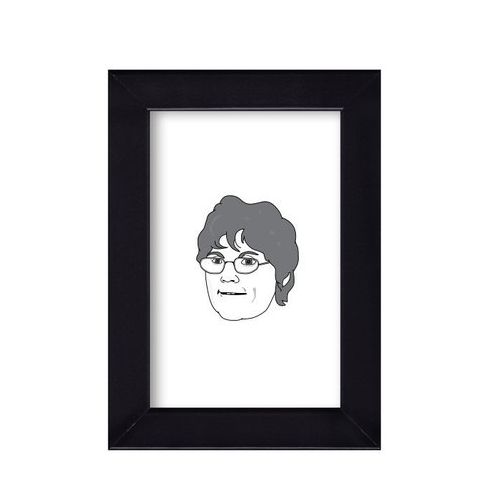 No home is complete without this beautiful, hand-drawn portrait of everyone's favorite 'Teen Mom 2' grandma, Babs! Get one for everyone on your list because, honestly, nothing says "happy holidays" more than Barbara's face!
Get the Barbara Framed Portrait here!
Life-Sized Farrah Cut-Out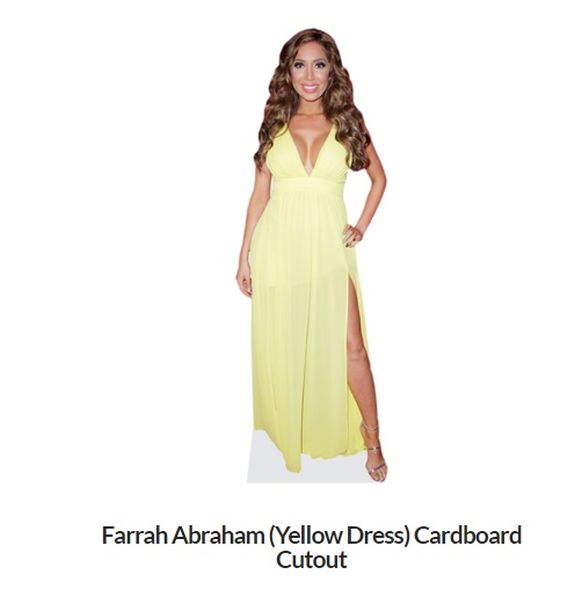 Place this true-to-life cardboard cutout Farrah next to the Porta-Potty at your next holiday party! Celebrity Cutouts also offers this stunning Farrah cutout in a mini version (great to place in the middle of your Christmas dinner table!) Unfortunately, the company has yet to release its life-sized cardboard Debz OG, but we can only hope to have one by next Christmas!
Get the life-sized Farrah cutout here!
RELATED STORY: 5 Christmas Gift Ideas for the 'Jersey Shore' Fan On Your List
(Photos: MTV, Zazzle, Etsy, Celebrity-Cutouts.com, Redbubble,