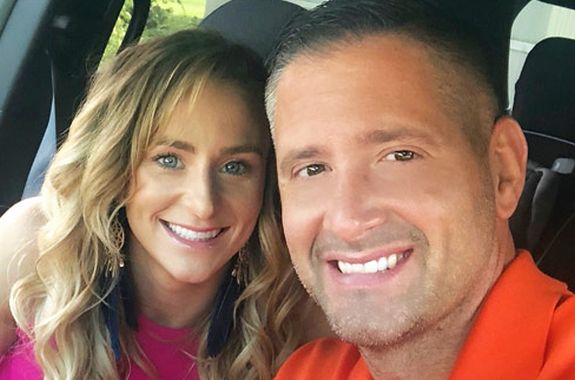 After a temporary breakup, Teen Mom 2 star Leah Messer is back together with her boyfriend Jason Jordan, and the couple recently spoke out about what caused their split, and how they are making their relationship work.
As The Ashley previously reported, Leah and Jason broke up about two months ago. At the time a source told Us Weekly that the couple's relationship "just wasn't working." Leah later elaborated in an interview with Hollywood Life.
"I'm not saying Jason's not the right person," she told the site on November 5. "He wasn't in a great place in his life, and it is what it is."
By Thanksgiving, though, the couple was smiling together for a family portrait, along with their four kids. (Leah has three daughters while Jason has one son.) During an episode of her Life Reboot podcast (that was obviously recorded while she and Jason were broken up), Leah explained what went wrong with their relationship.
"As the relationship grew, I found myself being way more needy or co-dependent on [Jason]," Leah said. "I felt like I needed him around. I found myself caught up and so consumed in his life, so I really had to hit the reset button…it was all about that person and doing everything for them. It was taking more from me than it was giving….I felt like everything was getting chaotic. When I finally broke off the relationship it was like taking a deep breath. I just felt a sense of relief."
But Jason was apparently not ready to call it quits with Leah.
"It doesn't help when they're like, 'I'm going to do whatever I can to get you back,'" she added.
Judging by their recent Instagram post, Jason's plan to woo Leah back worked. On Tuesday, Leah shared a picture to her Instagram of Jason kissing her cheek.
"Find someone that knows you're not perfect but treats you as if you are," Leah wrote in the photo's caption. "We rise above all that is stacked against us. I love you so much! Where have you been?"
When a fan asked Leah in the comment section what she meant by having everything "stacked against" her and Jason, Jason responded, explaining the hardships that come with dating a reality TV star.
"Just to clarify because I usually don't respond to anything, but with her three, my child, TV, tabloids, rumors, her travel and work, my work, friends and family, and exes, it's not a simple love story," Jason wrote. "People have baggage and sometimes behaviors have to change on both sides and it takes lots of work and patience and time to make the 'love story' happen. I hope that makes sense."
"You're right, babe," Leah responded in the comment section. "It's definitely not easy but it's worth it. We have something special and we both know that. There's a lot of things added to our relationship that's just not found in your typical relationship. We got what not everyone finds and I'm so blessed God sent me you!"
(Now we know what Leah meant when she said the "schools are not well in West Virginia…")
Jason chimed in again to respond to Leah's comment.
"We may not be perfect apart but we are perfect together," he wrote. "I love our blended family and our kids mean the world to me! I can't wait to see what our future has in store."
Leah has not dated much since she her divorce from her second husband, Jeremy Calvert, in 2015. (She had already divorced her first husband, Corey Simms.) Like Leah, Jason is also divorced. According to online records, Jason was married to his son's mother from June 2014 until October 2017.Leah and Jason began dating this spring.
(Photos: Instagram)