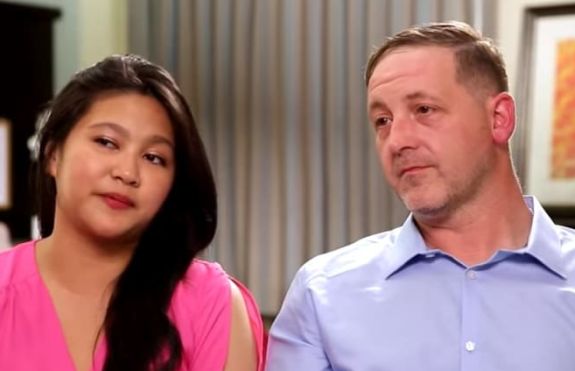 90 Day Fiance stars Eric and Leida Rosenbrook say they're through with reality TV!
The couple, who is starring on the current season of the hit TLC show, recently declared on Instagram that they are quitting the show, due to Leida and her family receiving death threats from "fans" over her behavior on the show.
"No, we won't be on the next season," Leida wrote in a note posted Instagram Stories earlier this week. "[The show's production company] Sharp [Entertainment] doesn't care about the death threats. We will deal with everything on our own."
"We put our lives in danger!" a tearful Leida later tells the camera in a video posted to Instagram Stories. "We put our lives on the front line! This is not fair, this is not worth it at all! We are never going to do this [show] again! I'm telling you guys, we are never going to do this again."
She also promised to start spilling tea, as soon as she was legally allowed to do so.
"I swear to God, as soon as the contract is done, we will reveal everything that they never showed on the show!" Leida promised.
"How could people wishing me die?" Leida cried in the video. "This is not fair! I'm a human too! When we signed up for this, we didn't know they were going to portray us that bad!"
Leida has received backlash from fans ever since she made her debut on the series at the start of this season. Fans have watched as Leida demanded that Eric stop paying child support to his ex-wife for their minor daughter, because she believes the child support is the reason Eric can't afford a nice place for them to live.
She even broke down in one of the recent episodes, screaming at the top of her lungs, "No, No, No! I don't like it!! I don't like it!!"
She also tried to kick Eric's older daughter, Natasha, out of the apartment she has shared with Eric, to name just a few incidents of her bad behavior.
In the video, Leida slammed fans who said that she was making up the death threats to get attention.
"Death threats are not acceptable under any circumstances," she said "If I made those death threats by myself I wouldn't let the authorities get involved. Whoever says, 'Boohoo Leida. This is on you,' thank you so much and I pray you will never experience the same way like I have."
Leida even said her young son has been threatened by creepy fans of the show.
"My son doesn't deserve to be killed or kidnapped. I keep it real and never lie. I value honesty and hope it will help me at court later," she said.
Eric later addressed the threats on his own account.
"I get why many of you hate on us so much that feel the need to contact us and spew your hate, but for the love of God, leave her son alone! He doesn't deserve any of this from any of you!" he pleaded on Instagram.
Leida and Eric's season of "90 Day Fiance" is currently airing Sundays on TLC.
Watch Leida and Eric plead with fans to stop threatening them in the Instagram video below!
RELATED STORY: Anfisa Nava Confirms She & Imprisoned Husband Jorge Are Done With "90 Day Fiance" 
(Photos: TLC)