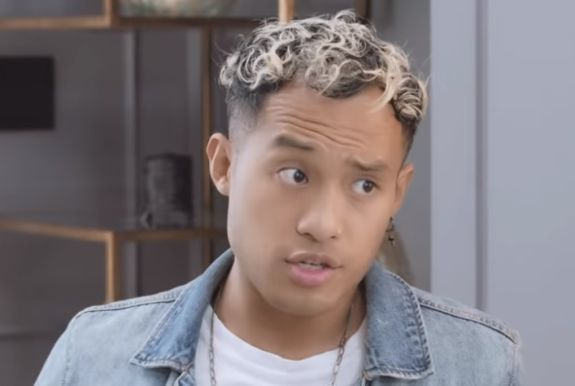 We're just two episodes into the seventh season of Vanderpump Rules, and we already know that Jax Taylor seemingly changed, got engaged to Brittany Cartwright — and more importantly, James Kennedy and Lala Kent are still not friends again.
Jesse Montana — who joined the Bravo reality series in Season 4 alongside Lala, Faith Stowers and Brittany — appeared on Sameera Shah's new Sip With Sam VODcast earlier this week and dished on a variety of topics, including the infamous "Pasta" fight between Lala and James!
(In case you missed it last season, the self-proclaimed "White Kanye" went crazy on Lala after admitting to James she "ate all his girlfriend's pasta.")
Jesse explained how James and Lala's fallout was kind of "about the pasta," but that it also might have something to do with James' girlfriend Raquel Leviss' possible issues with Lala.
According to Jesse, the trouble began when the gang was at SUR and Raquel ordered a delectable pasta dish. Jesse recalled her leaving for about one or two hours, letting her meal get cold and "plastic looking" … and allowing both Lala and Jesse to indulge.
"I go, 'Lala, who's pasta is that?'" Jesse said. "She was like, 'Baby, it's all ours!' Lala and I literally went to town. We chowed down. It was amazing. There was probably like, one strand of pasta left."
So, no, world, according to Jesse, "pasta" wasn't a code word for "cocaine" like some fans wondered. However, James' history with 'The Row' star could have possibly triggered Raquel, according to Jesse.
"James and Lala were a very quick boom, it happened, we're over it. Like, literally, it was not as glorified as everyone thinks it was. They were not full-on boyfriend and girlfriend, nothing like that," he explained.
"It was, they hooked up, James was into Lala, James didn't have any other girl in his life at that point, and that's what it was. The dead horse has been beat over and over again, that it was a bigger relationship than it really was, and I think even Raquel wonders if it really was — because when Lala and James were still friends, for a new girlfriend I would be territorial as well."
So basically, it sounds like it was more about the Lala and less about the pasta.
Watch the full 'Sip with Sam' interview video below!
RELATED STORY: Jax Taylor Is Reportedly the Highest Paid Cast Member On 'Vanderpump Rules'
(Photos: Sip with Sam; Bravo)