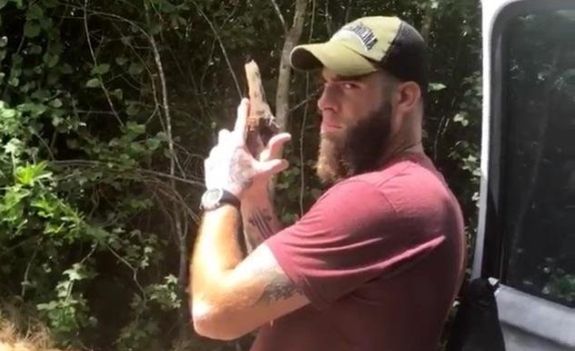 David Eason was spittin' mad after he got a visit from the Secret Service on Friday, and says he's ready to shoot anyone who dares to come to The Land– no matter who it is!
Jenelle Evans' husband got himself into hot (swamp) water with the United States Government after he posted a video to his Instagram on November 30, showing himself bump-firing a gun. He captioned the video, "They will say I've gone off the deep end just wait for it! #bangbangbang #bumpfire #bumpthis#nancypelosi #trump #maga"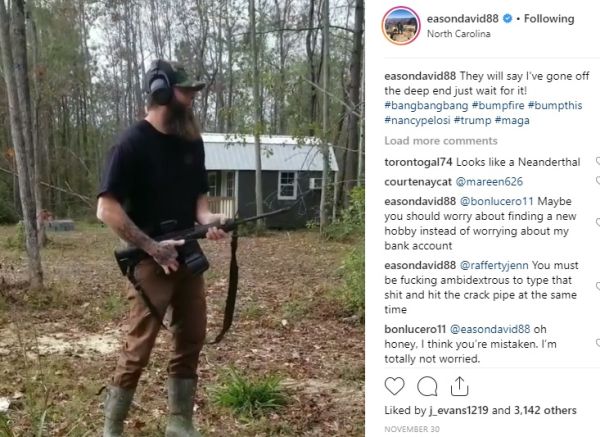 In a video posted to his Instagram Stories on Friday, David claimed that, because he hashtagged the names of President Donald Trump and politican Nancy Pelosi, the Secret Service were sent to The Land to investigate if it was a true threat against the politicians' safety.
"Instagram, since you're so f**king mad, send a f**king SBI to my house. I'm gonna upload a lot more gun videos. And you know what? I got a gun on my hip! F**k you, SBI! Since y'all are so concerned that I put #Trump and #NancyPelosi why don't you go tell them bitches not to start banning guns! Then maybe people won't put hashtag their name."
Although this story seems so far-fetched that it can't be true, it actually is. The Ashley can confirm that David did get a visit from Secret Service on Friday on The Land. (It gets even stranger…wait…)
David claims he told them to leave, and The Ashley can confirm this is true, too. He did, indeed, tell them to get off his property because they didn't have a warrant to be on The Land.
"Next time you wanna call them lil' bitches to my house, the same thing's gonna happen: I'm gonna tell them to f**king leave…unless they have a warrant," David claimed in an Instagram Stories video posted later on Friday. "And for you Secret Service officers, I'm very flattered that you come on out to my house just to check things out and all, but don't be a f**king bitch. I'm gonna start postin' guns and puttin' #trump every f**king time. So go f**k yourself!"
David then showed off his extensive stockpile of weapons and ammo, telling everyone he has the capability to shoot them all the way to KieffaVille, if he wants to.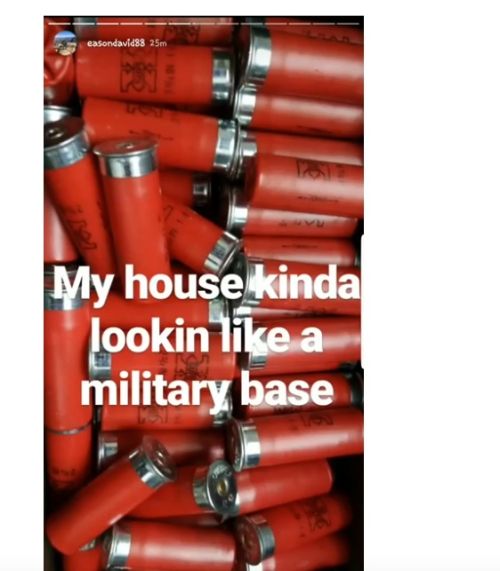 "I guess y'all didn't know—I keep stockpiles of ammunition…just enough to blow s**t into pieces on any given day or situation!" David said in the video as he panned over his ammo. "I also keep stockpiles and large capacity magazines of everything. I don't know what I don't have a stockpile of ammunition for. I've also got some poison dart frogs…"
David then posted a video of him shooting at a target. He captioned the photo, "@RealDonaldTrump met your Secret Service friends today. Not sure what they wanted told em to f**king leave!"
He then stated that he had been leaving the front gate to The Land unlocked, which is why the Secret Servicemen were able to get on the property.
"Now you Secret Service mother**kers wouldn't have come down here if my gate was closed," David said. "And if you did, I would have been shootin' at you because I wouldn't know who you was. You gonna come back? I don't think so."
David acknowledged that this may be taken as a threat against the Secret Service.
"You can be mad, you can take that as a threat if you want to," he said. "But you already know that anybody who comes on my property that is trespassing is liable to get f**king killed. Let that be a warning to anyone who wants to look up my address and come to my mother**king house. Anybody."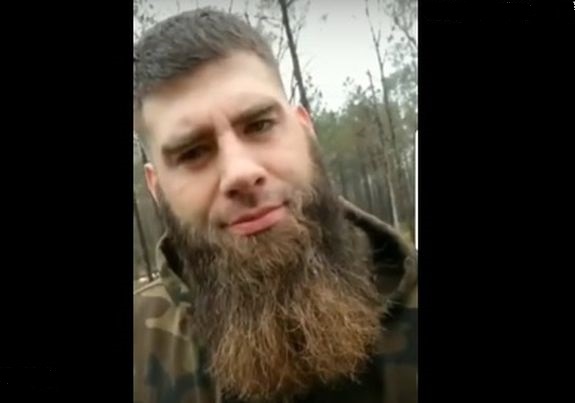 That apparently goes for animals and/or crackheads too!
"I've got guns for target practice, huntin' fishin', I've got guns for self protection and I've got guns for shootin' crackheads. I've got guns for shootin' snakes, bears, I've got everything," David said. "I don't care if you're the police, if you're the mother**king Swat Team, if you're the President himself, my mama, I don't care who you are. You don't come on my property unless you call me first. From now on, the gate is always locked."
He then issued another warning to anyone who "wants to come to my house and act like you're a fan or just a random person lookin' around… I promise you we're not gonna be friends."
After posting his online rant videos, David posted a creepy photo of himself snuggling up with a gun. In the caption of the photo, he issued another threat.
"Thanks for the visit from your secret service friends today @realdonaldtrump," David wrote. "I told them how much I like you except the fact you want to ban bump stocks and take guns away from people just because someone "red flagged" them. Then I told them to get the f**k out of my house and don't ever come pass my trespassing signs again. Like holy s**t, I thought your people were all about border security. Well there is a border around my land that is protected from intruders by lethal force also, just like your house. Dont expect my gate to ever be open again. I hope and pray that nobody ever tries to trespass on my property as they will be met with fire and fury, the likes of which they have never seen before.
#stayoffmyland#notrespassing#donttreadonme #posted#privateproperty"
In the comment section of the post, David denied threatening Donald Trump.
"When or where did I ever threaten the president?" David wrote. "I'm speaking or whoever comes on my property whether it's a crack head, alien or SWAT team. You better be invited or have a fu**ing warrant, other than that I'm constantly sitting here with my hand on my gun wishing a mother f**ker would try something."
This is, of course, not the first time David has threatened to hurt or shoot people. In October, he straight-out threatened Randy Houska, the father of Jenelle's 'Teen Mom 2' co-star Chelsea, after Randy commented on the domestic violence incident that occurred between Jenelle and David on The Land earlier that month.
"So Mr. Randy. Let me ask you a question, punk," David said in a frightening video posted to Instagram in October. "When's the last time you had your jaw realigned? You need to get it straightened up? I'll do it for ya, free of charge. Come on down to my dentist office, bud. I can even pull teeth. I can realign your jaw!
"I've got guns. Don't f**k with me," he added.
As The Ashley has previously reported, David is no longer allowed to appear on 'Teen Mom 2' or participate in the filming of the show in any way, due to a homophobic rant he posted to Twitter in February.
The Ashley can confirm that Jenelle was not filming for 'Teen Mom 2' Season 9 at the time of the Secret Service visit, and no MTV crew members were present.
Jenelle has yet to comment publicly on her husband's latest shenanigans. The Ashley will update this story when more information is available.
A Twitter user posted some of David's Instagram Stories videos to YouTube. You can watch video below. (Be aware, though, that the video contains plenty of naughty language.)
RELATED STORY: Jenelle Evans' Husband David Eason Threatens Chelsea Houska's Father Randy in Creepy Video: "I Can Realign Your Jaw!" 
(Photos: Instagram)