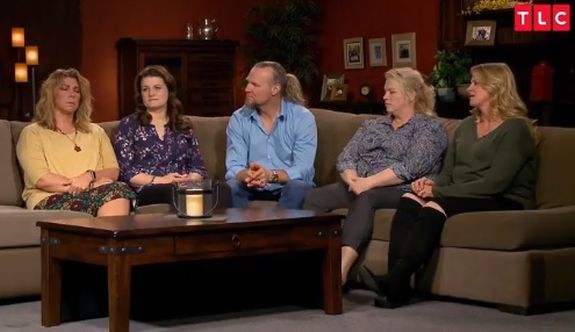 TLC just released the first trailer for the brand-new season of Sister Wives, and it seems that Kody Brown and his Crew are more unhappy than ever!
In the first sneak peek of Season 13, which premieres next month, we see Meri crying, Robyn apologizing, Kody basically making major life decisions for everyone in the family and the wives squabbling with each other while trying to look like they're happy.
So…it's basically business as usual on 'Sister Wives.'
The Season 13 trailer starts with Meri asking the family for money to pay for her Bed 'n' Breakfast Dreamhouse. After getting a loan approved for the purchase of the Utah house— which has been in her family for generations– Meri tearfully pleads with Kody and the wives to give her money for use for the down payment on the house. Kody tells her that they simply just don't have the cash. (Apparently those TLC paychecks hadn't come in yet?)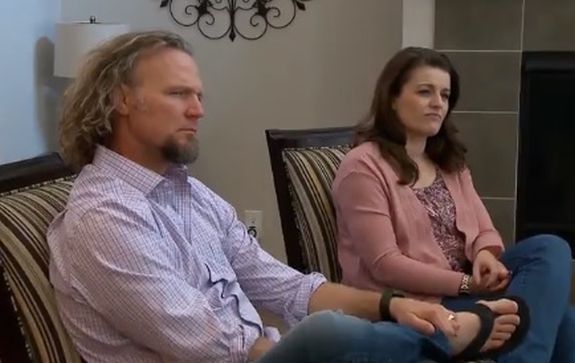 Meri's tears quickly fade and she comes at the family angry, telling the cameras, "part of me just wants to stand up and say, 'OK, fine, I don't need you guys!'"
(Meri has been hawking leggings for Lularoe for years now and is one of the company's top sellers. She likely makes enough from that venture to pay for the house on her own without using "family money.")
Robyn, as per usual, just starts apologizing.
Meri later confronts her sister wives about their general dislike of her.
"I feel like there's a lot that we need to figure out," she tells Christine. "I mean, you don't feel comfortable with me around."
Christine doesn't appear to deny Meri's claims, and Janelle later hints that they are no longer pals with Meri.
"If you're friends and the friendship ends, you go your separate ways," she tells the group. "It's a little bit different when you're sisters or sister wives. You're still all gonna come back for the birthday parties and SUCK IT UP and do what's best for the family."
(Did you hear that one, Meri? I believe Janelle was talking to you!)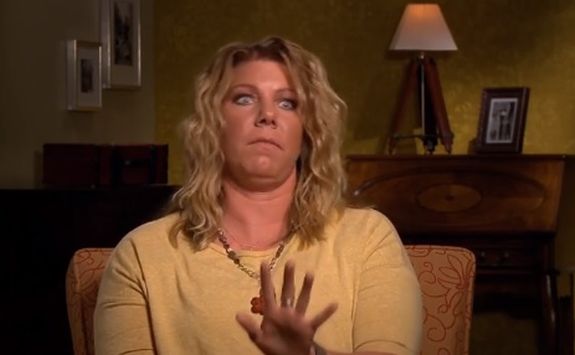 The one happy part of the trailer involves eldest Brown daughter Aspyn getting engaged, and later married, to Mitch Thompson. However, Aspyn's wedding bliss seems to be quickly shattered when she finds out that her family is moving from Las Vegas to Flagstaff, Arizona.
Kody explains that, while he's enjoyed torturing the city of Las Vegas with his man-pony, he has always wanted to move back to Utah. Somehow, though, his desire to move to Utah transforms into a desire to move to Northern Arizona.
In true Kody form, he logs into Microsoft Power Point and concocts some charts to convince his wives to move to Arizona, away from the Vegas Cul-de-Sac of broken dreams that took them years to build.
(Kody's charts are downright hysterical. They legit just say, "What is Best for Our Family: Where We Go One, We Go All." He must have found that saying inside his fortune cookie or something.)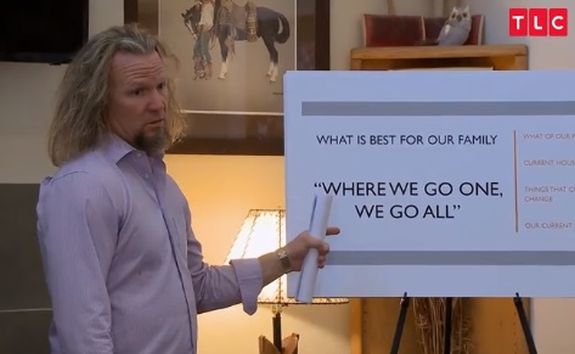 The wives– other than Christine– are totally unhappy about Kody's proposition. Janelle downright refuses to move, stating that her son Gabriel is in the middle of his junior year of high school and it would be cruel to uproot the boy again.
Kody– whose hair is starting to look more like RiffRaff's from 'The Rocky Horror Picture Show' each season– basically tells his wives "tough luck," announcing to the cameras that he's going to move to Arizona no matter what.
"Eventually I'm going to lead to places they might now want to go, but I'm going to lead," Kody says.
Somehow, Kody manages to get the wives on-board with the move, and we watch as the Brown clan packs up their stuff (and wet bars) and heads for Arizona, much to Aspyn's and Gabriel's dismay.
"I'm really just fuming inside," Gabriel tells the cameras. "For me, this move is just awful."
"I just feel like they're running away from something and I don't know what they're running away from," Aspyn says.
As per usual, Kody quickly becomes overwhelmed and throws a tantrum during the move.
"I'm slammed. We're moving from our beautiful home!" Kody tells the cameras. "I could sit down and cry."
As The Ashley has previously reported, the Brown family has been living in Arizona since this summer, with Kody spending $820,000 in September to purchase land in Flagstaff to build his family's new Cul-de-Sac of Broken Dreams!
The new season of 'Sister Wives' premieres Sunday, January 20 on TLC. Watch the season trailer below!
RELATED STORY: 'Sister Wives' Star Kody Brown Shells Out Over $800K To Build His Family's New Homes in Arizona
(Photos: TLC)