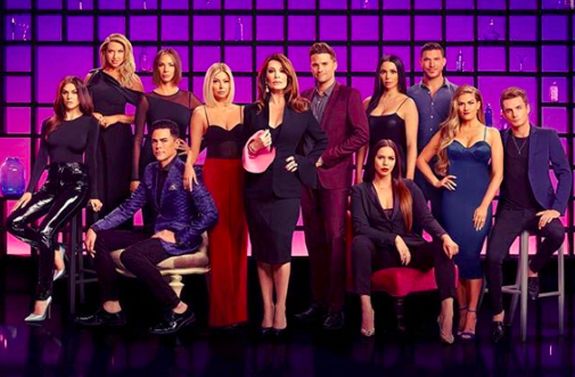 While serving (and occasionally throwing) their share of drinks, appetizers and entrees over the years, the Vanderpump Rules crew also found some time to take a page from the Lisa Vanderpump book of business smarts and start a few ventures of their own.
(And no, said ventures do not involve fighting, having a meltdown or being unfaithful to your significant other… at least not yet.)
Here's a look at what the current and former SUR staffers have been doing to supplement their income/extend their 15 minutes of fame long after the Bravo cameras stop rolling.
(Note: This list does not include the casts' modeling/singing/acting/Instagram-hawking gigs—this is strictly business!)
Tom Tom Restaurant & Bar:
While Lisa and her husband, Ken Todd, undoubtedly played the biggest role in bringing Tom Tom into existence, the bar's namesakes, Tom Sandoval and Tom Schwartz, have some stake in the company as well. In addition to their monetary contribution to the project, the Toms were tasked with curating some of the bar's signature cocktails and picking out the staff uniforms.
Straight Up With Stassi Podcast:
Stassi Schroeder found an outlet where she can put her quick-wit and filterless personality to use through her weekly podcast. Described as "a biting and hilarious look at the world and everyone in it," the podcast frequently welcomes guests from other Bravo shows, including some 'VPR' OGs.
Pucker & Pout:
Katie Maloney-Schwartz's lifestyle and beauty site has received a mention or two in past episodes of 'Vanderpump Rules' and the business appears to be growing. In addition to the site's countless articles and listicles, Pucker & Pout also boasts a lipstick collection: Pucker & Pout x Julie Hewett.
James Mae T-Shirts:
First launched in 2014, Kristen Doute re-launched her line of vintage-style graphic tees this summer. The brand offers men's and women's tees and tanks, some featuring reality TV references.
Next Level Basic Book:
As The Ashley previously told you, Stassi has adapted her self-proclaimed "basic b*tchness" into a handy guidebook for others to enjoy/hate-read. Published by Simon & Schuster, the book will be released next year and is currently available for pre-order.
Give Them Lala Makeup Line:
Lala Kent's cosmetic line of lipsticks, glosses, highlighters and more is frequently promoted on the star's social media pages. Some of the line's 'Vanderpump'/Bravo-inspired product names include Private Jet, James, Rules, NDA, Pumps and Andy.
Scheananigans Podcast:
Scheana Shay promises her weekly podcast "brings the party to you," which she does by welcoming guests from the Bravo family and beyond.
Witches of WeHo Wine:
Kristen, Katie and Stassi announced in November that they will be releasing a potion-labeled basic witch pinot grigio with Nocking Point in early 2019.
Facelixir Skin Products:
Ariana Madix is the co-creator of this vegan and cruelty-free skincare line. Little is known about this new product at the moment, though the brand's Instagram page claims it will launch this year.
Just Add X Mixers:
Jax Taylor recently announced that this line of cocktail mixers will launch in 2019. According to the Just Add X (See what "JAX" did there with the product name?) website, in addition to being a great pairing with your favorite liquor, the product is "refreshing as a virgin mock-tail," though we doubt Jax nor anyone else on the cast can personally attest to this.
https://www.instagram.com/p/Bqz4vCJDBpb/?utm_source=ig_web_copy_link
Meemaw's Beer Cheese:
Jax and his fiancé, Brittany Cartwright, announced their cheesy new business on this week's episode of 'Vanderpump Rules.' Named for and inspired by Brittany's very own meemaw, the cheese, beer and spice concoction will be making its way to the West Coast soon.
"Meemaw, she has her beer cheese that she's been selling for a long time, so Jax and I are just trying to take it to the next level," Brittany told Bravo's The Feast. "So we are working with a couple different companies in LA to try to get it going and it's going to be on this season… Meemaw's beer cheese. It's going to be up and running soon!"
RELATED STORY: Jax Taylor is Reportedly the Highest Paid Cast Member on 'Vanderpump Rules' 
(Photos: Bravo, Instagram)