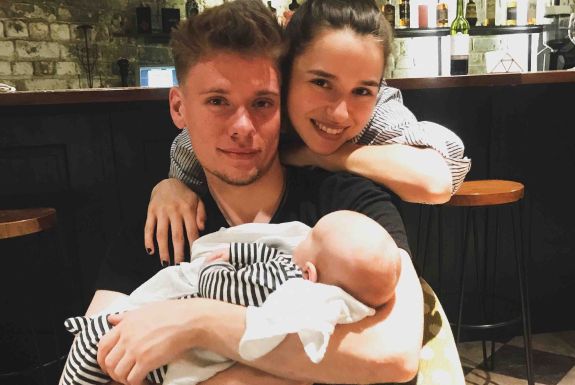 Steven and Olga Frend are asking their fans to send them some money this holiday season!
The 90 Day Fiance couple took a page out of Daniell Jbali's playbook and created a GoFundMe fundraiser page for themselves in hopes that fans will donate money to them that they can use to pay their bills and take care of their young son. (As The Ashley previously reported, Danielle started a fundraiser to raise money to pay her rent and ended up getting enough donations to cover her bills.)
On the fundraising page, which Steven created on Thursday, Steven explains to fans why they should donate money to him and his family.
"Drastic times call for drastic measures, as myself (Steven) am only 21 years old," he wrote. "Trying my hardest to get my life on the right track and I feel as if I'm doing a great job. But we face certain hardships."
Steven explained that Olga (who hails from Russia) is not able to work, and that he has accepted an apprenticeship to become a fire sprinkler installer. The apprenticeship only pays $16 an hour, according to Steven, who added that he is also taking classes at a community college.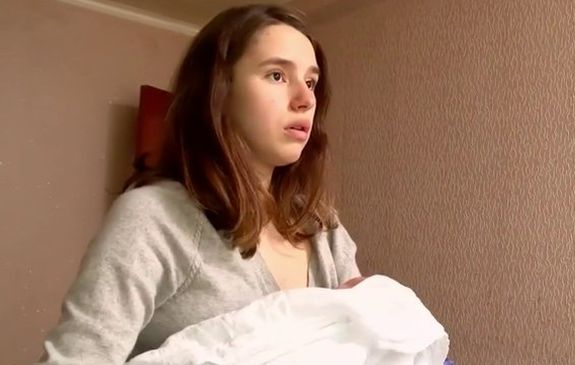 "Starting out at $16 an hour isn't the best but in the long run it'll do us okay…But $16 an hour isn't enough to support a family of 3 as well as taking care of home bills, gas, etc," Steven wrote. "I'm very nervous on how things will play out but I have faith God will take matters into his own hands. I'm not asking for a lot, in a matter of fact I feel ashamed having to make this campaign but I must do what is best to support my family."
After Steven posted the fundraising page (which has a goal set to $10,000), he was met with some harsh criticism from fans, causing him to explain why he is begging for money on the Internet.
"Since people obviously have hate over a reality show and think I should work hard for my wife instead of asking for a little help, let's go over some things," Steven wrote in an update, adding that his family lives in the most-expensive county in the state of Maryland.
"Average rent a month on this county $2,000 a month, Utilities, Car insurance, Gas, Food, Diapers and clothes for our son, student LOANS since people think I have an advantage to college," he wrote. "I can work my ass off [for] my wife and I do."
He then explained that he doesn't want to work so hard that he doesn't get to spend time with his family.
"I want time with my wife and son, no matter how much money you make in life, you'll regret all the time you didn't spend with you family because you were to busy focusing on paper," Steven wrote. "I'm only 20, I'm trying my best but I still need to be there for my family."
Steven, Olga and Danielle are not the only "90 Day Fiance" stars to publicly discuss their money issues. As Starcasm reported, the people who star on the show are paid much less than the stars of a lot of other reality TV shows. The site reports that the "90 Day Fiance" couples are paid only $1,000 per episode for their first season with the franchise, and an additional fee (sometimes) to appear on the season's Tell All episode.
At press time, the couple's fundraising page had already raised $900.
RELATED STORY: Former "90 Day Fiance" Star Danielle Jbali Asks Fans for Financial Help to Pay Rent on Her Mobile Home 
(Photos: GoFundMe, TLC, Instagram)