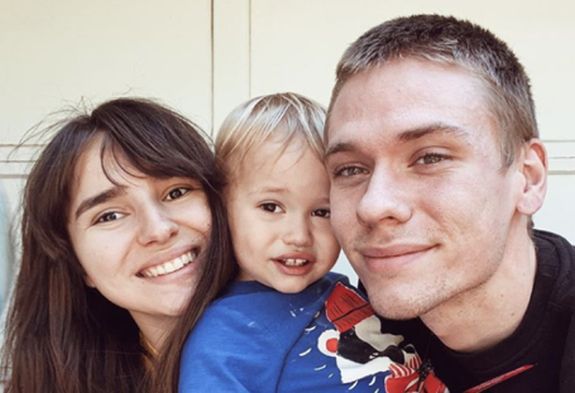 It's all over for Steven Frend and Olga Koshimbetova from 90 Day Fiancé Season 6.
The couple married in August 2019 and have a two-year-old son, Alex. Steven made it official on Instagram Sunday in a since-expired Story post shared by In Touch Weekly.
"People keep asking if Olga and I are [together] but the answer is, we went into this super blindly. There's a lot the show left out that'll have people confused but we have learned a lot about each other over this whole journey but we're better at being co-parents to our boy. We're both civil and cause no drama because our son's mental health is too priority," In Touch shared from Steven's social media post.
One day after Steven's post went up, Olga responded to curious fans on her own Instagram, telling one in her native Russian that she and Steven are no longer together.
"I have not written a post on this topic, but at the moment, as a couple, we are not together," Olga's response, which was translated from Russian to English, read. "Hopefully all for the best, but for now I don't want to comment on this."
Back in September, Olga fought back against criticism from followers when she and Alex traveled to California without Steven to visit family, and hinted at some trouble in her marriage.
"Where is Steven? Where did you go? Why did you go alone? And many many others questions I received when I told that I'm going to California," she shared on Instagram. "For those who didn't know, I have a family here. My uncle came here 23 years ago, alone, without perfect English, without friends but after all these years they have a big family which included friends and other relatives.
"As you remembered, I planned to visit them in August but then wildfires happened and I canceled my trip," she continued. "But after a few weeks my uncle invited me again and I was so excited because I couldn't spent more days sitting at home. After a car crash we literally stuck at home and unfortunately there are no Uber with a car seat and no bus for us. And another reason: why it was a good idea to go alone without Steven, because we finally started to miss each other. Spending 24/7 with each other can be really tough. Did ever go somewhere without your partner? Or do you always together?"
The couple met in 2017 when Russian-born Olga spent the summer in the United States. Just six weeks after meeting Maryland-native Steven, Olga discovered she was pregnant. '90 Day Fiancé' followed the couple as Olga retuned to Russia and gave birth to Alex, as Steven proposed, and they went through the K-1 visa process.
Before getting married, the couple faced financial challenges and turned to GoFundMe to raise money to cover their expenses. The now-closed campaigned raised $5,920 of its $10,000 goal. Per their social media accounts, Steven and Olga are both now working. Steven's Facebook lists himself as working in social media marketing while Olga shared on Instagram that she'd started a job at an eyelash salon.
A few days prior to Steven's announcement about the split, Olga posted about the couple's experience as working parents.
"Time flies. Today was the first day when Alex woke up and both parents were at work. He stayed with his grand grandma for a few hours before Daddy came home. Steven said that he didn't cry at all and was a good boy. He is so big now."
RELATED STORY: "90 Day Fiancé: The Other Way" Production Source Claims Filming Deavan Cleagg's Scenes Was "Very Difficult" Due to Her Daughter Drascilla's Behavior
(Photos: Instagram)