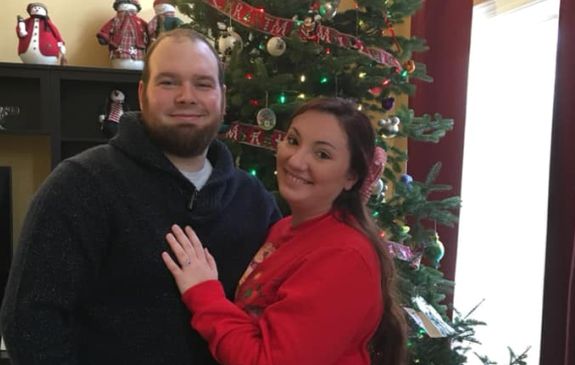 It was a very merry Christmas for former Teen Mom 3 star Alex Sekella!
Alex– who fans first met on the fourth season of 16 and Pregnant— announced on Wednesday that she is engaged to her longtime boyfriend, Tim Peters.
"A few days ago this incredible man asked me to be his wife. #happilyeverafter," Alex wrote in the caption of a collage of photos of her and her boyfriend standing next to the Christmas tree.
In the comment section of the post, Alex told a fan that Tim proposed with a tanzonite stone ring.
Alex and Tim have been dating since 2015. ('Teen Mom 3' was cancelled in 2014, so Tim never appeared on the show.) Alex has said in the past that Tim serves as a father figure to Arabella, her seven-year-old daughter with her ex Matt McCann.
Since 'Teen Mom 3' ended, Alex has kept a low-profile, unlike her co-stars Briana DeJesus and Mackenzie McKee, who have stayed in the 'Teen Mom' spotlight.
In April 2017, shortly after The Ashley broke the news that Briana was being added to the Teen Mom 2 cast, Alex posted a message to Instagram explaining why she would never want to do reality TV again.
"I've been able to start a normal life and start a REAL career that will last a very long time and benefit my children," she wrote. "I've also been able to find a real relationship that won't be picked and prodded at by the world to see. I have had a pretty drama-free life since the end of 'Teen Mom 3' and I don't believe that any of that would've happened if I had not removed myself."
Alex is one of only two girls from her season of "16 and Pregnant" who has not had another baby. (The other is Sabrina Solares, by the way.)
She has not revealed when she and Tim plan to tie the knot.
To find out what some of the other girls from "16 and Pregnant" are up to these days, click here!
(Photos: Instagram)