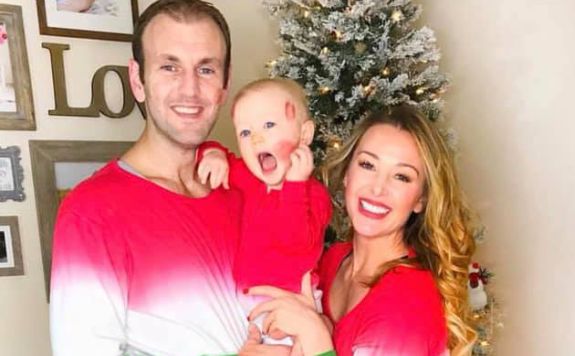 The Married At First Sight baby boom continues!
Jamie Otis and Doug Hehner— who met and married on the show's very first season— announced earlier this week that they are expecting their second child. The couple revealed their news on their Hot Marriage Cool Parents podcast.
Doug and Jamie are already the parents of 16-month-old Henley Grace. In 2016, they tragically lost a baby to miscarriage during Jamie's second trimester of pregnancy. They have continued to honor the baby, whom they named Jonathan.
"We're expecting baby #2 (3 if you count angel babies)," Jamie wrote on Twitter on Wednesday.
"We're expanding the family. Jamie and Doug are now pregnant and we're going to be parents of two," Doug said on the podcast, adding that he hopes the baby is a boy. Jamie said that she hopes she's having a girl.
"I want Gracie to have a sister," she said.
Jamie and Doug have been open about their struggle to conceive. In April, they posted on social media that they were ready to start trying for another baby, but were having some trouble.
"I also want to be sensitive to all the mama's who have been [trying to conceive] but are struggling," Jamie wrote on Instagram on Thursday. "The road to conception wasn't easy for us and I know there's a involuntary pain that sneaks up on you when it seems like everyone and their sister is getting pregnant but you."
Jamie and Doug are just the latest 'Married At First Sight' couple to announce a pregnancy. In October Season 7's Danielle Bergman and Bobby Dodd announced that Danielle was pregnant with their first child. Two months earlier, Season 5's Ashley Petta and Anthony D'Amico announced their pregnancy.
According to Jamie's Instagram posts, she is currently eight weeks pregnant.
RELATED STORY: 'Married At First Sight' Couple Danielle Bergman & Bobby Dodd Expecting Their First Child
(Photos: Facebook, Instagram)