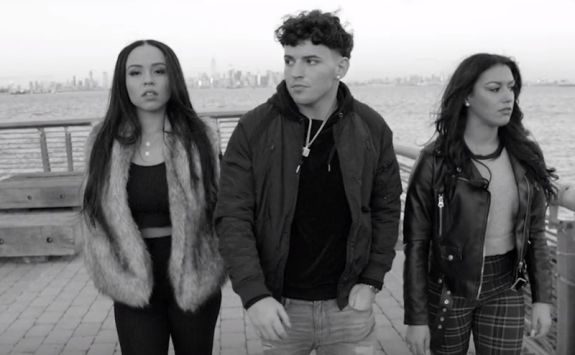 MTV's upcoming reality show is bringing the mob to a whole new generation!
Made in Staten Island— which is part Mob Wives, part Jersey Shore— will premiere next month and follow the lives of eight men and women living in the "forgotten" New York City borough.
In the series trailer, which was released earlier this month, 'Made in Staten Island' star Karina Seabrook tells us, "We grew up surrounded by the mob. But now, we are trying to find our own way."
According to MTV, the show's stars are tough SI kids, some of whom have familial ties to the mob. The network says the show's stars "battle the odds (and each other) to step out from the shadows and change the reputation of the place they call home. These friends will either choose wisely or fall prey to the mistakes of past generations."
'Mob Wives' fans may recognize Karina as the daughter of 'Mob Wives' star Karen Gravano. Karen is the producer of 'Made in Staten Island.'
In the trailer, Karina proudly declares her mobster roots (she is the granddaughter of former Gambino crime family underboss Sammy "The Bull" Gravano), and makes it known that she is carrying the mob mindset into the next generation.
"What doesn't kill you makes you a boss," Karina says in the trailer.
In addition to Karina, we will also meet Paulie Fusco, who is Karina's boyfriend. (Viewers may remember him from a 2017 episode of MTV's PromPosal.) According to MTV's description, Paulie is "a true hustler always striving for the top" who has been kept out of the "street life" by Karina.
'Made in Staten Island' also stars Kayla Gonzalez, whom MTV identifies as "the muscle of the crew" due to her "reputation for never backing down from a good Staten Island fight."
There's also Dennie Augustine, who reportedly calls herself the "Godmutha" of the group.
"She has thick skin, and learned to use her wit to get out of any situation," MTV states.
Dennie proved this last year when she caused outrage at her New Jersey college after posting a photo to Instagram that many deemed offensive. According to Monmouth University's student newspaper, The Outlook, in October 2017, Dennie posted a photo of herself holding a cardboard sign that read "Need $ for child support #BlackTrash."
She claimed it was part of a costume she wore to an off-campus "White Trash versus High Class" themed party. She later explained that she used "#BlackTrash" because she is African-American and did not feel comfortable using "#WhiteTrash" when she wasn't white.
The controversy eventually smoothed over and Dennie continues to be a student at Monmouth University.
We will also meet Joe O'Toole, who reportedly calls himself "the charmer of the South Shore." MTV states that he will "do anything for money." His is the father of five-year-old daughter.
The show also stars Taylor O'Toole who is Joe's twin sister. MTV describes her as a "guy's girl who doesn't take any attitude from anyone." She is reportedly best friends with Dennie.
 Christian "C.P." (Last name unknown) is described by MTV as a "self-described lover and a fighter."
MTV first revealed its plans to focus a reality TV show on Staten Island back in April. At the time, the network stated that the show would be called Staten Island 10310. The show was slated to premiere in August, but was pushed back for some reason.
MTV/VH1 President Chris McCarthy told Variety in April that he wanted a show that focused on Staten Island because "in many ways life on the island has such a different texture than the rest of New York. We get to see another side of these kids who are very scrappy."
'Made in Staten Island' premieres Monday, January 14 on MTV.
Watch the series trailer below!
What doesn't kill you, makes you a boss! 🙏 Mark your calendars, #MadeInStatenIsland is coming to @mtv on Monday, January 14th at 10/9c! pic.twitter.com/o7R0m9Lg2E

— Made In Staten Island (@statenislandmtv) December 18, 2018
(Photos: MTV, Instagram)