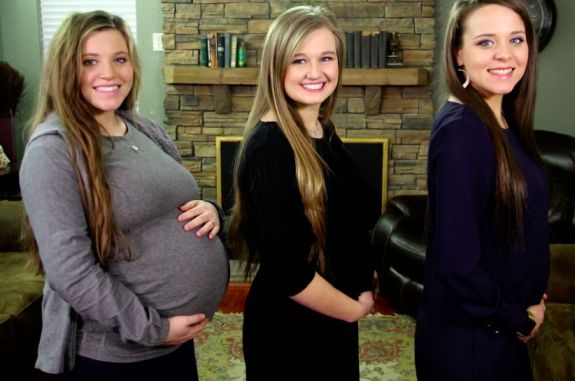 Earlier this month, The Ashley posted a memorial to all of the reality TV stars we lost in 2018. However, this year wasn't all doom and gloom. 2018 also saw the births of many reality TV babies!
Here, The Ashley has provided a complete listing of all of the babies born to reality TV stars in 2018. 
(Names that are hyperlinked can be clicked for more information.)
And, of course, many of these reality TV star babies were saddled with "unique," original and sometimes just downright strange names. Be sure to vote for the year's weirdest reality TV baby name at the bottom of the post!
(If you see a reality TV star's baby that was missed, please include it in the comments section.)
January
January 15: Chicago (Parents: Kanye West & Kim Kardashian of 'Keeping Up With the Kardashians')
January 23: Wyatt Wesley (Parents: Rich & DawnCherie Wilkerson of 'Rich in Faith')
February
February 1: Stormi Webster (Parents: Kylie Jenner of 'Keeping Up With the Kardashians' & Travis Scott)
February 2: Annabella Cherie (Parents: "16 and Pregnant" star Jennifer Del Rio & Luis Gutierrez)
February 3: Minnie Theodora (Parents: 'The Osbournes' star Jack Osborne & Lisa Osbourne)
February 15: Isabella Evelyn (Parents: Evan Bass & Carly Waddell of 'Bachelor in Paradise')
February 15: Gio Grace (Parents: 'The Voice' star Adam Levine & Behati Prinsloo)
February 23: Gideon Martyn (Parents: Austin & Joy Forsyth of 'Counting On')
March
March 27: Oskar Michael (Parents: Nate Berkus & Jeremiah Brent of 'Nate & Jeremiah By Design')
March 27: Monroe Sky (Parents: Mike "The Miz" & Maryse Mizanin of 'Miz & Mrs.')
March 28: Zoey Joy (Parents: John & Alyssa Webster of 'Bringing Up Bates')
March 30: Everly Hope (Parents: Chad & Erin Paine of 'Bringing Up Bates')
April
April 2: Ariana Sky (Parents: Ronnie Ortiz-Magro & Jen Harley of 'Jersey Shore Family Vacation')
April 12: True (Parents: Khloe Kardashian & Tristan Thompson of 'Keeping Up With the Kardashians')
April 13: Michael Todd (Parents: Eva Marcille & Michael Sterling of 'The Real Housewives of Atlanta')
April 23: [Twins] Hudson Robert & Haven Mae (Parents: Robert & Kym Herjavec of 'Dancing With the Stars')
May
May (date unknown): Nahla (Parent: Salwa Amin of 'Buckwild')
May 2: Dana Isaiah (Parents: 'American Idol' star Jordin Sparks & Dana Thomas)
May 8: James Andrew (Parents: Amber Portwood & Andrew Glennon of 'Teen Mom OG')
May 14: [Twins] London & Ashton (Parents: 'Million Dollar Listing LA' star Matt Altman & Johanna Altman
May 17: Miles Theodore (Parents: 'Lip Sync Battle' star Chrissy Teigen & John Legend)
May 18: Isaiah Hendrix (Parents: Sean & Catherine Lowe of 'The Bachelor')
May 24: Riley (Parents: Ali Fedotowsky of 'The Bachelorette' & Kevin Manno)
June
June 2: Serena Mei (Parents: Ethan & Amber Diamond of 'Are You The One?')
June 5: [Twins] Hayes & Hart (Parents: Jim & Meghan King Edmonds of 'The Real Housewives of Orange County')
June 8: Garrett David (Parents: Joseph & Kendra Duggar of 'Counting On')
June 15: Jackson Oliver (Parents: "16 and Pregnant" star Jamie McKay & David Lomax)
June 23: Crew (Parents: Chip & Joanna Gaines of 'Fixer Upper')
July
July 8: Odin Lute (Parents: "16 and Pregnant" star Kayla Jordan & Dakota Jones)
July 19: Felicity Nicole (Parents: Jeremy & Jinger Vuolo of 'Counting On') 
August
August 1: Kase Robert (Parents: 'Laguna Beach' star Alex Murrel & Kyle Johnson)
August 20: Laura Denise (Parents: Jephte Pierre & Shawniece Jackson of 'Married At First Sight')
August 25: August Luck (Parents: Hayden Parker Weaver & Gianna Hammer of 'Are You The One?')
August 29: Layne Ettie (Parents: Cole DeBoer & Chelsea Houska of 'Teen Mom 2')
September
September 6: Layton Sarti (Parents: Jeff Schroeder & Jordan Lloyd of 'Big Brother')
September 7: Isabella Myra (Parents: 'Married At First Sight' star Sam Role & Chris Wise)
September 11: Navy Lee (Parents: 'Bachelor' star AshLee Frazier & Aaron Williams)
September 28: Annie (Parents: 'Bachelorette' star Jillian Harris & Justin Pasutto)
September 30: Alara (Parents: Lilly Ghalichi & Dara Mir of 'Shahs of Sunset')
October
October 4: Zayne Oddell (Parents: Emily "Right Cheek" Fernandez & Lontel Johnson of 'Little Women: Atlanta'
October 8: Loyal Atticus (Parents: 'Big Brother 19' star Christmas Abbott & Benjamin Bunn)
October 9: Jagger (Parents: Ryan & Mackenzie Edwards of 'Teen Mom OG')
November
November 4: Brooklyn Doris (Parents: Kenya Moore & Marc Daly of 'The Real Housewives of Atlanta')
November 9: Robert Ellis (Parents: Bobby Smith & Tori Bates Smith of 'Bringing Up Bates')
November 15: Eli Joseph (Parents: Javi Marroquin & Lauren Comeau of 'Teen Mom 2')
November 26: Chase Omari (Parents: Monique & Chris Samuels of 'The Real Housewives of Potomac')
November 29: Leafar (Parents: 'LA Ink' Kat Von D & Rafael Reyes)
December
December 3: Grayson (Parents: 'Bachelor' star Bob Guiney & Jessica Canyon)
December 16: Hayes Jennings (Parents: Chris & Peyton Lambton of 'Bachelor' franchise fame)
RELATED STORY: Take The Ashley's "Best of 2018 Reality TV" Survey!