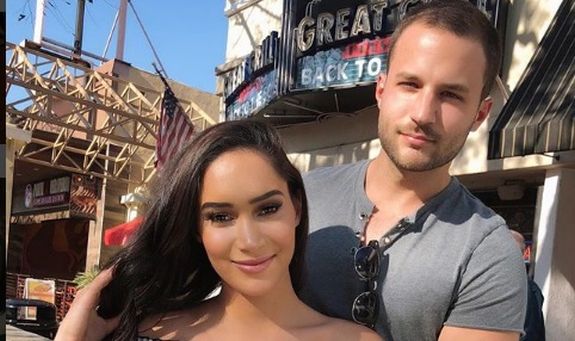 Gianna Hammer and Hayden Parker Weaver are not a "Perfect Match" after all…
The Are You The One? couple announced on Monday that they have split after about two years together. Gianna and Hayden— who met on the show's fifth season— each posted about their breakup on Instagram, stating that the split happened several months ago.
From what The Ashley hears, the couple began to have relationship problems around the time their son, August, was born in August.
In her breakup post, Gianna stated that she was not happy with the way Hayden handled "certain situations" (which some fans interputed as "fatherhood.")
"Hayden and I broke up for good a few months ago," Gianna wrote on Instagram. "I was not happy with the way situations were handled and how some things played out and sometimes there's no going back from that. We clashed and did not bring out the best in each other and decided that's not the way we want to bring up our little Auggie."
In his own post, Hayden tried to make the breakup sound like it is cordial.
"Gianna and I are no longer together, and have not been together for some time now. We prefer to keep the details private, as we don't want to drag this transition out," he wrote, later adding, "We don't have any bitter hatred towards each other."
Hayden vowed to be a better father to August, and complimented Gianna's mothering skills.
"I look forward to a new chapter in 2019 to better myself as an individual and most importantly as a father," he wrote.
"I am so grateful for Gianna and the last 2+ years we have had together," Hayden added. "I am blown away every day at how amazing of a mother you are, no matter how tired you never miss a beat in taking care of him. I will never have to worry about our son when he's away with you. I promise to follow your lead and do my very best as a father. I have tears in my eyes writing this because I am sad that our chapter together has closed, but tears of joy that he was gifted with the absolute most amazing mother he could ever have."
While Gianna and Hayden are over, one 'Are You The One?' couple is still going strong. Season 1's Ethan and Amber Diamond are still married, and welcomed their second child back in June.
RELATED STORY: Upcoming Seasons of 'Are You The One?' May Focus on Twins & Sexually-Fluid Individuals: Get Details
(Photos: Instagram)