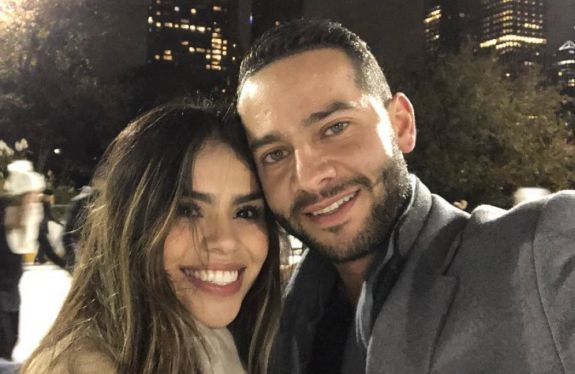 We just watched them get hitched on the season finale of 90 Day Fiance, but it looks like newlyweds Jonathan Rivera and Fernanda Flores may have already split!
The relationship red flags began to fly on Monday, which was New Year's Eve, when fans noticed that Jonathan's date for the evening was his mother instead of Fernanda. When his followers questioned why Fernanda was not with Jonathan, he eventually responded with a statement that proved things were strained between him and his new wife.
"I prefer to remain private but I'm not ok with my spouse airing our laundry to get my attention," he wrote in the comment section of the post. [Fernanda] Deleted me [from her Instagram], deleting [our] pictures then putting them back. I mean come on."
Jonathan continued to reveal more of what he says happened between him and his wife, claiming that Fernanda left him to pursue her own goals, but now has had a "change of heart."
"She missed me after she decided to leave," he wrote to a fan on Instagram.
"She wanted to pursue a modeling career in Chicago. Decided to leave and realized she couldn't do it on her own. She said MANY things you can't take back that I won't mention, you'll have to trust me when I tell you, good luck," Jonathan added.
Jonathan also wrote that even Fernanda's family agreed with him that she has done him wrong.
"Fernanda's family will always have my back because they know the truth," he wrote. When Fernanda asked what he was talking about in a comment he replied, "You didn't tell me that your whole family has taken my side? Am I lying?" Jonathan posted.
When fans accused Jonathan of posting all of this to get attention, he stated that he just wants to clear the air.
"I am only giving the truth," he said. "It may not be what everyone wants to hear, but unfortunately it's the truth. It hurts me to say it."
The Instagram account @90DayFianceNews screen-captured a comment posted by Jonathan that gave more information on what Jonathan says happened. (The comment has since been deleted.)
"Well everything we had was real," Jonathan wrote."Eventually she hated where we lived. I tried many time to give her everything she ever wanted but it wasn't enough. She decided to leave..left me on the airplane in Chicago amongst many other things. I decided to spend the rest of the time with my family. When she realized her lifestyle was going to be different she wanted to apologize and asked me to forgive her. I haven't."
Fernanda seems to be seesawing between wanting Jonathan back and wanting to clear her name. She made several revealing posts to Instagram before setting her account to private.
In one post she captioned a wedding photo of the couple, "'I promise to be true to you in good times and in bad, in sickness and in health. I will love you and honour you all the days of my life.'- He said."
She followed that post up with an Instagram story that seemed to put the blame on Jonathan.
"When a toxic person can no longer control you, they will try to control how others see you," Fernanda wrote. "The misinformation will feel unfair, but stay above it, trusting that other people will eventually see the truth, just like you did."
She then posted a photo of herself in hunting gear with a rifle. She captioned the photo, "Beautiful irony is when the very thing tried to destroy you, inside made you stronger."
Throughout the season, the couple's friends and families expressed concern that Fernanda and Jonathan would not be able to overcome their age difference. Jonathan is 32 and Fernanda is 19, and they met at a dance club while Jonathan was on vacation in Fernanda's native Mexico.
Despite all the back-and-forth blaming on social media, Fernanda and Jonathan have not officially confirmed their split, as they are likely prohibited from doing so because of their show contracts.
The "90 Day Fiance" Reunion special airs Sunday on TLC.
RELATED STORY: "90 Day Fiance" Couple Leida & Eric Rosenbrook Say They're Quitting the Show After Receiving Death Threats Online
(Photos: Instagram)