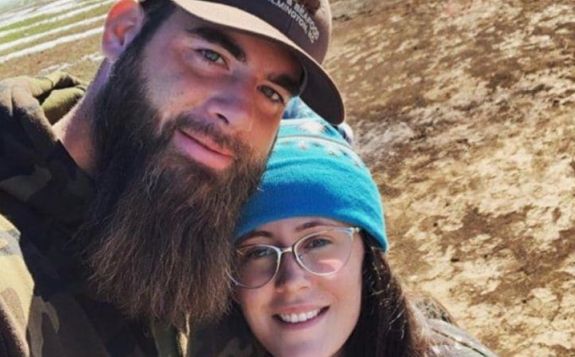 Jenelle Evans' husband David Eason may not be allowed on Teen Mom 2 anymore, but he's still causing major problems for MTV and the producers of the show!
The Ashley can exclusively reveal that several of the show's rotating crew members are refusing to work on Jenelle's shoots at all in 2019, due to what they fear David may do. The Ashley's sources tell her that at least three different crew members have gone to the show's higher-ups over the last month or so and demanded to be taken off of Jenelle's shoots.
"There are a lot of crew members who work on multiple girls' shoots—or all of the girls' shoots–during the season," one of The Ashley's sources explained. "After the first video [of David threatening to shoot trespassers who came on The Land] incident, several of them said they will no longer accept shoots with Jenelle, because they are downright scared to go anywhere near her, out of fear of what David may do."
A second source confirmed the first source's story, adding that David is always a presence during the filming of Jenelle's scenes, even though he's not on-set.
"They no longer feel comfortable working on Jenelle," the second source told The Ashley. "There are some people who no longer feel safe going down there anymore because David has made it clear that he does not like the people from MTV, and that he has a ton of weapons. There have been multiple discussions among various crew member groups about the possibility of him coming to a location where we're filming and opening fire if he's in a bad mood or something, even if it's just to scare us.
"His videos and [recent] actions make people think he's erratic and unpredictable," the source added. "Some of the people who used to work Jenelle's shoots don't want to risk being anywhere near David."
Both sources tell The Ashley that this has never happened in the history of 'Teen Mom.'
"Over the years, certain girls and certain crew members have had spats and stopped working together," one source says. "[A crew member] can request to be taken off a girl's shoots. That's happened before with Farrah and Amber, etc. But I think this is the first time people are refusing to do shoots out of safety concerns. Each shoot has security guards, but that hasn't helped anyone feel safer."
"It definetly puts the [higher-ups] in an uncomfortable spot," the first source tells The Ashley. "They can not force anyone to work with Jenelle. The producers and certain others are employees but most of the crew and other people who work on the shoots are all freelancers. They get calls asking them to cover a certain girl's shoot at a certain time, and lately, a lot of people are turning down the Jenelle shoots. They feel it's just not worth the risk to be there if something goes down."
This is putting the show's production higher-ups in a hard position. As The Ashley has previously told you, each person who works on any 'Teen Mom' show has to pass a series of background checks and go through an approval process, since they are working directly with the children who star on the shows.
"We can't just go on the [entertainment crew] job boards and hire random people," the source said. "Everyone has to be cleared and go through a process. So with a lot of the cleared people saying no to Jenelle's shoots, they may have to start running skeleton crews."
UPDATE! Jenelle's co-star Kail Lowry responded to The Ashley's story after it was posted on Twitter.
"I will not be attending any type of reunion on the same day or weekend as Jenelle & David for the same reasons," Kail tweeted on Wednesday.
RELATED STORY: David Eason Accuses 'Teen Mom OG' Stars Cory Wharton & Cheyenne Floyd of Being Racist; Challenges Cory to a Fight on The Land
(Photos: Instagram)