Jersey Shore Family Vacation couple Ronnie Ortiz-Magro and Jen Harley wasted no time bringing their relationship drama into 2019!
The volatile on- and off-again couple reportedly broke up (again) on New Year's Eve, around 2 a.m., when Jen reportedly dropped a drink (RonRon Juice, perhaps?) on Ronnie's precious shoes. Ron left the club party the couple was attending in a huff.
According to TMZ, about an hour after Jen and Ron's fight, Jen says she came home to find her home ransacked and called the cops. TMZ reports that "someone smashed a flat-screen TV, a vase, pictures and glass frames. Jen told cops she believes Ronnie broke in and started wreaking havoc, because whoever did it let themselves in."
(Ronnie and Jen do not live together, for the record.)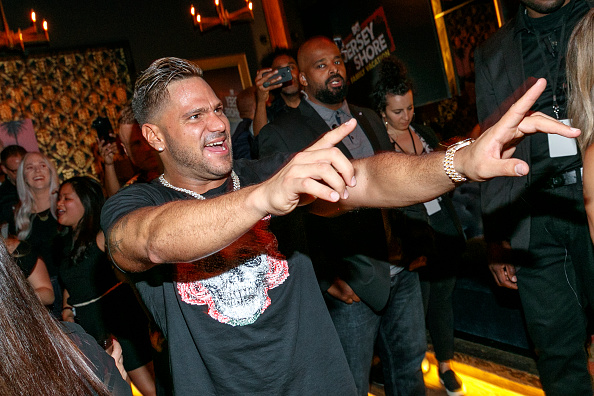 "Jen was not injured, but given the history of police calls between these two, police more than likely provided Jen with information about getting a restraining order, and other things she could do to prevent a escalating domestic violence issue," Us Weekly's source reports, adding that nothing was taken from Jen's house.
While the cops tell TMZ that Ronnie is not an official suspect in the burglary, since there is no evidence that he committed the alleged crimes, they still want to speak to Ronnie in regard to the alleged incident.
In the days since New Year's Eve, both Jen and Ronnie have mostly cleared their Instagram accounts of photos featuring each other.
This is, of course, just the latest round in the epic fight that is Ronnie and Jen's relationship. The couple, who share nine-month-old daughter Ariana, had been playing nice around Christmas time, but according to Us Weekly, broke up right before New Year's but got back together before December 31.
Ron and Jen basically broke up and made up constantly throughout 2018, with some of their fights ending with the cops being called and nearly all of them ending in negative social media posts.
In early December, Ronnie accused Jen of cheating on him and posted on Instagram that he was worried that Ariana is not his child.
In October, the cops were called while Ron and Jen were fighting, and Ronnie accused Jen (via Instagram) of extortion. Jen retaliated by posting a video of Ronnie and his "crazy" aunt trying to withhold Ariana from her. (Two days later, though, the couple was back together and boating on a yacht with friends.)
Other altercations between the 'Jersey Shore' stars include another October incident in which Ronnie insinuated that Jen had given him a black eye, while she accused him of being a drug addict.
In June of 2018, Jen was arrested on charges of domestic abuse after allegedly dragging Ronnie with her car while he was exiting her vehicle during yet another fight. 
Anyway, Ronnie has yet to respond to the story of Jen's home being burgled.
RELATED STORY: Ronnie Ortiz-Magro Accuses Baby Mama Jen Harley of Cheating & Says He May Not Be Ariana's Father
(Photos: MTV, Instagram, Rich Polk/Getty Images)