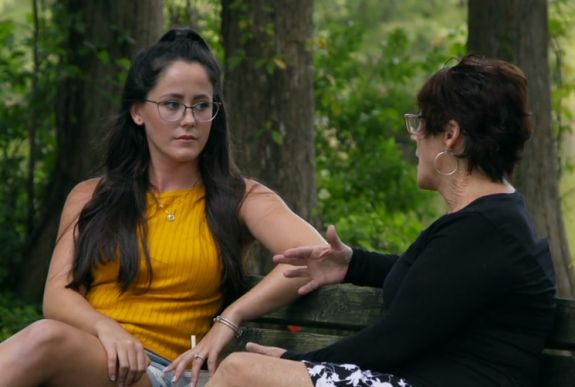 MTV has gifted us with an supersized sneak peek of Teen Mom 2 Season 9. On Monday, the network released a very extended clip of the new season, featuring three of the show's five stars: Chelsea Houska, Leah Messer and Jenelle Evans. (Surely we can expect clips of Kail Lowry and Briana DeJesus shortly.)
Just like the last season of Teen Mom OG, this new season of 'Teen Mom 2' will be full of girls having babies, moving into huge houses and fighting with their exes. (Of course, we will have to trade Butch Baltierra for Barbara Evans, but The Ashley's OK with that…)
In case you aren't able to squirrel away over seven minutes during work hours to watch the preview, (or you're in another country and can't watch the clip), allow The Ashley to recap the clip for you…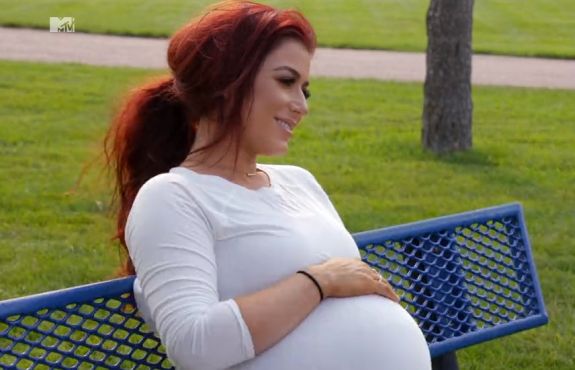 Chelsea is living life with her kids, Aubree and Watson (and Layne, who hadn't shot out of Chelsea's baby-maker at the time the trailer was filmed). She and her husband Cole have just purchased a new house on a large piece of land. (This is not to be confused with The Land, of course…)
The house appears to be a supersized version of Chelsea's original log cabin, and it's apparently filled with those annoying wall stickers that say "inspirational" things, which annoys Chelsea. She wastes no times clawing down the "Be true to who you are and the family name that you bear" saying on the front wall. (Who can blame her? That sounds like a saying that came straight out of Leah's "Live Your Standard" lipstick seminar!)
Chelsea gives Producer Mandi a tour of the new log cabin mansion. Producer Mandi "oohs" and "aahs" at all the rooms and remodels that Chelsea has planned (while silently cursing the fact that she used those stupid Trojans in high school, thus preventing herself from getting pregnant, getting on MTV and getting a log cabin mansion of her own.)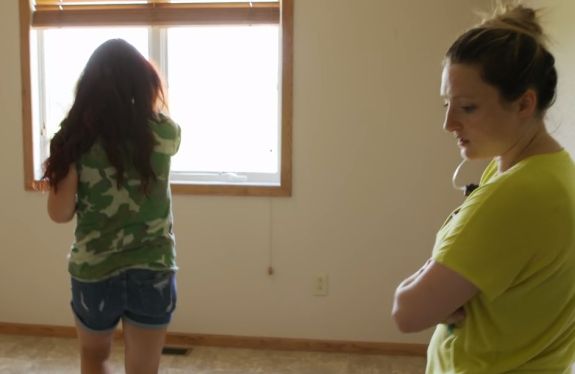 They then go outside to marvel at the quietness of their land (again, not to be confused with The Land, where the screams of rakin' men and children cryin' for food can be heard on the regular.)
Chelsea loves that there are no people around their new house.
"I don't understand how people wouldn't want to live wide open!" she proclaims.
(Ironically, the fact that Chelsea and the other girls lived "wide open" during their teens is the reason they're on this show and can buy these mega-mansions!)
Next we check in with Leah and her girlseseses. Leah (who is looking hotter than a potful of canned raviolis, y'all!) is enjoying the company of a new gentleman caller named Jason.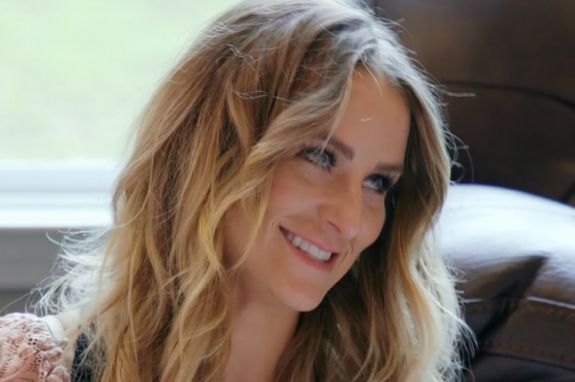 She tells Jason that her girls like him.
"How can they not?" he replies.
(Well, he'll fit right in with all the other big-headed dads on this show!)
In the next scene, Leah (dressed like a summertime streetwalker whose rent is due the next day) goes to visit her friend Meg.
Who is this "Meg" character? What happened to Leah's trusty and mulleted friend Kayla?!
AND WHAT OF MAMA DAWN!? Where is she at these days?! I miss her convos with Leah (not to mention her frequent confusing of the words "were" and "was.")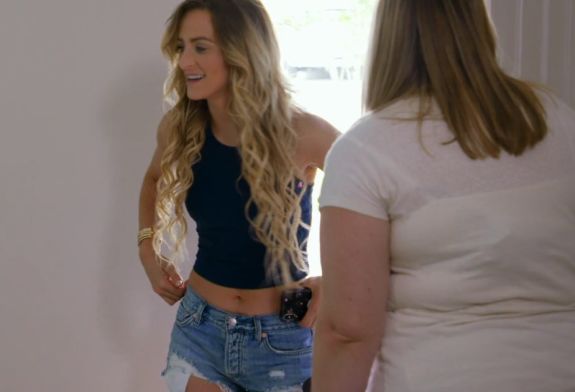 Meg invites Leah to "set" down so they can catch up.
Meg, who has the personality of a cardboard cut-out, tells Leah that she has been working constantly. Leah, who has no clue what that would be like, quickly blows off Meg's boring life so she can talk about her own new boyfriend.
Leah explains that she and Jason met "through a mutual friend" (sooooo….Tinder or Plenty of Fish), and that he has…wait for it… A STEADY JOB!
While Leah's man is older— at 39— she says it's better because he "gets" her life.
After all, she says, it ain't easy to find someone who is OK with a girl having three kids by two different dads and two divorces under her belt.
Jason has a kid of his own, as well as two failed marriages, so he understands Leah. She says that she did inform Corey Tyler and Jeremy Lynn that she had a new man and that the girlseses would be around him.
Things is well, y'all!
Also "well" is Jenelle and David. (Well…according to Jenelle, anyway…)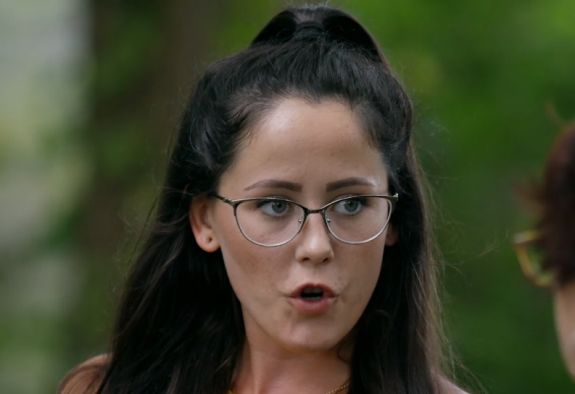 She's still upset that David is not allowed to film for the show. She is also mad that Baby Daddy No. 2, Nathan, was upset when he allegedly found bruises on their kid, Kaiser. (This is, of course, what caused the big custody saga that took place between Jenelle and David, and Nathan and his mom last summer. You can read all about that here!)
Luckily (for us, anyway), Jenelle's mom Barbara is back in her life. They traipse out to a random bench in a random park (because nobody is going to set foot on The Land to film).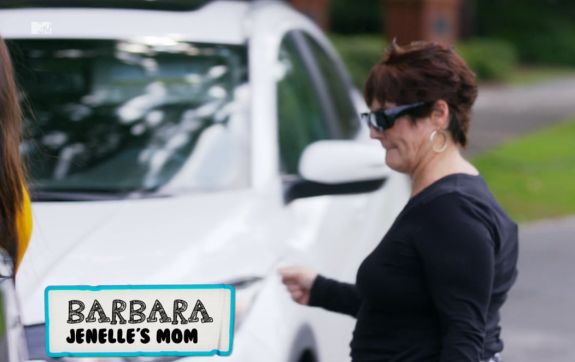 Barb says she's happy that her and Juh-nelle are getting along now, which Jenelle attributes to Barb no longer "being mean to David." Barb says they started to mend their relationship around the time that Nathan and Doris kept "Kaisa" from Jenelle.
Jenelle says that Nathan kept Kaiser from her "for no reason," and that David already explained to Nathan that the bruises found on the boy were from a slip-n-slide, and not from him.
"Nathan is trying to do everything in his power to sabotage my husband!" Jenelle wails. "And everyone wonders why my husband acts the way he does and freaks out the way he does! It just pisses me off the way everyone thinks about David.
"He doesn't do anything wrong and does everything in his power to make our family happy," Jenelle says as she cries. "For everyone out there who wants to hate on David, David is not a bad guy!"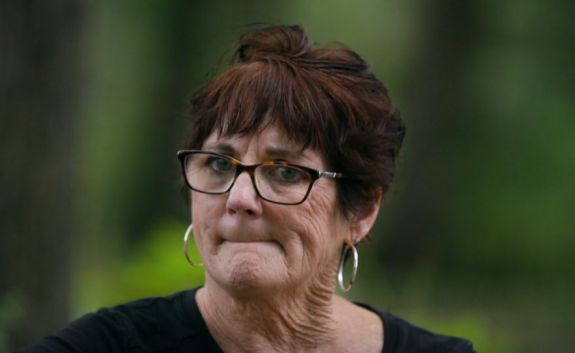 Barb is just sitting there with a weird look on her face. She's either trying to figure out if Jenelle is talking in code and really trying to tell her to help her escape, or if they're on some sort of hidden camera show or something.
You can watch the clip yourself below! The new season of 'Teen Mom 2' premieres January 14 on MTV!
RELATED STORY: EXCLUSIVE! 'Teen Mom 2′ Crew Members Are Refusing to Work on Jenelle Evans' Shoots Because They're Afraid of Her Husband David Eason
(Photos: MTV)