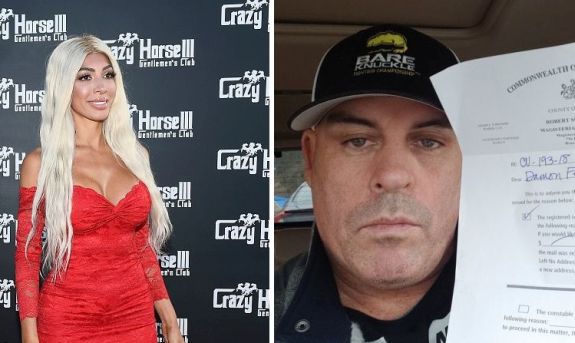 Damon Feldman is not giving up on his quest to recover the money he says he lost when Farrah Abraham dropped out of his much-hyped boxing match back in November. In fact, he's promising to "hunt her down" like the dog he says she is!
Damon, who is the CEO of Celebrity Boxing, officially filed a lawsuit against the former Teen Mom OG star last month, seeking damages of $12,000. On Tuesday, he told his social media followers that the court papers he tried to have served to Farrah came back undelivered, due to the address listed for Farrah being wrong.
In a video posted to his Instagram account, Damon spoke directly to Farrah, vowing to keep pushing forward until he gets all the money that he says Farrah owes him and his investors.
"Farrah Abraham, I just don't understand anything about you. You stole our money, you stole almost $100,000 of investors' and sponsors [money]. You took sponsors' money. You didn't fulfill what you were supposed to."
Damon claimed that the court papers he sent to Farrah were returned because the address he had for her is not her current address.
"Guess what? I'm not gonna quit. I already got your second address, your real address, and you're not gonna back out here. The bottom line is, I'm going to hunt you down until you give us our money back and you take care of my people."
"Farrah Abraham you can run but you can't hide," he wrote on Instagram. "I will see you in court January 30 ….. Or don't show and let everyone know what you really are, just pay us back you defrauded the media and people."
According to court dockets obtained by The Ashley, Damon and Farrah do, indeed, have a court date set for Wednesday, January 30 at 9:30 a.m. in Delaware County, Pennsylvania. The dockets confirm that Damon first filed the lawsuit against Farrah on December 21, 2018, with the Civil Complaint being issued via Certified Mail on December 26. It came back undelivered on December 28.
Farrah has yet to respond publicly to Damon's posts. However, her manager made a statement to TMZ back in December indicating that Farrah plans to file her own lawsuit against Damon.
"We are truly wishing Damon the best with his frivolous lawsuit," David Weintraub said. "Everyone must realize this guy broke his own contract with us and runs this 'so called' business out of his studio apartment and doing 'basement style event fights' that no one watches. He should work a little harder to pay for travel/accommodations for the talent and team and then perhaps the talent will actually come. Get ready for the counter suit from Farrah."
Farrah will be spending quite a bit of time in court in 2019. Radar Online reports that the Ex on the Beach star is involved in another lawsuit with her former lawyer Avonte Campinha-Bacote.
The former lawyer filed the suit against Farrah in November 2018, claiming that the reality star failed to pay an invoice of over $2,577. The lawyer claimed in the lawsuit that he assisted Farrah in filing a temporary restraining order against her ex, Simon Saran, as well as helped her with negotiations for her celebrity boxing match and other projects.
In the legal papers, the lawyer claims that Farrah reportedly justified her non-payment of the lawyer's invoice by stating that, because she didn't follow through on a deal he helped her with, she shouldn't have to pay him. (He did state in the papers that Farrah paid all of her other invoices from him, though.)
A hearing for this case is set for Wednesday at 1:30 p.m. in Franklin County, Ohio, according to court records.
The Ashley has reached out to Farrah for comment on this story, and will update it when more information is available.
RELATED STORY: Damon Feldman Reveals Why He Sued Farrah Abraham Over Cancelled Fight: "I Have to Destroy Her" 
(Photos:  Bryan Steffy/Getty Images; Twitter; MTV; Instagram)