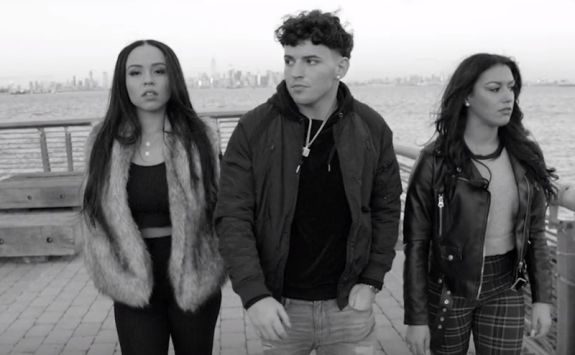 Made in Staten Island is set to premiere on MTV next week, despite the lack of support the show is getting borough-wide. 
The MTV reality show— which focuses on the lives on several 20-somethings living in Staten Island (some of whom claim to have mob family connections)— is being met with outrage from several prominent Staten Island figures, as well as many among the Island's general population. Some outraged SI'ers have even started a petition to get the show removed from the air! 
'Made in Staten Island' is produced by Karen Gravano (star of Mob Wives and daughter of Sammy "The Bull" Gravano). Her daughter Karina Seabrook is one of the show's stars.
New York City Councilman Joe Borelli (whose district includes most of Staten Island's South Shore), recently expressed his outrage over the series on social media. 
"This can't be serious,' the councilman wrote in regard to the show when it was first announced last month. "This is embarrassing. I don't even know what to say." 
The councilman's sentiments are similar to those shared later by New York City Mayor Bill de Blasio, who accused MTV of "peddling stereotypes in a shameless ratings grab." 
Anyone who has spent any time on Staten Island knows MTV is peddling stereotypes in a shameless ratings grab. https://t.co/funzkVDRxP

— Mayor Bill de Blasio (@NYCMayor) January 6, 2019
Page Six reports that the Change.org petition to cancel the series or at least remove 'Staten Island' from its name has already been signed by over 7,000 people.
"The portrayal of Staten Island as a cesspool of gangsters, meatheads and low lives appears to be the main focus of MTV show development in recent years," the petition argues. 
"A show like this demeans what it is to be from Staten Island … [It] has one of the highest per capita incomes out of the five boroughs and we also have several higher education institutions with very good graduation rates and excellent public schools serviced by caring teachers."
The petition's creator, Vinny Giovinazzo, points out that some of MTV's other reality TV shows are less-than-quality television.
"For MTV though promoting and glorifying individuals of poor moral character seems to sell more than addressing real issues that kids are dealing with," he wrote. "This is evident by the other series that are active or have been on the network such as the Jersey Shore, 16 and Pregnant and the likes thereof."
@StatenIsla, an Instagram account that shares content relevant to the borough, has also spoken out against the show, even gaining the attention of 'Made in Staten Island' star Paulie Fusco in the process.
In a post supporting Joe Borelli's opinions of the reality show, the account engaged in some back-and-forth with Paulie, with the star writing "stay mad" in one comment.
"@pauliefusco what we're mad at are the realities actual Staten Islanders face," the Instagram account's owner replied. "If you were aware and actually educated you would realize that it's bigger than you! But keep revealing yourself to be a dumb coward."
Karen does not seem to be affected by the backlash her show has garnered. In fact, she appears to be excited about the buzz surrounding its premiere.
"You know you're onto something when the hate is great," she tweeted on Monday.
statenislandmtv #madeinstatenisland January 14th #MTV you know you're onto something when the hate is great 😉💪 https://t.co/Nga0yenkAq

— Karen Gravano (@KarenGravanoVH1) January 8, 2019
Of course, this isn't the first time MTV has faced backlash from locals concerned about the reputation of their town being tarnished due to a reality TV show. During the filming of Made in Kentucky last year, citizens of the town Elkhorn City, Kentucky, were very unhappy about MTV filming the show in their town. The Buckwild-esque show was supposed to debut last summer; however, it has yet to premiere. It's rumored that the show was nixed, in part, due to problems with the town.
'Made in Staten Island' premieres January 14 on MTV. Check out the show's trailer below! 
You've seen the glitz of Manhattan, but things happen a little differently on Staten Island. 🗽 Watch the series premiere of #MadeInStatenIsland next Monday, January 14th at 10/9c on @MTV! pic.twitter.com/FbuJpqLwfr

— Made In Staten Island (@statenislandmtv) January 8, 2019
RELATED STORY: 'Made in Staten Island' to Premiere on MTV: Meet the Cast & Watch the First Trailer
(Photos: MTV, Instagram, Twitter)