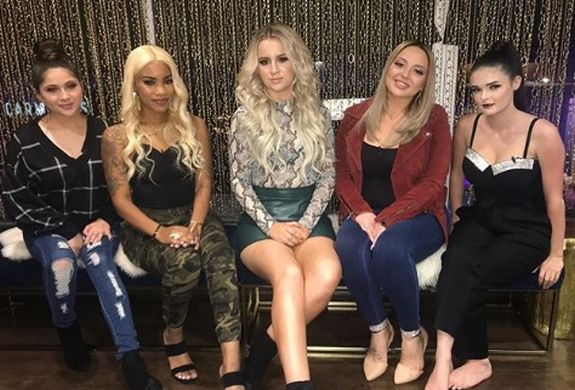 Teen Mom: Young & Pregnant will continue, dispute rumors that the show had been cancelled following the conclusion of Season 1B in December!
The Ashley can exclusively reveal that MTV has renewed 'Young & Pregnant' for another season although the network has not officially announced the news yet.
"The people behind the scenes of the show got notice in late November that MTV was giving ['Young & Pregnant'] another season," one source tells The Ashley.
"They were supposed to start filming in January, but they started early. Most of the girls have been filming for Season 2 since mid-December."
(Just to clarify, the season that ended in December was technically still Season 1. The girls' contracts state that MTV can exercise its option to add additional episodes– i.e. a "B" season– to existing seasons. This often happens with Teen Mom 2 and Teen Mom OG. The next episodes that air will officially be Season 2 episodes!)
The source confirmed that the girls' contracts have been signed and that they all received significant pay increases for signing on for the new season.
View this post on Instagram
Back in November, rumors began to circulate that MTV had axed the show, in part due to what some of the girls posted on social media while they were in New York City filming the Season 1B Reunion. Their posts made it seem like they were done filming for the show all together.
"Well ladies, here goes my heartfelt post about what an honor its been to be apart of a TV show with you girls," Ashley captioned a group photo of the moms that she posted to her Instagram. "So grateful that our cast is full of love and understanding, and when times get hard we all reach out…It's been a long emotional journey. But that's a wrap. Wouldn't have done it any other way."
MTV has not confirmed that it has picked up the show for Season 2, but all of The Ashley's sources say to expect to see the show's new episodes to begin airing sometime in late spring/early summer.
The Ashley is somewhat surprised that MTV has picked up 'Young & Pregnant' for another season, given that the show's most-recent episodes garnered some pretty low ratings.
For instance, the episode that aired on December 17 only brought in 573,000 viewers and 0.2 percent of the coveted 18-49 rating. (To compare, an episode of 'Teen Mom OG' that aired that same night brought in 1,006,000 viewers and 0.6 percent of those ratings.)
The episode of 'Young and Pregnant' that aired on November 19 brought in a sad 490,000 viewers. The 'OG' episode that aired that night brought in a low but still decent 792,000 viewers. (All ratings are courtesy of TV By the Numbers.)
'Teen Mom 2' is the franchise's highest-rated show.
RELATED STORY: Brother of 'Teen Mom: Young and Pregnant' Star Bar Smith Has Been Sentenced To 50 Years in Prison
(Photos: Instagram)