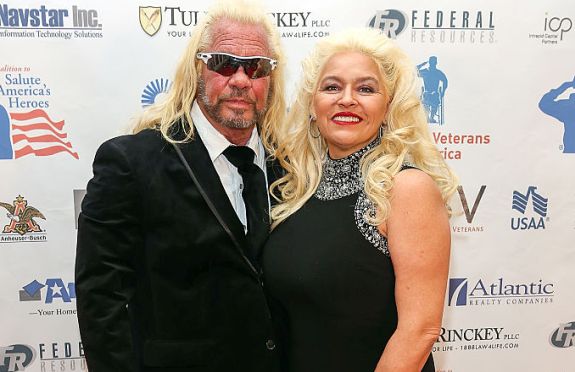 Duane Chapman, better known as Dog from A&E's Dog the Bounty Hunter, will be making his return to reality television this year after a 6+ year hiatus from the small screen.
Deadline reports that Dog and his wife, Beth Chapman, will star in Dog's Most Wanted, set to premiere later this year on WGN America. The new series will reportedly follow the bounty hunting couple and "The Dirty Dozen" team as they pursue a "bucket list of wanted fugitives."
"America has been captivated by Dog, Beth and their dramatic true-crime experiences for over a decade," WGN America president Gavin Harvey said in a statement Monday. "In this brand-new series, millions of Dog and Beth fans will join them on bigger hunts, pursuing more dangerous criminals, with a supporting cast of tough-as-nails crime fighters."
According to Variety, Dog claims his return is motivated by "skyrocketing" crime in America.
"Criminals are finding it easier to avoid to the system," he said in a statement. "With more and more dangerous criminals running the streets, the time couldn't be better for the World's Greatest Network to bring back the World's Greatest Bounty Hunter. Fugitives beware!"
Unfortunately, fugitives aren't the only thing the Chapman family is up against, though.
Beth underwent emergency surgery in November, which revealed that her throat cancer had returned.
"She has a lump in her throat twice the size of last time, and they performed an emergency surgery yesterday," Dog told Us Weekly at the time. "They cut a hole in her throat so she can breathe; she can still talk. … [She's] doing the best she can and remains incredibly strong."
As fans of Dog may recall, Beth revealed that she had stage II throat cancer in September 2017.
In December, Dog told E! News that he decided to return to bounty hunting full-time "to try to help absorb some of the cost of his wife's medical bills."
'Dog's Most Wanted' will begin production in early 2019. A premiere date has not yet been announced.
(Photos: Teresa Kroeger/Getty Images; Instagram)