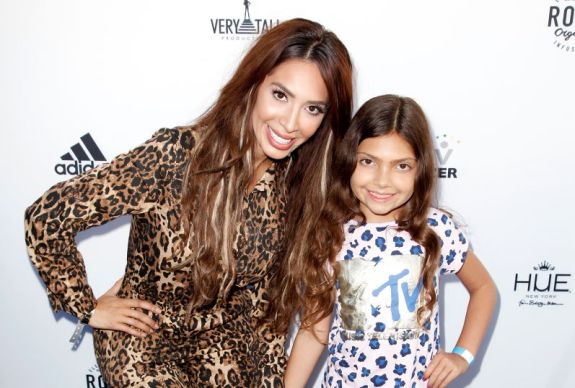 Farrah Abraham shocked her Snapchat followers on Monday by posting a photo of her 10-year-old daughter Sophia posing in her bra and panties in a store dressing room. The photo, which The Ashley does not feel comfortable reposting here, caused many followers to become enraged, with many writing on social media that the former Teen Mom OG star should be reported to Child Protective Services for exploiting her tween daughter.
Many fans called on Farrah's parents– Michael Abraham and Debra Danielsen— to try to get Farrah to take down the risque photo. However, Michael told The Ashley that he sees nothing wrong with the photo his daughter posted.
In the photo, Sophia is shown looking into a mirror of a dressing room while wearing a Calvin Klein bra and a pair of panties. She is wearing dark lipstick and posing with her leg slightly up and her hands on her head to form what looks like "naughty devil horns." Farrah, who is currently appearing on Ex on the Beach, posted it as a video, and a giggle can be heard.
The Ashley reached out to Michael about the photo, who emailed her a statement. (The Ashley is posting his statement in full, by the way.) In the statement, Michael compares what Sophia is wearing to a swimsuit, and stated that those who are outraged by the post are being prudes.
Here is Michael's statement in full:
"First of all we want to thank everyone that follows the girls snap chat and social media accounts!
Let's see…. underwear or a bikini bathing suit what's the difference? There is none. Most likely, the people making this stir has a daughter, niece, granddaughter, wife, grandmother, aunt, neighbor etc. that wear bikinis that show much more than that picture shows. How about the millions of other parents that let there children wear bikinis and under wear in public – are they doing something wrong or illegal? Answer NO. So much for the prudish people!
Ok now the haters – we don't care what they think – it's sad they don't have a life and have to "hate" and "spread judgment" to think they are relevant – but they aren't! Lol!
As Americans, we have freedoms which America's service members (disclaimer I'm Disabled Vet) and other patriots have given their lives for. Prudish people and haters don't minimize our armed forces and patriots that have paid the ultimate price so we all can have the freedom to live our lives as we wish – like all Americans."
View this post on Instagram
On Twitter, many of Farrah's followers reacted differently to the photo, with some comparing it to child p0rnography.
"Hope someone can help Sophia. Farrah has reached a new low in her questionable parenting," one person wrote.
"Anyone who says it's like a swimsuit is not thinking this through—Farrah has opened the door for Sophia to think being in a bra and panties is ok in public, much different than a socially acceptable swimsuit," another wrote.
This is, of course, not the first time Farrah has been called out for Sophia's activity on social media. Last summer, fans were shocked when Sophia posted a video of herself twerking and dancing sexy in leather pants to a social media app. Farrah also allowed Sophia to post a video of herself wearing only a towel.
UPDATE! On Wednesday, Farrah commented on the controversy the photo she posted has caused. In an interview with TMZ, Farrah claimed the photo she posted "is no different than the kids modeling for Calvin Klein."
"The ex-'Teen Mom' star also says the video — taken at Nordstrom in NYC — is not by any stretch inappropriate, because it was shot in a public area where kids look in the mirror after trying on clothes in the fitting room," the site reports.
"I know my daughter and I are living our best lives wearing Calvin Kleins," she said.
(It sounds like Farrah is desperately trying to get the clothing company to take notice of her daughter to gain a modeling contract…or something, in The Ashley's opinion…)
(Photo: Tibrina Hobson/Getty Images; Instagram)