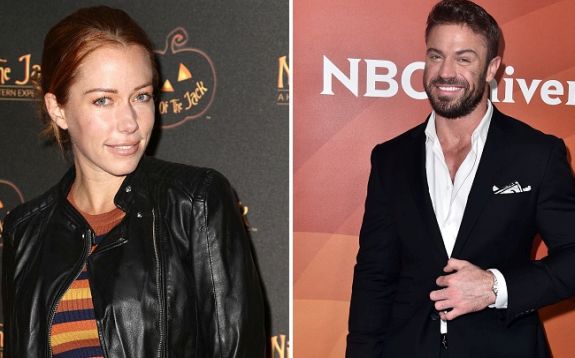 Kendra Wilkinson claims she's not dating reality TV villain Chad Johnson…or at least…not boinking him!
In a recent Instagram post, the Kendra On Top star seemed to be addressing the rumor that she's dating the reality TV bad boy. Kendra acted like the rumor was ridiculous, despite the fact that photos of the couple holding hands outside a restaurant "surfaced" last week. (And, of course, by "surfaced" we mean were taken because Kendra and Chad went to a restaurant they knew would have paparazzi and posed for the cameras while holding hands.)
In the caption of her Instagram post, Kendra told her followers that she had to catch her best pal Jessica Hall up on the "recent annoying rumors" that were floating around about her.
"We had a lot to catch up on after about 2 days of her being MIA," Kendra wrote. "Filled her in about these recent annoying rumors and how my vagina is still very closed up. Anyways, beautiful day with my love. Always a breath of fresh air."
Apparently, no one has ever told Kendra that if she doesn't want "annoying" rumors popping up about her dating life, don't pose for photos holding hands with a dude who has appeared on basically every dating show that has ever aired on television, including The Bachelorette, Bachelor in Paradise and Famously Single.
Anyway, the "annoying rumors" started for the newly single 'Kendra On Top' star last week when Us Weekly published a report (along with the paparazzi photos) saying Kendra and Chad have been "going on super low-profile dates."
The magazine's source said that Kendra, who is separated (but not officially divorced) from Hank Baskett Jr., "isn't looking to get into anything too serious right now."
Chad is only recently back on the meat market himself. Up until a few weeks ago, he was dating Nicole Ramos, best known for appearing on MTV's The Challenge. (Nicole and Chad met while filming the current season of Ex on the Beach.)
It appears Nicole was not happy that her ex had seemingly already moved on with Kendra, judging by the message she wrote on Instagram the same day the photos were published.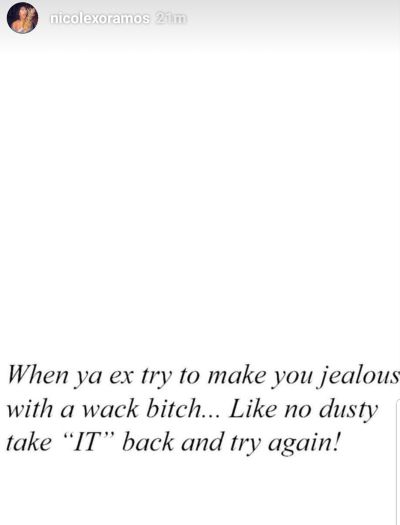 "When ya ex try to make you jealous with a wack b**ch…Like no dusty take "IT" back and try again!"
Nicole wasn't the only one who was displeased to see Kendra getting cozy with the reality TV bad boy. Even Kendra's mom, Patti Wilkinson, expressed her doubt of this new "couple."
Someone's hit a new low. 🙄

— Patti Wilkinson (@Xnjgirl) January 24, 2019
"Someone's hit a new low," Patti posted as soon as the news broke of her daughter's date night with Chad.
One person who has remained silent on Kendra's latest hand-holding shenanigans is her soon-to-be ex-husband Hank. As 'Kendra On Top' fans know, Kendra filed for divorce from Hank last April. However, the couple remains legally married, due to paperwork problems. The divorce judgement has been denied at least twice, with the most recent denial coming earlier this month, according to TMZ.
TMZ reported back in November that Kendra's court documents were rejected after "the wrong jurisdiction date was entered and Kendra forgot to check a required box."
Kendra has stated that she's not looking for love this year.
"Looking for a new love? Nah. Looking to tailor myself to please the eyes of others? Nah. Bettering myself to make people happy? Nah." she wrote on Instagram in late December. "This year I'll be me and let go of anything holding me back only accept eyes of love and support. Healthy and fit enough to play with my kids and dance in the mirror. Healthy and fit enough to climb the highest mountain with my closest friends!"
RELATED STORY: Kendra Wilkinson's Mom Patti Claims 'Kendra On Top' Has Been Cancelled by WEtv
(Photos: Alberto E. Rodriguez/Getty Images; Frederick M. Brown/Getty Images; Twitter; Instagram)