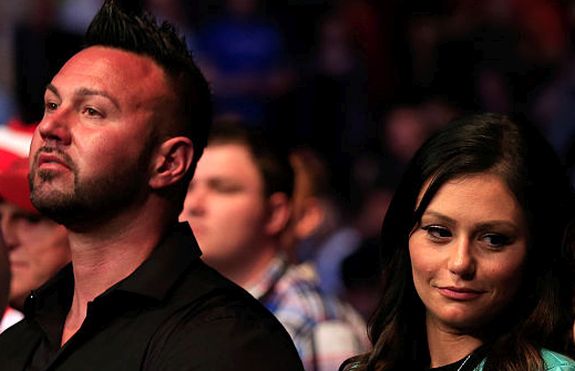 Roger Mathews says there's no truth to the abuse and other claims made by his soon-to-be ex-wife Jenni Farley in a scathing letter posted to her website on Wednesday– and he's willing to fight her in court to prove it!
Roger took to Instagram on Thursday in an attempt to clear his name after the Jersey Shore star accused him of physically abusing her, attempting to extort her and endangering their two young children, among other things. In a video posted to his own Instagram account, Roger called Jenni's claims "highly erroneous" and stated that Jenni had violated an existing non-harassment court order by posting the letter.
"I sit here humbly before you today, a pretty heartbroken man in light of recent circumstances," Roger says in the video. "Things were said about me in a long, rambling rant that was put out about me that was highly erroneous and had many lies in it.
"I had a speech prepared for me by my attorneys that I was going to read but I decided not to read it and just shoot from the hip," he continued. "We're going to address this in court, which is the proper place to address it."
Roger claimed that Jenni has played the victim in the past and been caught telling lies under oath.
"We have proven Jenni and her attorneys to be liars in the past and we will do it again," Roger said.
To show his followers what legal action he is taking against Jenni for posting her letter, Roger attached a three-page legal document addressed to the judge in their divorce case. In the documents, Roger and his legal team claimed that Jenni "uploaded what can only be described as a fictitious and defamatory account of alleged unilateral abusive conduct that creates a false narrative."
The documents also claim that the letter was designed to "provoke and incite" Jenni's 6.7 million Instagram followers, as well as the "potentially millions" of people who viewed the letter on Jenni's website.
"[The letter is] a transparent campaign to extort Roger Mathews to abandon his rights as a father and his legal claims," the court papers state, later adding that Jenni's words were "directly slandering" to Roger. The court papers also stated that the letter mobilized "over 10 million people, as well as news and media to carry out her campaign of cyber-bullying, harassment, embarrassment and intimidation…"
The court documents urged the judge to demand that Jenni take down the letter and to hold Jenni in contempt of the previous court order. Roger stated in the docs that he fears for his safety, as well as the safety of his children, now that Jenni's fans were "provoked and incited by her words."
Finally, Roger and his legal team asked the judge to order Jenni to undergo a mental evaluation.
"Her conduct and 'gaslighting' bears all of the hallmarks of a personality disorder with narcissistic tendencies," the documents state.
Jenni also uploaded a series of videos to her website on Thursday, one of which seemed to show Roger striking Jenni and throwing her to the ground. Roger did not mention that video in his Instagram video or in the uploaded court documents. Still, he insisted that he has proof that Jenni is lying.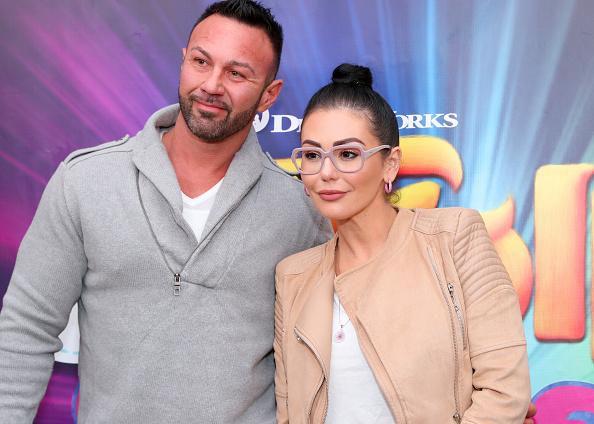 "I know that we have the preponderance of truth on our side," Roger said in his Instagram video. "I know that there is a deep-rooted history of this, [Jenni] playing the victim. We have the preponderance of evidence, truth, the witnesses and the testimony.
"My concern is my children. I will not stop until I have my children."
At press time, Jenni's letter remains on her website and Instagram account.
RELATED STORY: Jenni Farley Blasts Estranged Husband Roger Mathews in Scathing Letter: "You Are An Abuser to the Core, Roger!"
(Photos:Alex Trautwig/Getty Images; Instagram; Cindy Ord/Getty Images)