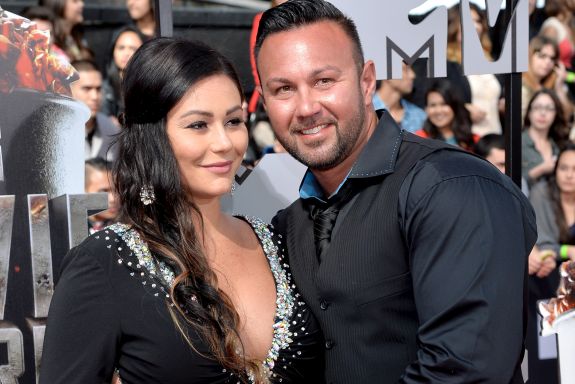 Roger Mathews is begging his soon-to-be ex-wife Jenni Farley to put an end to their very public divorce battle.
Roger fired back at the Jersey Shore star with a very lengthy letter that was a response to the infamous "Message to Roger" letter Jenni posted on her website on Thursday that accused him of unsavory things such as getting physically violent with her, attempting to work with her exes to extort money from her, and endangering their two children.
On Saturday, Roger posted a very lengthy "Message to Jenni" on a website that looks like it was created specifically to post the letter. In the message, Roger explained each and every accusation that Jenni made against him in her infamous letter, offering his side of each story.
By mid-afternoon Saturday, though, Roger had deleted the entire letter from the website and his Instagram. He replaced it with a simple message on his Instagram that reads, "Peace. Let it begin here. For two amazing children. They deserve it. Please."
View this post on Instagram
In the letter he deleted, however, Roger gave his side of each of the events and actions Jenni discussed in her letter. He also addressed the video that Jenni posted to her website in which he is shown getting physical with her in their kitchen.
"You painted me as a woman beater," Roger wrote. "I take responsibility for that night in question, and one other night that I can think of that, I pushed you. You edited out your actions and violent behavior prior to me pushing you which I knew you would do."
However, he told readers that they did not see that Jenni had allegedly gotten violent with him but she chose not to make that part of the alleged clip public.
"You have punched me in the face, you have always been the aggressor…You are always the aggressor," Roger wrote. "I want to say right here, and right now that did not give me the right to push you, and for that I am sorry, and I apologized at the time too."
"You now have deliberately used your platform to destroy my life," Roger wrote. "That's exactly what you have done."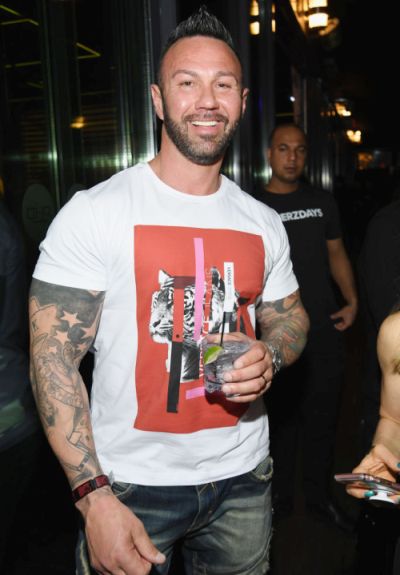 Roger also made several accusations against his soon-to-be-ex-wife, including that she is currently addicted to the drug Adderall; that she frequently smokes her "weed pen" in front of their daughter; and that she had previously tried to stab both of the ex-boyfriends– one of whom is Tom Lippolis— and then accuse them of physically assaulting her.
Roger told Jenni that she is "habitual offender and abuser of both men and the legal system."
"You are not the person you claim to be," he wrote. "How can three men in a row have the exact same experience and you claim all of them are violent and malicious…You're a master manipulator who must be stopped.
"You painted me as an absolute monster…I am a hated man right now and if I read and saw what you put out there, hell, I'd probably hate me too but it is the furthest thing from the truth," Roger wrote. "Your reality world has now made a crossover into our personal lives and this is not a game Jenni."
He also claimed that Jenni posted her letter about him to her website because he and his legal team rejected her divorce and custody terms.
On Friday, Roger attempted to clear his name in an Instagram video, that also included a copy of the legal letter he sent to a judge asking that Jenni be required to take down her letter on her website. That post has also been deleted and, as press time, Jenni's letter remained up on her website.
In his letter, Roger begged Jenni for a truce for the sake for their kids, Meilani and Greyson.
"Two very precious children who we both love very much have both been damaged…" Roger wrote, adding that he and Jenni look stupid for airing their relationship's dirty laundry publicly.
"I do not hate you," he wrote. "If I can forgive you and you can forgive me, certainly the world can try and forgive us. Please let's stop the madness. Let's both get help. For our children. We owe them that. I am not an abuser Jenni and you know it. We look like a**holes to the world. We are. We are both a**holes."
"Let's raise our kids better," he wrote. "I want to help you. Please try and help me. We need each other. Not in the way we once did but this madness has to stop. Own your truths as I have owned mine. Work with me and I will work with you.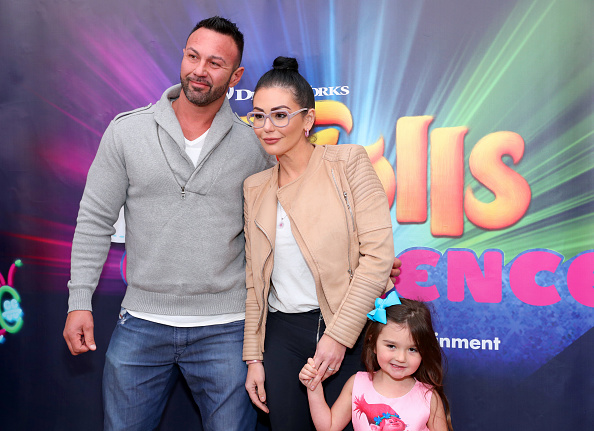 "A part of me will always love you. I had to clear my name," he continued. "I can help you clear yours too. I know all the good things you've done in your life as well as knowing the bad. Let's make the necessary changes for our children. I will if you will. I want you to be happy and I deserve to be happy as well. Happy parents make for happy kids. We owe them this. I would be willing to give you a hug at the end of the day today as a truce offering."
Jenni seemed to be responding to Roger's latest post when she posted a quote by Jill Blakeway to her Instagram Story on Saturday.
"When a toxic person can no longer control you, they will try to control how others see you," the quote reads. "The misinformation will feel unfair, but stay above it, trusting that other people will eventually see the truth, just like you did."
Stay tuned…
RELATED STORY: Jenni Farley Blasts Estranged Husband Roger Mathews in Scathing Letter Posted to Her Website: "You Are An Abuser to the Core, Roger"
(Photos: Jason Merritt/Getty Images;Dave Kotinsky/Getty Images;Cindy Ord/Getty Images; Instagram)