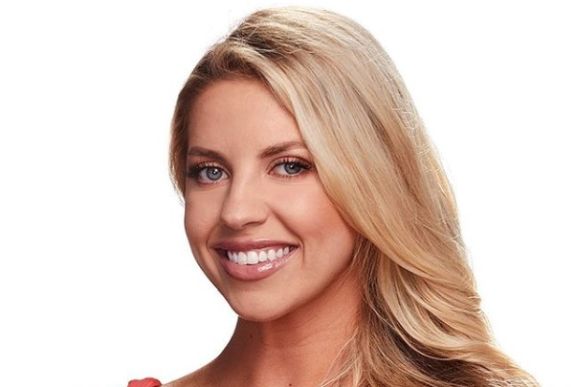 For the average person, it may seem unfathomable as to why anyone would ever want to sign up for USA's Temptation Island — but for star Katheryn Golden, it was pretty much a no-brainer. In an exclusive interview with The Ashley, the blonde beauty — who Teen Mom fans may remember as Ryan Edwards' ex-girlfriend — explained why she wanted to join the controversial series.
Katheryn also dished on which of her co-stars came on the show for love and who she thinks is just looking for fame.
ICYMI, 'Temptation Island' presents couples with tempters — one being Katheryn — to see if their relationship can withstand temptation. Katheryn says she was newly single at the time she was approached to appear on the show, and decided to take a chance.
"It was so bizarre because I had only been single about a month," Katheryn, who hails from Tennessee, shared. "It wasn't a serious thing. It was more of on-and-off dating, just some guy I had kind of been seeing… We didn't live in the same city so it's hard. We were finally done, hadn't spoken in a month — and I get this opportunity so I said, 'Heck yeah!' You only live once. Why not? I'm single! I'd be dumb to turn down an opportunity like this."
Katheryn definitely has opinions about the couples who join the series. She believes some of them — like Shari and Javen, or Evan and Kaci — were truly there for the right reasons. Katheryn said that she thinks some couples, though, are just looking to break into the reality TV arena.
"I think Kady was definitely looking for her few minutes of fame. I do think Kady definitely had an agenda going into this," Katheryn said.
While Katheryn didn't get to know Kady that well, she did get to know Kady's beau John.
"Through conversations I had with John, it was 100 percent her wanting to get some recognition and get some type of something out of this," Katheryn said. "John was there 100 percent to support her, and this was what she wanted. He wanted nothing to do with this. She talked him into it."
After dishing about the potentially problematic couples, Katheryn opened up about her fight with bestie and fellow temptress Morgan Lolar,which happened after she interrupted her alone time with Evan.
"I think that there were a few girls that talked Morgan into opening the door," she recalled. "I think what had happened was Morgan was just kind of out and about, and a few other girls were listening. They knew how close Morgan and I were, and I think they talked her into it."
Katheryn feels that the other singles were trying to pit her and Morgan against each other.
"They used Morgan," she said. "They didn't want to do it because they were cowards. I think it was the other girls just being drama. It was unnecessary. Evan and I weren't doing anything wrong, we were literally just having a conversation."
'Temptation Island' airs Tuesdays on the USA network.
Be sure to check back next week for Part 2 of The Ashley's interview with Katheryn, in which she opens up about her time on 'Teen Mom,' her feelings about Ryan Edwards' recent drug issues and arrests, and what was going on behind-the-scenes during the early years of 'Teen Mom!'
RELATED STORY: Meet the Couples of 'Temptation Island!'
(Photos: USA Network, Instagram)