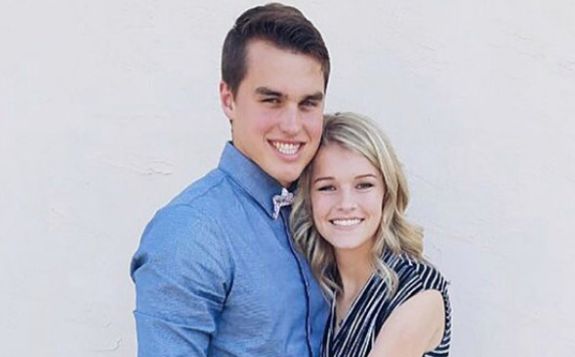 Another Bates baby is on the way!
Newlywed Bringing Up Bates star Josie Bates Balka announced on Wednesday that she is pregnant with her first child. Josie married her husband, Kelton Balka, in October of 2018. (Fans will get to watch the wedding unfold on a special Valentine's Day episode.)
Josie, 19, and Kelton, 23, posed for photos to announce that their bundle of joy will arrive in July of 2019.
"We can hardly believe it. We are already so in love with our little one and so very thankful to God for His blessing and our life as we start our little family," the teenager told In Touch Weekly.
Josie and Kelton were married October 5, 2018 in an outdoor ceremony at Cove Lake State Park in Caryville, Tennessee. Josie's father, Gil, officiated the ceremony and her sisters, Erin and Tori, performed music on the piano and violin. Josie's brother, Lawson Bates, "continued his family tradition of writing a special, personalized song for the newlyweds," Us Weekly reported at the time.
Of course, no Christian reality wedding special would be complete without at least a few Duggars in attendance, so Jim Bob, Michelle, Joy-Anna, and Jackson Duggar made appearances at the nuptials (and most likely collected their fair share of any free food being given away because…Duggars…)
As stated above, the Bates Family— like their pals the Duggars— are all about having babies. Baby Balka will have nine cousins under the age of five to play with when he or she arrives.(Josie and Kelton haven't decided if they will reveal the baby's gender prior to his or her birth or not.)
An "insider" gave some insight to In Touch about how the teenager is handling her pregnancy.
"Josie is obsessed with coffee," the insider said. "But since becoming pregnant, she cannot even stand the smell of coffee."
The insider also said Josie has been dealing with horrible morning sickness.
Despite yakking on the regular, Josie has been upbeat in her recent social media posts.
"2018 was the best year of my life, but I'm so excited to see what 2019 holds!! God has been good and I'm so thankful," Josie wrote on Instagram last month.
When their baby arrives in July, Josie and Kelton will have been married just about nine months. It will be about a year from the date they got engaged.
'Bringing Up Bates' airs Thursdays on UPtv.
RELATED STORY: 'Bringing Up Bates' Stars Tori Bates & Bobby Smith Welcome First Child
(Photos: UPtv, Instagram)