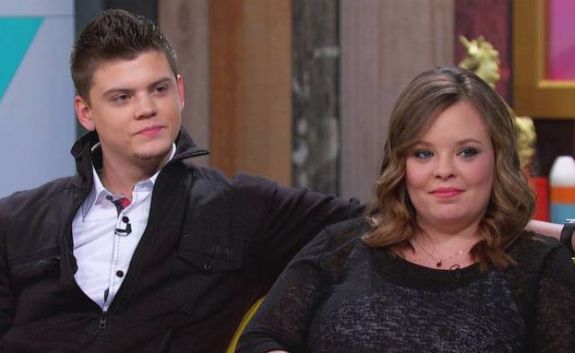 It's (another!) girl for Tyler Baltierra and Catelynn Lowell!
The Teen Mom OG stars welcomed their third child on Thursday. Us Weekly broke the news that the couple's baby girl was born at 9:24 a.m., weighing in at 6 lbs and 4 oz. According to a photo posted to Instagram by Tyler, the baby measured 19 3/4 inches long.
Although the couple had claimed on an episode of 'Teen Mom OG' that they planned to name their daughter Tezlee, they apparently changed their mind, as they ended up giving their new baby the name Vaeda Luma.
Cate and Ty obviously enjoy naming their kids after characters in movies. Their middle daughter is named Novalee– which is the name of the main character in the movie "Where the Heart Is," and the name "Vaeda" is most-recognized from being the name of the main character in the "My Girl" movies. (Their oldest daughter, Carly, was named by her adoptive parents.)
Anyway, Tyler's Instagram post indicated that both mom and baby were healthy and doing well.
View this post on Instagram
"She's here & I'm in love!" he wrote in the photo caption.
Baby Vaeda will most likely not be the last Baltierra baby. Last month, Catelynn said there is at least one more pregnancy in her (near) future.
"Yes, Tyler and I both want a boy, so we're definitely gonna try again," Catelynn told fans on Instagram Live, adding that she hopes to get knocked up again soon.
"I think we're just gonna go right for No. 4 right after this one's born," she said. "We wanna be done before we're 30, you know?"
It's no secret that Tyler has been unhappy that, so far, Catelynn has only given birth to baby girls. During the 'Teen Mom OG' episode that featured Tezlee's gender reveal party, Tyler was noticeably upset when he found out they were having yet another girl.
RELATED STORY: Catelynn Lowell Says She Plans to Get Pregnant Again As Soon As She Gives Birth: "Tyler & I Want a Boy!"