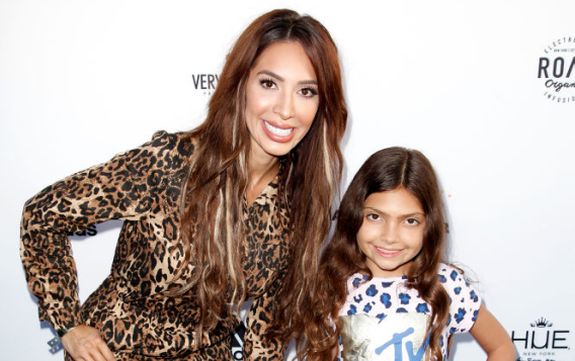 Farrah Abraham celebrated her daughter Sophia's tenth birthday on Tuesday in a very "Farrah" fashion: by throwing her a party full of paparazzi cameramen, fake smiles and, of course, a whole lotta Farrah!
Farrah proudly posted videos of the "party" to Instagram (in addition to selling the pics to OK! magazine…as you do). The footage was met with a ton of backlash from followers, though, who felt bad for Sophia, who was her party's only attendee besides Farrah, of course.
The former Teen Mom OG star took Sophia to New York City with her while she was on a press tour for Ex on the Beach, and decided to roll Sophia's birthday party into the trip. The "party" basically consisted of Farrah and Sophia sitting at a table at a NYC restaurant that had been staged to look like a "typical" kid's party with games and a giant ice cream sundae. Farrah hired paparazzi photographers to capture the "fun."
She then took Sophia to The Plaza hotel, where they "enjoyed" a staged birthday tea party that was also filled with paparazzi photographers.
As per usual, Farrah's actions got people talking on social media, with many expressing how sad the fake party was, and how Sophia doesn't get the chance to interact with anyone her own age, or celebrate her birthday like a regular kid.
"All those fancy desserts and not a friend to share it with," one person wrote in the comment section of Farrah's Instagram post. "That baby needs to be in school with other children. She's not a designer handbag that you can lug around during your lonely life!"
"Where are her friends? This video was more like an ad than a party!" another person wrote in the comments.
Fans also pointed out that, although it was a "party" for Sophia's birthday, Farrah seemed to be trying to take over her spotlight.
"Your story made me so incredibly sad for Sophia. It was all about you… Sophia has no friends aside from her narcissistic mother.. and NO child wants or likes fake photo ops all freaking day. Your affection is fake. I feel for Sophia. Poor girl doesn't have a chance so long as she's with or around you," one person wrote.
"It is SO SAD that the camera was focused on YOU the majority of the time," one person commented. "Damn, even on her birthday, you have to steal the spotlight. That is absolutely pathetic. Even more pathetic than the fact that, because of you, she has no friends and no healthy social life, so she doesn't even have any kids to have a normal party with."
You can see more behind-the-scenes footage of the "party" in the video below, which came from Farrah's Instagram Live.
Fake ass Farrah and Friendless Sophia pic.twitter.com/n7Lmt0IHwu

— ★Maggie★ (@LaSILoca) February 19, 2019
Of course, this is just one of the many times in recent months that Farrah has been called out on social media for her questionable parenting choices. Last month, Farrah caused major controversy when she posted a photo to her Instagram that showed Sophia in her underwear posing suggestively. As per usual, Farrah saw nothing wrong with her actions, later telling TMZ that what she posted "is no different than the kids modeling for Calvin Klein."
Anyway, Sophia does not actually turn 10 until Saturday, February 23, so there is plenty more time for more made-for-television "celebrations!"
You can see more photos of Farrah's party for Farrah Sophia by clicking here!
RELATED STORY: Farrah Abraham Insists "Teen Parenting Is Really a Beautiful Thing"
(Photos: Tibrina Hobson/Getty Images; Instagram)