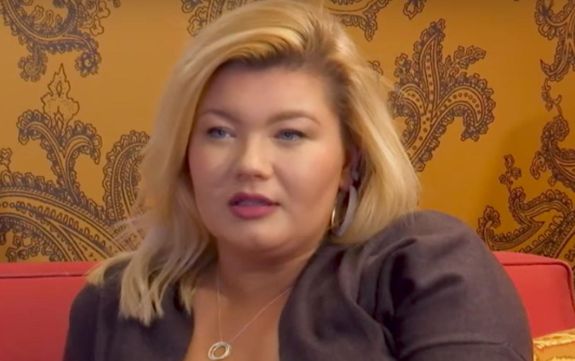 Teen Mom OG star Amber Portwood was the most-recent guest on Kail Lowry and Lindsie Chrisley's Coffee Convos podcast. During the episode, Amber discussed her recent feud with Jenelle Evans (that resulted in dueling Instagram Live screaming sessions), as well as her future plans with boyfriend Andrew Glennon.
Amber also talked about all of the "A-list" celebs that were trying to slide into her DMs once she split from Matt Baier!
Here, The Ashley breaks down some of the most-interesting segments of Amber's interview!
On her feelings that the 'Teen Mom' casts get no respect in "the industry":
Amber told Kail and Lindsie that she and the rest of the 'Teen Mom' girls have been doing their jobs for nearly 10 years, and that they should be more respected than they are.
"The 'Teen Mom' franchise, in general, we should have Emmys," Amber said. "We should be recognized more for what we have done. I think the focus on the negativity is ridiculous. I think there should be a little more focus on the good things we have done. I think with the 'Teen Mom' franchise, they should look at us a bit differently. We've been through things in our lives that real people have went through. They need to look at it that way, instead of just drama, drama, drama.
"I demand that respect after doing this for such a long time, as any of us should," she added.
On her current custody situation with her daughter Leah:
Amber stated that her ex, Gary Shirley, still doesn't quite trust her to take care of Leah.
"I still don't feel like I see Leah enough," Amber said. "I don't really barely see her at all. She's getting older. The last time I saw her she said 'I'm about to be a pre-teen.' She's 10 years old and already saying this.
View this post on Instagram
"We do have a set custody order, but does that matter? No," Amber said, adding that she gets a lot of criticism for not trying to get more custody of her daughter.
"It's because she's 10 years old," Amber said. "She's lived pretty much the majority of her life with him…you don't want to change everything. That means changing schools, changing friends. We live close, about 30 minutes apart.
On her recent feud with Jenelle Evans:
Amber talked about why she decided to speak out in regard to Jenelle's husband David Eason last month on Twitter. (As The Ashley previously reported, Jenelle was not happy that Amber criticized David, and took to Instagram Live to air her thoughts on Amber. In return, Amber unleashed on Jenelle, in what may be the most-vicious rant in 'Teen Mom' history!)
"I was seeing all the stuff she's saying about you [Kail] and burning your stuff…" Amber said, adding that she became infuriated at David after hearing Jenelle's terrifying 911 call and seeing the photos that Nathan Griffith posted that showed the bruises David allegedly left on his young son Kaiser.
"I went after her, I couldn't understand in my mind how certain things transpired…it just really hit something with me," Amber said.
"This showed up on my Twitter feed and I couldn't ignore it," she said. "I couldn't ignore a 911 phone call…I'm going to listen to that because I actually care. I wasn't really trying to attack her…even though I did attack her."
Amber also offered her thoughts on David's mental state.
"I think they just want attention…I think when David does certain things he can get pretty crazy," she said. "I just think if he changed maybe drinking habits or something, he could probably calm down a little bit."
Amber said, after posting her vicious rant online, she immediately regretted it and deleted the video.
"It was too late. They already had it…sometimes it's hard not to go back to those roots when people are saying some pretty ignorant, disgusting things…Right afterward, I was like 'Damn,'" Amber said. "The last message I sent to Jenelle before she blocked me was so sweet. All I said was I hoped that he would get out of the situation and she blocked me. I was so freaking sweet to her in that message. I just wanted her to be OK. That was it, and then she blocked me."
On how her breakup with her former fiance Matt Baier went down:
"We went to 'Marriage Boot Camp'… I went on there and me and Matt had broken up already on my birthday on May 14," Amber said. "We kind of were together/ he wouldn't leave."
When Matt received his check for appearing on 'Marriage Boot Camp,' though, he split, Amber said.
View this post on Instagram
"I think when we went to 'Marriage Boot Camp' and he got that boost of money he was like, 'Alright, peace!' and he left. It was OK because I already broke up with him," she said. "I was already done with that and the thing is, I didn't even know that there's this tall ass man behind the scenes that's like digging me."
On how quickly boyfriend Andrew Glennon said he loved her:
"He was working for the show behind the scenes and so two weeks after we wrapped… I get this message from this guy, and it's the sweetest message…"
Amber said she felt so much better once she found out that Andrew was in the entertainment industry, because she felt he was less likely to just be contacting her because she's famous. She added that she was inundated with A-list celebrities who were trying to get with her, following her split with Matt.
(No….really…she said that…)
"I had already had a few [guys] trying to do that," Amber said. "Once you get single on the show…it's like…there were some A-listers flashing money [trying to hit me up]…I'm not going to say their names, but I thought it was kind of corny and ignorant. You know who you are, I just thought it was really corny."
Amber said that she allowed Andrew to come to Indiana to meet her after they had talked for a month-and-a-half.
"With Matt, it took six months to meet him. I feel like when someone's in the industry I'm more comfortable with meeting them because hopefully they're not psychotic," Amber said of Andrew. "I was comfortable and we hit it off."
Andrew wasted no time in confessing his feelings for Amber.
"Day two— I'm gonna put him on blast— he told me he felt like he loved me," she said. "It took me about two months [to say it back] but that's only because I was so scared because of my past relationship."
Amber said that she would say yes "in a heartbeat" if Andrew asked her to marry him.
Listen to Amber's complete interview on the Coffee Convos podcast below!
(Photos: MTV, Instagram)