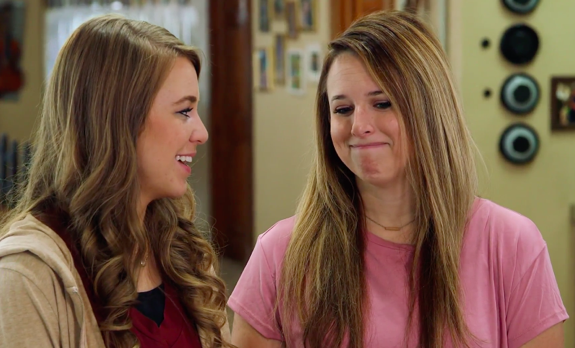 Throw all of your responsibilities onto an older, unmarried sibling and settle in—- it's time for another episode of Counting On!
We kick off this episode at the Duggar Compound where Jana and her partner in manual labor, Laura, are hard at work preparing for John-David's upcoming nuptials.
"John and Abbie have asked us to help them with their wedding and we…I guess, agreed to it," Jana said. (She sounds more like someone being held hostage in the Party City wedding aisle and less like a willing participant in the wedding planning hijinks.)
Even though John and Abbie just got engaged, there are only two months until the wedding. (We all know that the Dugs like to get hitched ASAP so they can start getting freaky for Jesus and being fruitful and multiplying!)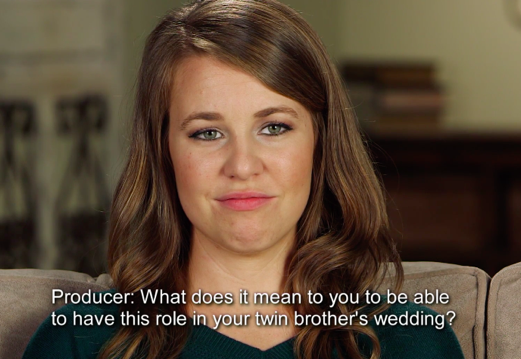 Jana says this is the first time she (and Laura) have been in charge of a Dug wedding.
(Um…can someone do a wellness check on Miss Cindy? Shouldn't she be out collecting hay or something to hang on the altar? Also, where is Sierra and her big ol' eyes these days? She never misses a chance to frantically organize a Duggar wedding.)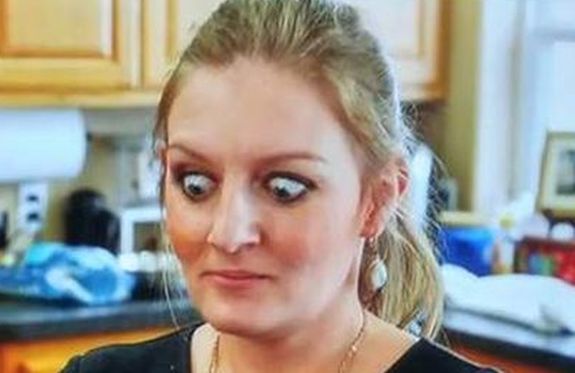 Jana says she's stressed out doing the wedding planning. She then remembers to "keep it sweet" and adds that she's having a lot of fun planning and doing all of the wedding work.
Really, guys…it's awesome…really…
John says the color scheme for he and Abbie's wedding will be pink, white, black and gold (umm…) and the theme will be "love is in the air," because in case you didn't know, John is a pilot and he likes to remind people of that fact as often as humanly possible.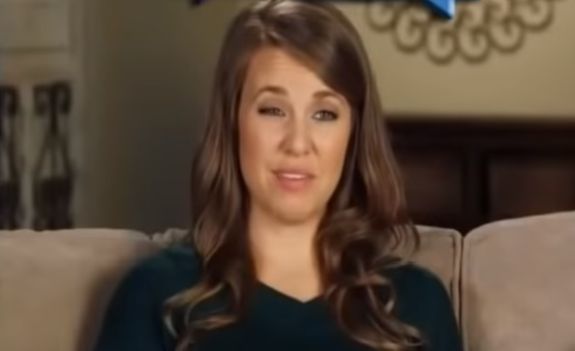 "Helping" Jana and Laura with some of the wedding details are Jeremiah and Jedidiah, who are trying their damnedest to 1) avoid being the next Duggar forced to court/marry/procreate and 2) build a giant wooden arbor in the Duggar living room without pushing each other off of their respective ladders. Jana looks on as her brothers struggle to put the pieces together and admits to producers that she usually ends up having to finish these sort of projects on her own.
(At one point Jere or Jed is just randomly hitting beams with a big ol' mallet. That's a emergency room co-pay waiting to happen…)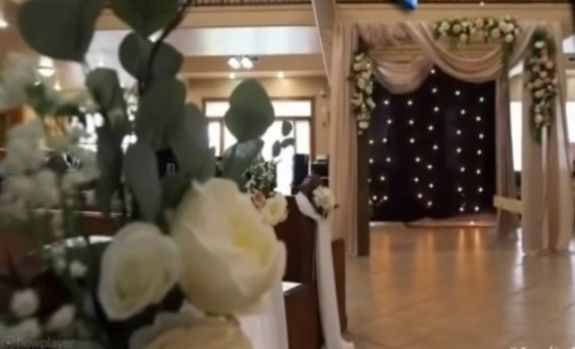 Before John and Abbie arrive to decide if Jana's vision is good enough for their mile-high marriage celebration, the Duggars (well, Jana) arrange a mock-up of the ceremony, complete with rows of full-sized wooded church pews. John and Abbie ultimately give their monotoned approval of the design, though John is likely a little let down that they didn't decide to string banners of air-sickness bags around the room.
Save something for the honeymoon, John!
Over in Texas, Jinger and Jeremy are settling into parenthood, while baby Felicity is settling into her role as a reality TV star, and already nailing the whole scene-stealer thing at that.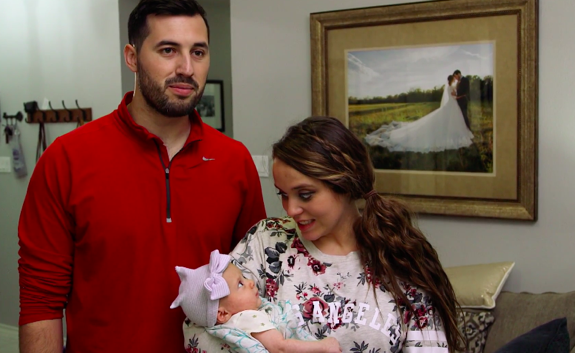 Felicity's party-all-night ways are taking a toll on Jinger and Jeremy and the two are struggling to stay awake into the wee hours of… 10 p.m.? In between shushing and bouncing Felicity, Jinger says she wishes her family (aka Jana) lived closer so she and Jeremy could get a break now and then.
(We all know if Michelle was there, she would just say Felicity was "precious" and then somehow get Jinger to do all her laundry or something.)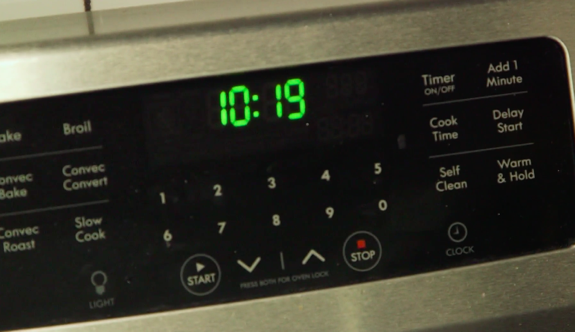 Jinger tells us that, despite the fact that she raised so many of her younger siblings, having your own kid is quite different, because it's "24/7 responsibility on you."
Jeremy tells us that he is not able to breastfeed Felicity, which may come as a shock to some of the homeschooled Duggar kids.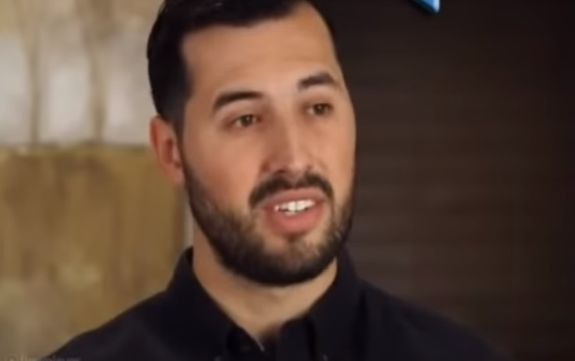 The other married Dugs who are parents jump in to talk about how they divided the baby work load.
Joy says that Austin changed all of their baby's diapers…for a month, but she was the one who got no sleep. (I wonder if Austin allowed Joy to stop doing manual labor while she breastfeed the kid? I mean….she does have two hands. I'm sure he made her sand wood or something while holding the baby with the other hand.)
Jessa explains that she took care of the "input" and Ben took care of the "output."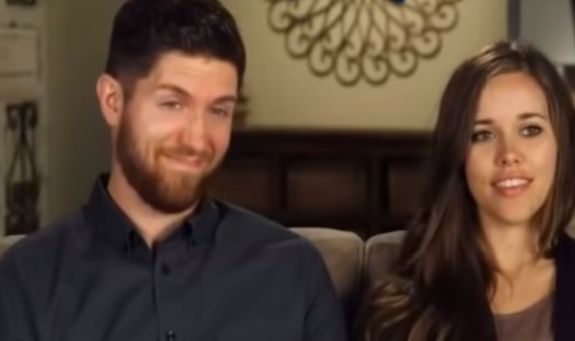 Next we head to Josiah and Lauren's house where we learn that the couple is expecting because of course they are.
They have only known about the baby for one day, yet they are already planning to tell their families. Lauren and Josiah want to announce their news to the family in a unique way but that's no easy feat for a family that has announced 4,508 pregnancy to date.
Lauren opts for a "Mama in the Making" T-shirt to share the big news, though due to the shirt's decorative font, she's already preparing for a room of puzzled Duggars because cursive writing isn't covered in the Michelle Duggar Homeschool Curriculum.
Lauren, who is 18, by the way, says it's great to go from newlywed to Insta-parent. She decides that wearing a shirt that says "I'm pregnant" would be inappropriate so she goes with the more-modest slogan "Mama in the Making."
Back at the Duggar Compound, someone has tricked Ben into babysitting a bunch of the little Duggars by telling him he's "teaching" them.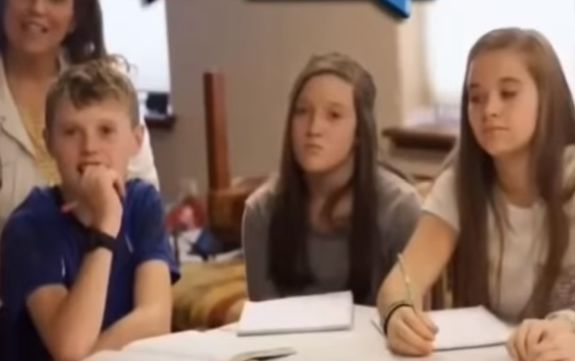 Being that Ben isn't even allowed to work the microwave by himself, let alone be in charge of a gaggle of children, Michelle sits closely by during the "lesson" to make sure Ben doesn't get too distracted by all of the toys lying around.
Ben explains that they'll be doing "the math" using a recipe. (Hopefully this isn't one of Chef Jill's fancy eatin' recipes! Be sure to stock up on Pepto-Bismol if so!)
"Then we'll take a field trip to the store!" Ben says. (That must be what Jessa tells him when she wants him to go buy diapers.)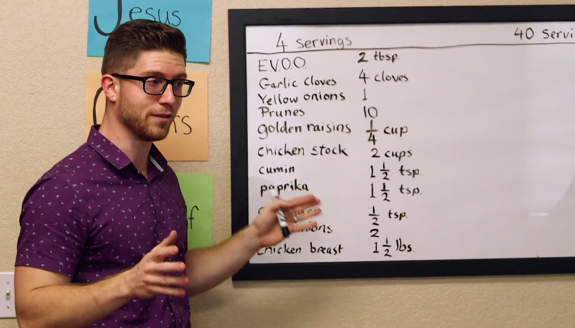 Ben says he's been tutoring the kids for a few months, and that he's still continuing his education (i.e. he's reading a lot more picture books these days.) He says teaching the Dug kids recipes counts as a part-time job.
The producers then cut to some Duggar kids to ask them what their favorite "classes" were in school/their dining room. (They also show us an old clip from 2001 of John doing schoolwork on a computer without an accountability partner! The horror!)
Our favorite answer comes from Josiah who says one of his favorite classes was P.E., gifting us with a mental picture of Michelle lining up her kids for a mid-day game of dodgeball, wearing her sportiest denim skirt.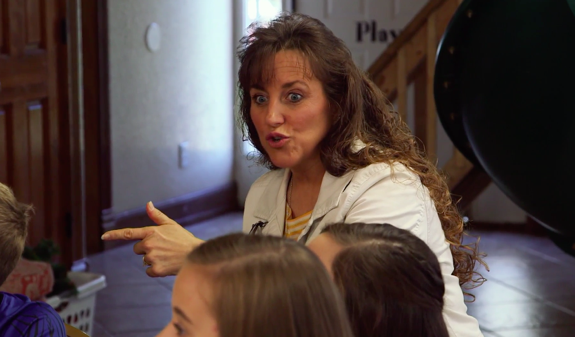 As Ben continues to teach the math lesson, the kids begin to get distracted, though it might be because they can't see the equations on the world's smallest dry erase board. Poor Johannah looks like she wants to jam her pencil into her eye, although, to be fair, she always kind of looks like that when she's around her family.
There's also some rando girl next to Johannah who is not a Dug by blood and therefore shouldn't be subjected to Buffoon Ben's recipe math.
Despite the lack of attention being paid to him, Michelle says she's pleased with Ben's teaching skills because he's patient… not to mention it keeps Ben busy and out of her way.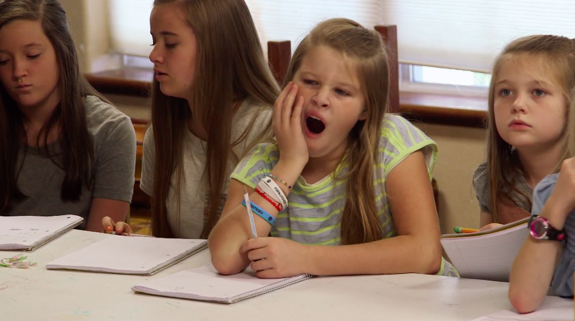 Next we head to Oklahoma where John, Abbie, Abbie's sister and wedding-planning duo Jana and Laura have traveled to check out the venue for the wedding reception. John says he and Abbie chose to have their reception in an airplane hangar because he's a pilot (in case you hadn't heard) and because Abbie is a "pilot's bride."
Dear God…
They plan to cram about 1,000 people into their reception, so this place was one of the only venues big enough. Laura suggests that, if the weather is nice, they open up the hangar's big door and let the guests roam around the pavement… like ants.
They do run into a crappy issue regarding the venue…literally. The place has no bathrooms.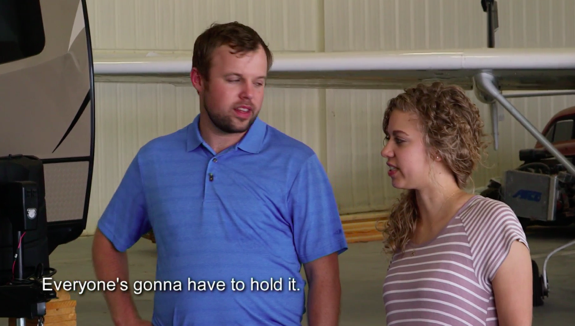 The gang discusses whether or not it's proper wedding etiquette to ask their guests to relieve themselves in the bushes. (They're kidding…I think. I mean, this is the family that literally licks their plates clean, so who knows?)
Jana decides they'll bring in porta-potties to avoid having the guests just peeing and pooping in piles on the pavement. (Joy suggests they dehydrate their guests by "not servin' any tea or anything" so they don't have to pay for more than two bathrooms. I think that's nice…)
"People got to relieve themselves and you want 'em doin' it in the proper place," John tells us. "Otherwise it gets messy!"
I…can't….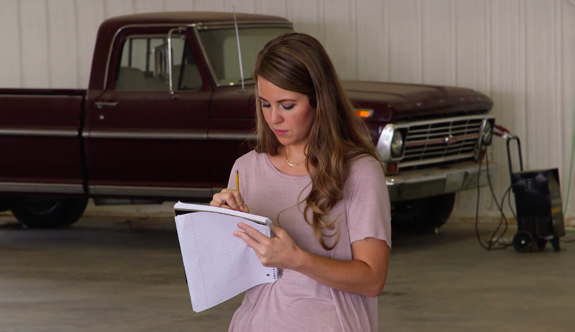 Now that Ben is an "educator," he decides to take his learnin' to the streets for a field trip, while Michelle tags along, of course. (She knows that, as soon as Ben sees something shiny, he'll get distracted and possibly lose one of her meal tickets kids.)
"My plan is to do more field trips," Ben– who is sporting his transition lenses like a boss– tells us. "Doing some things that they can see why science is important."
By going to a grocery store…? Jesus God JimBob…
Soon the whole Duggar squad is unleashed, scouring the discount grocery store for spices and other ingredients for the big family dinner they're planning. Before heading out, the group makes its way to the produce section where the kids are riveted by the fruit and vegetable misters. They are practically bathing themselves in them. (Those Dugs aren't going to let all that free water go to waste y'all!)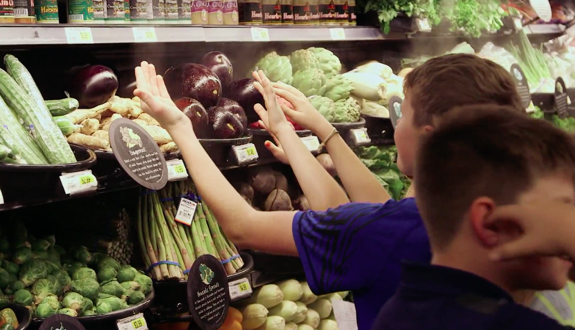 Jackson says he wishes he could have misters all over his bed.
Jim Bob probably does too…
We're also treated to a fun grocery-themed flashback featuring some classic Duggar fashion, some of which is probably still making its way through the family hand-me-down system today.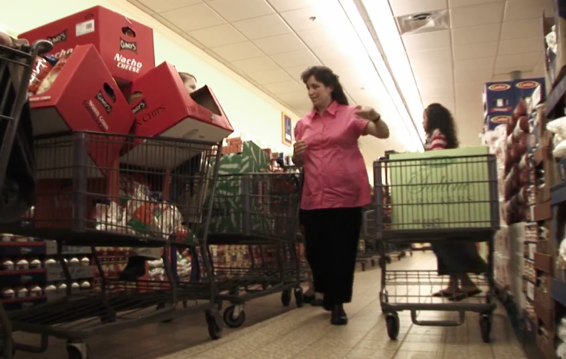 Back at the house, Ben and his pupils begin prepping for dinner, though he is soon kicked out of the back kitchen by Jessa. She sends Ben to watch the chicken cook on the stove with the little "team members" because Jessa knows Ben thrives among people his own level (and also because she doesn't trust him around knives.)
Even Michelle jumps in and stirs something in a pot to make it look like she's helping.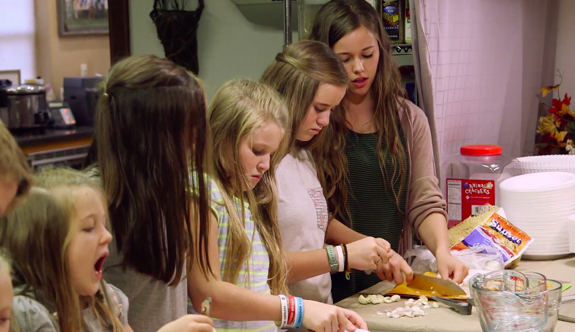 As the cooking continues, the Caldwells, Swansons and the Duggars that weren't subjected to Ben's teaching lessons begin arriving at the compound. Before long, the living room is packed with parents, kids, babies, breast-feeders and a whole lot of noise.
Amidst the commotion, Josiah and Lauren grow impatient that, as Lauren suspected, no one has figured out what her shirt says. Eventually she ends up ditching her cardigan and her sister finally catches on.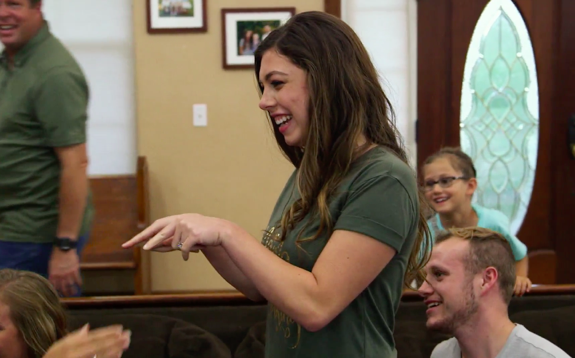 Lauren's mom (who has a newborn baby dangling off of her) starts squealing. Lauren's dad Dwain comes out and reads the shirt and realizes his 18-year-old daughter is about to make him a grandpa (and MTV is nowhere in sight….again, the horror!)
Once the news is out and everyone has side-hugged each other, Jim Bob throws out a "Praise God!" just for good measure.
Jessa says she feels old whenever one of her younger siblings announces they're pregnant.
"Aren't you 15?" she jokes.
Well…no…but Lauren's 18…so same/same…
Ben quickly steals their thunder by announcing that dinner is ready. In Ben's defense, he's probably just pumped about getting a gold star on his chore chart when he and Jessa get home… two more and he'll earn a prize from the treasure chest!
To read our previous 'Counting On' recaps, click here!
(Photos: TLC)