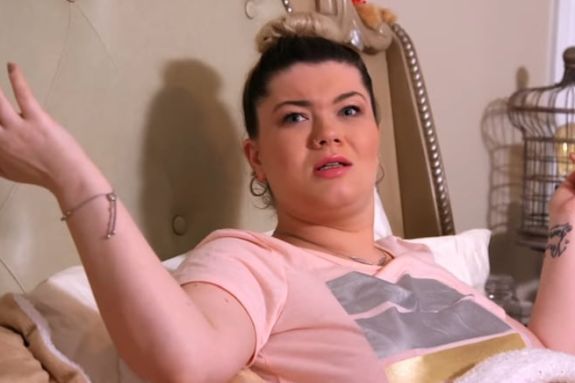 Amber Portwood has lots of money— and she's making sure everyone knows it!
The Teen Mom OG star went live on Instagram on Monday and— instead of doing one of her signature rants— used most of the time to talk about how much money she makes (outside of her MTV paychecks) and how most of her followers wish they could live a life like hers.
Amber did, indeed, rant about a "friend" she had tried to help who apparently turned on her (or something…) but the majority of the Instagram Live session was devoted to Amber giving stock-trading advice (no, seriously….), talking about how much money she can make using her phone while in bed, and how she helps saves lives on the regular.
While the long Instagram Live session was full of financially themed quotes, The Ashley has narrowed it down to a list of the 13 most-interesting "gems" Amber spouted during the session.
13. "I'm so sick of the way people think of me, it's disgusting…I am a 28-year-old woman and you guys are like children. You do not help people. You do not help the world. You do not use your platform for good. You use your platform like I used to— to act a fool to make money. I'm not using my platform for that anymore." -Amber (wanting some damn respect)
12. "Poor Andrew? Oh yes, it must be so hard for him living in a 2,500 square foot home with me. It must be so hard when I give him kisses and cuddle him at night. It must be hard to go to Hawaii and all these other places, and on a yacht…so hard! He's treated like a king!" -Amber (in response to people who commented that they felt sorry for her boyfriend Andrew Glennon)
11. "I need to make sure this next house I'm about to move into– which is a f**king mansion– is paid off." – Amber (talking about how she is "movin' on up!")
10. "This has nothing to do with [my] bipolar. This is called a REAL woman speaking REAL facts…I'm going to really make a difference. I'm going to save people's lives. I just saved a few people's lives last week. Literally." – Amber (discussing how she helps people on Twitter who are depressed and suicidal)
9. "I know about 9-to-5 jobs! I worked 9-to-5 jobs since I was about 15, all the way until 18 years old. I worked 45 hours a week at the age of 17, which is illegal." -Amber (trying to make a point that she knows all about "regular" jobs…even though she only worked them for less than three years)
8. "You guys wish you could have this life. You wish you could make money on your phone. YOU WISH! That's why I need a nanny [for my son James]. Who cares?" -Amber (responding to people who make fun of her for seemingly always being on the bed or couch)
7. "I pay all my s**t. I don't care. I pay my s**t in bulk: $45,000, $15,000, $8,000, $9,000, bulk bulk bulk!" -Amber (discussing how she pays her bills, bills, bills…)
6. "Sitting on my bed on my phone, making good money and taking care of my kids. You guys can sit there and be jealous…I don't give a damn anymore. You guys are like children." -Amber (giving a damn).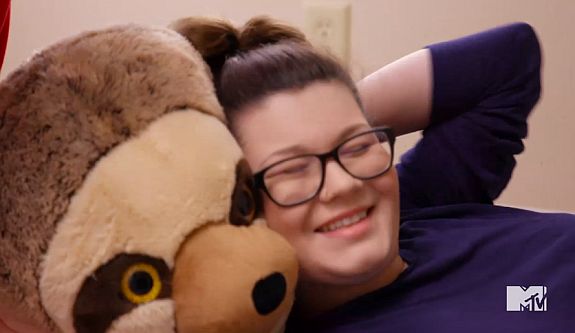 5. "For everyone who wants to talk s**t and say I need MTV so bad…I can make more money a month, a year, doing stock markets than I do from MTV…I appreciate what I do and the money that I get [from MTV] but to write me off like that [is all I get] is a slap in the face." -Amber (responding to people who said she will be in financial trouble when 'Teen Mom' finally ends).
4. "I have Andrew…he pretty much runs all [the stocks]. He does stuff from 9-4 doing day-trading….You can make really decent money but you guys don't know this stuff…he just made $3200 in 10 minutes…that's how crazy this stuff is, it's real…" -Amber (giving stock-trading tips)
3. "The people who work from home make more money than people who work 9-to-5 jobs, usually. What we do, you guys couldn't do because you're not in the industry, you're not part of it, and you don't know what we do. You don't know the logistics of it and the conversations we have to have with networks." -Amber (sounding not at all entitled.)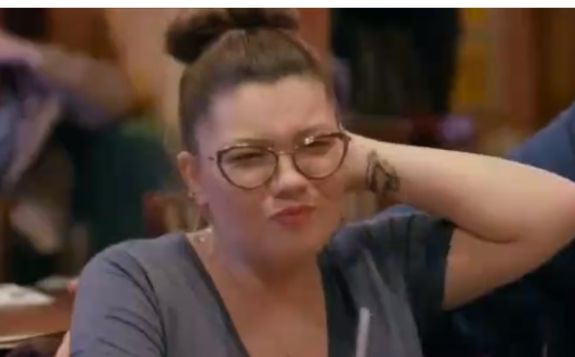 2. "How could stocks be taken away from you in a minute, unless you're a dumbass? Day-trading is amazing if you do it correctly…you have to put like $20,000 in just to do it so it's kind of hard…you have to pay attention until the stocks close. You really do." -Amber (offering more day-trading tips).
1. "Some of you are so entitled…how am I lazy? You wish you could make the money I make one day by sitting on my f**king phone. Because that's your entire year's salary. You wish you could sit in your f**king bed and sit on your phone and make the money I make." -Amber (sounding not at all entitled)
RELATED STORY: Amber Portwood Talks About Her Feud with Jenelle Evans & Why the 'Teen Mom' Casts Deserve Emmys, During Coffee Convos Podcast Interview
(Photos: MTV)