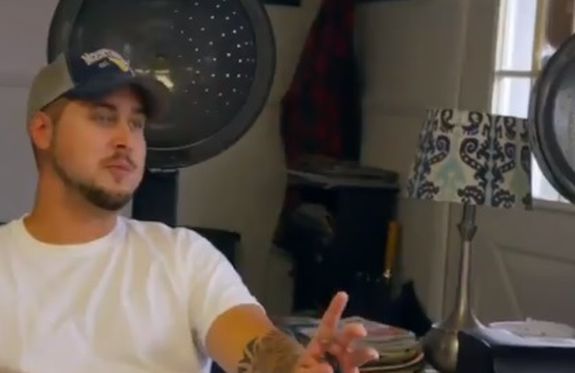 Hell hath no fury like a Teen Mom 2 dad scorned!
Jeremy Calvert is speaking out following a series of Season 9 episodes in which his ex Leah Messer and her new boyfriend Jason Jordan have discussed his less-than-stellar parenting skills, arguing that he's getting a worse edit than some of the show's notoriously bad dads!
Jeremy– who shares six-year-old daughter Addie with Leah– ranted on Instagram Stories on Thursday, writing that, despite having to go out of town frequently to work, he is still a good father who takes care of his kid, unlike some of the show's other dads.
"I'm getting more s**t than Adam [Lind] while I'm raising and supporting my family, while working away but still paying my child support and still taking care of my kid as much as possible," Jeremy wrote. "How about showing the real side of things @MTV @TeenMom?"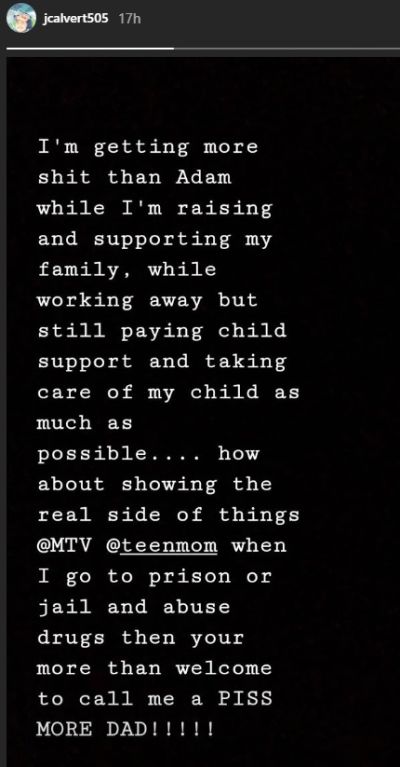 Jeremy pointed out he feels he is being clumped together with them some of the other dads who have been featured on 'Teen Mom 2' who have extensive legal rap sheets and/or drug issues.
"When I go to prison or jail and abuse drugs then you're more than welcome to call me a PISS [POOR] DAD!" he wrote.
This is not the first time Jeremy has taken to social media to express his anger over the way he's being portrayed on 'Teen Mom 2' Season 9. Last week, he disputed the claims that Leah made on the show that he fails to call Addie while he's out of town.
"Ok screw this, I call my child a lot more than what's showed on this bulls**t show, so MTV editing can kiss my a**," he wrote on Instagram.
He added that, unlike many of the show's stars, who don't have jobs outside of MTV, he is not dependent on his MTV paycheck.
"I don't need to lick their a** for my paycheck," Jeremy oh-so-eloquently wrote. "I have a normal f**king career WORKING, not [filming] kids to make it more exciting. So here's to you MTV, blow me! Don't like [it], get f**ked!"
"I don't know when MTV is going to realize I don't need the play money they send me, it's f**king pocket change at this point. I love my job and my career, it's something to be proud of and the family I have at work. People and MTV have no idea until you live it. Working people make this country great. Not a bulls**t television show," he wrote in another post.
Despite what viewers may think, most of the 'Teen Mom 2' dads actually work outside of the show. Leah's other baby daddy Corey Simms works a full-time job, as does Cole DeBoer. Javi Marroquin owns his own Crossfit business, and Jo Rivera flips houses for profit. Devoin Austin is also currently employed.
To read The Ashley's recaps of 'Teen Mom 2' Season 9 click here!
(Photos: MTV, Instagram)