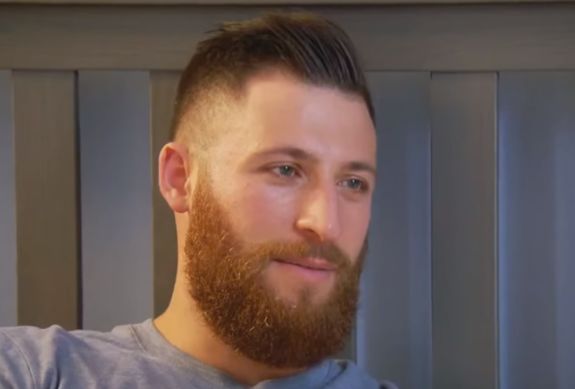 Luke Cuccurullo has taken a lot of heat while appearing on this season of Married At First Sight over his treatment of wife Kate Sisk. Although he's been called many things on social media by fans of the show (including a "gaslighting manipulator" and a "emotionally devoid man," recently on Twitter), Luke says he doesn't regret appearing on 'Married At First Sight,' which is produced by Kinetic Content.
In an exclusive interview with The Ashley, the 31-year-old Philadelphia resident reveals how the hate he's gotten in regard to the show has spilled into his "regular" life, as well as how he feels about being labeled a "bully" by Kate in her interview with The Ashley!
Criticism of Luke has been harsh during his time on 'MAFS,' due to some of the things he's said and done to Kate. Many of the show's fans have accused Luke of not putting enough effort into his new marriage, but Luke denies that this is true.
"My goal's always been to work my hardest to build a lasting relationship, and knowing that I've put a valiant effort into my marriage is far more important than how the world chooses to portray me," he said.
During one scene from Tuesday's episode, Kate admitted to Dr. Pepper that she and Luke had been having sex since their honeymoon, but that Luke asked her not to tell anyone about their sex life, and that he often ignored her for hours after sex. This revelation had many 'MAFS' fans on social media infuriated at Luke.
Luke says that, while fans on social media have been brutal to him, the ones he's met in person have been kind.
"I've absolutely had fans approach me!" he said. "Despite how hateful the media reaction [to me] has been, the people that recognize me in the real world have been incredibly respectful. I've even had a few fans want to take pictures with me and I'm more than happy to do so no matter how they want to frame the moment."
However, it hasn't just been fans who have accused Luke of being cruel to Kate. In an interview with The Ashley last month, Kate herself stated that she felt like Luke was being mean to her.
"I agree Luke was treating me poorly, absolutely," Kate told The Ashley. "I felt bullied."
Luke feels differently about the situation.
"I disagree that I've been cruel to Kate and that I've been bullying her, but I can understand [how] the audience [could come] to that conclusion," he said. "With all relationships, there is only so much you can get from the outside…only Kate and I will ever have the full picture."
He does admit, though, that at times he didn't like how he came across on TV.
"The sheer scope of [being on reality TV] wasn't at all what I expected," Luke said. "Production being around constantly can be draining for everyone, and there were days where I wasn't my best self, due to exhaustion. [Filming the show] was a full-time job that I came home to every day after my full-time job."
Luke stated that he does not regret any of the things he's done on the show, and would not take anything back. He does, however, regret that he had to bring up Kate's drinking issue on-camera. (As fans know, Luke told show expert Dr. Pepper that Kate "drinks a lot" in an earlier episode which caused a lot of problems between the newlyweds.)
Luke says he knew when he brought the topic up on-camera that it would cause problems, but he still felt the compelled to speak up.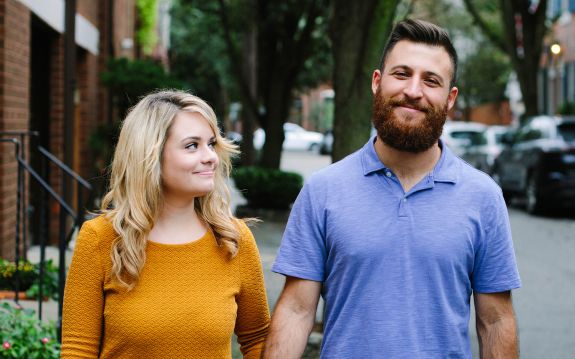 "I regret talking about Kate's drinking on-air, but that was a regret I knew I was going to have to experience before the conversation even began," he said. "It's hard to watch those we care about go down the wrong path when dealing with life stress, and if it becomes concerning it's important to step in to help your loved ones.
"Unfortunately, this felt like a pivotal point in our marriage, and what I tried to resolve off-screen to possibly provide real help instead became a conversation that caused more harm than good," he added.
(For the record, in her interview with The Ashley, Kate denied that she has a drinking problem.)
Luke said that, despite how their marriage has been portrayed on 'MAFS,' he and Kate do have a lot in common.
"There are so many things I like about Kate," he said. "Unfortunately, a lot of it, we haven't seen yet. Kate and I have the same level of goofiness that showed up on countless occasions and I know that the show understood that."
While the show's fans have been critical, Luke says that he and Kate have received a lot of support, which he's grateful for.
"I'm thankful for the love and support we've received from my friends and family, Kate's friends and family, and anyone else that has reached out to provide support during the experiment," Luke said "Kate and I appreciate anyone and everyone that helped us through this jump into the unknown."
'Married At First Sight' (produced by Kinetic Content) airs Tuesdays on Lifetime.
RELATED STORY: 'Married At First Sight' Star Kate Sisks Says She Felt Bullied by Her Husband Luke Cuccurullo (Exclusive Interview)
(Photos: Lifetime, Instagram)