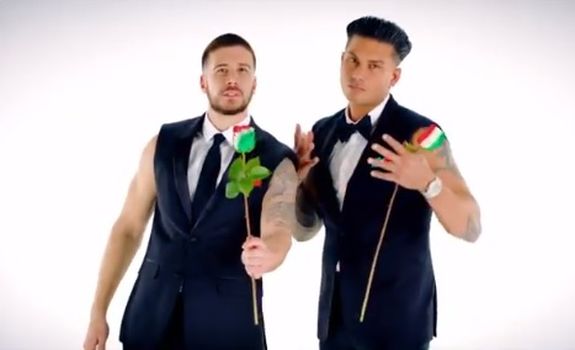 Jersey Shore stars Vinny Guadagnino and DJ Pauly D are hoping to find the guidettes of their dreams on their new dating show A Double Shot at Love with DJ Pauly D & Vinny and, according to the new promo released Thursday by MTV, viewers won't have to wait long to watch it all go down.
MTV announced that the dating show— which will have the 'Jersey Shore' BFFs looking for their "swolemates" among 20 women— will premiere on April 21.
In the first promo, which very much mocks promos for ABC's The Bachelor, Vinny and Pauly D are sporting sleeveless tuxes (naturally), and grooming to meet their ladies.
"Sometimes the 'Bachelor' life isn't for every 'buddy'," the voice over states.
See what they did there?
The guys are surrounded by 'Bachelor'-esque red rose petals (which have been mixed with green and white petals to represent their Italian heritage, obviously).
"Will you accept these bros?" Vinny asks, obviously playing off the famous 'Bachelor' phrase.
As The Ashley previously reported, 'A Double Shot at Love' will work sort of like 'The Bachelor.'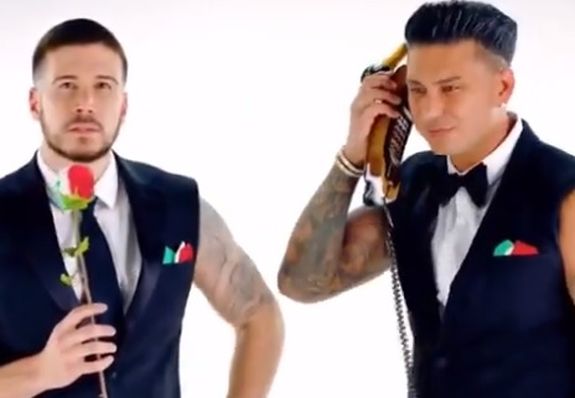 "Each episode, the contestants will face off against one another hoping to avoid the elimination ceremony while the boys must also compete for the affection of the contestants as well – making this reality-dating show unlike any other," a January press release from MTV reads.
"While the men may get to choose who stays and who goes, the women get to decide whose love they're competing for," Page Six reports.
In a tweet posted Thursday, Vinny revealed that he and Pauly will actually be living in the same house as their 20 potential soulmates.
"@DJPauly D and I are living in a house with 20 women. What could go wrong?" he tweeted. "Watch the season premiere of @MTVShotAtLove on Jerzday, April 11th!"
DJ Pauly D has been very active in his search for the love of his life. He recently starred on MTV's Game of Clones, where he dated seven Megan Fox lookalikes. (The show is currently airing but was taped last summer.) He was unsuccessful in finding lasting love, though.
Watch the hilarious promo for 'A Double Shot at Love with DJ Pauly D & Vinny' below!
RELATED STORY: 'Jersey Shore' Stars Vinny Guadagnino & Pauly Delvecchio to Star in New MTV Dating Show 'Double Shot at Love with DJ Pauly D & Vinny'
(Photos: MTV)