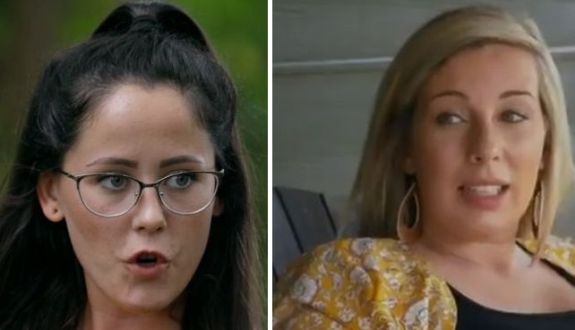 Mackenzie Edwards says her husband Ryan Edwards is not being "abused in jail"…and she's fightin' mad that Jenelle Evans recently reported that he was!
On Monday, Mackenzie lashed out at the Teen Mom 2 star over a clickbait article that Jenelle (and, to be fair, most of the other 'Teen Mom' stars) posted to her social media accounts. The article stated that Mack's hubby, Ryan, was suffering while in jail due to the conditions of the jail he's in.
"Is Ryan Edwards getting abused in prison?" Jenelle wrote as the caption to entice her followers to click on the article. (For the record, Ryan is not in prison. He is in county jail and will be there until next month.)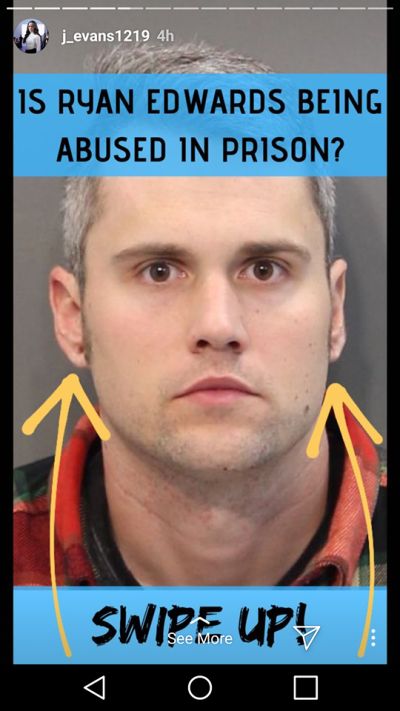 Mackenzie was none-too-happy that the 'Teen Mom' stars frequently post fake stories about her husband, and she used Jenelle's post as an example.
"I'm over this. I'm so sick of seeing this clickbait bulls**t," Mackenzie wrote on Instagram stories, before directly addressing Jenelle.
"I think you have enough drama going on in your own life to worry about what's going on in mine," she continued. "I've never even met you and I actually stood up for you when asked how I felt about your actions and decisions supporting your husband. Well bitch this is [my husband] and I will support and defend him. But hey, anything to make a buck, huh?"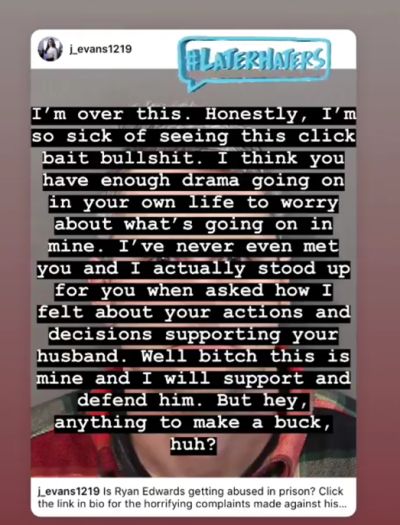 Mackenzie ended her rant with a final clapback aimed right at Jenelle and her husband David Eason, who has been accused of being abusive to his family.
"And you're probably the last person who should be talking about abuse!" Mackenzie wrote to Jenelle.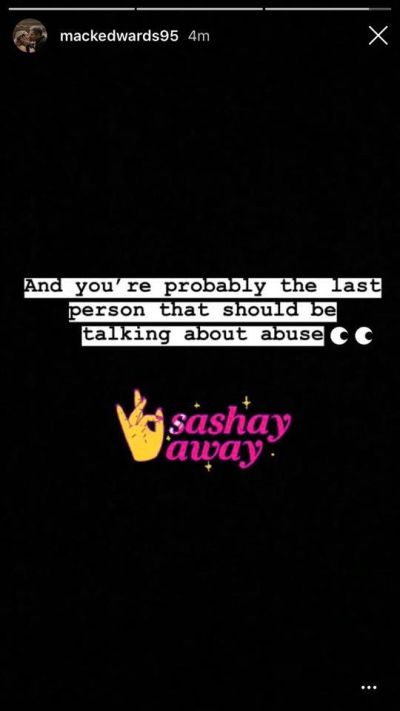 Mackenzie has been outspoken in the past about her hate for the clickbait posting. Nearly all of the 'Teen Mom' girls (and some of the guys) use a clickbait article serving company on their social media accounts to make loads of easy, instant money. (Not all of the 'Teen Mom' franchise stars do participate, though. Young and Pregnant star Ashley Jones has criticized the girls who do it, and Maci Bookout recently stopped posting the clickbait articles to her accounts. Chelsea Houska has never used the clickbait service.)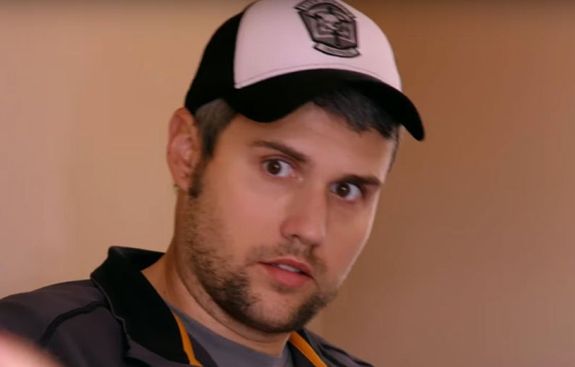 Jenelle has been surprisingly quiet regarding Mackenzie's attack on her; however, in the past she (and some of the other girls) have stated that they have no control over what clickbait articles are posted on their accounts, as they are automatically done by a posting service.
RELATED STORY: 5 Weird Things We Learned from 'Teen Mom OG' Star Mackenzie Edwards' Latest Instagram Live Q & A Session
(Photos: MTV, Instagram)