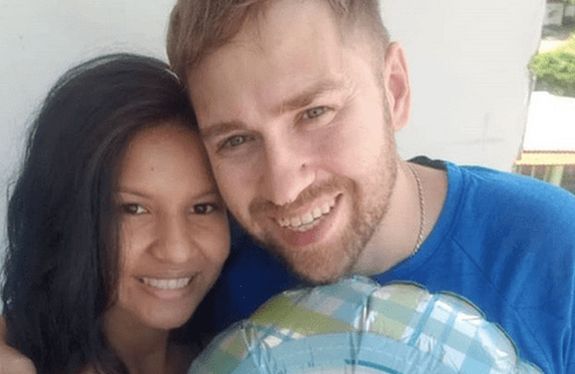 The 90 Day Fiance baby boom continues!
Paul and Karine Staehle— who starred on the "90 Day Fiance" spin-off Before the 90 Days— announced the arrival of their first child on Friday, March 22 in Karine's native Brazil. The couple named their baby boy Pierre Martins Staehle.
Us Weekly reported that Baby Pierre weighed in at 6.9 pounds and measured 19.7 inches long.
Karine reportedly had a very difficult labor and delivery that lasted several days. Paul took to Instagram on Saturday to ask for prayers for his wife. (On Friday, someone leaked photos of Karine in labor to the site Soap Dirt.) However, it appears that, when Paul was asking for the prayers, the baby had already been born, which angered some fans on social media who thought he was trying to create drama.
However, Karine told Us Weekly on Monday that she is doing well now.
"I am fine, and happy, even with the hard time I have had," she told the magazine. "And I am recovering well, but I am still very weak. It was super hard, but now everything is fine because the baby is calm and he is breastfeeding well."
Paul– who married Karine in 2017– told the magazine how happy he is to have a healthy baby. As "90 Day Fiance" fans know, the couple experienced two miscarriages in a short period of time— one of which was covered on the show— before having Pierre.
"I'm very happy, very excited," Paul said. "I'm also very nervous and want to do everything the best that I can and do everything right. Everyone keeps asking how it feels to be a dad. Anyone can make a baby, but going through the day-to-day process of being a father is going to be a new experience. I'm very happy, very honored and very privileged and I want to make sure I do my absolute best for Pierre."
One thing Paul is not thrilled about is the baby's name. Us Weekly reports that Karine chose the name, and gave the baby her maiden name, Martins, as its middle name.
"The initials, I don't like," Paul told Us. "The initials she wants are 'PMS.' She doesn't get why it's bad. It's not gonna be good. I was bullied all my life. It's not good initials."
Baby PMS is just one of several babies to be born to couples from the "90 Day Fiance" franchise over the last few months. In January, "90 Day Fiance" Season 1 couple Mike and Aziza Eloshway welcomed their first child, daughter Olivia Joan. That same month, Elizabeth Potthast and Andrei Castravet of Season 5, became parents to daughter Eleanor Louise.
Weeks before that, Season 1 Russ and Paola Mayfield welcomed their baby boy, Axel, on New Year's Day, just minutes after the clock struck midnight.
(Photos: Instagram)