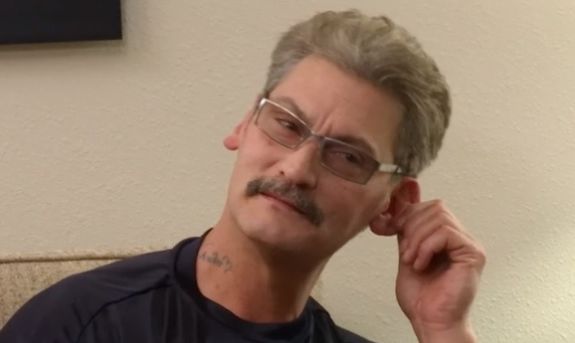 Butch Baltierra is no longer totally sober, according to his daughter Amber Baltierra.
In the comment section of a Facebook rant posted on Sunday, Amber— who is the sister of Tyler Baltierra— revealed that the Teen Mom OG grandpa has allegedly slipped a bit in his quest to ditch drugs and alcohol. Butch has long-struggled with substance abuse issues and was shown going to rehab in Austin, Texas, on the last season of 'Teen Mom OG' and has stated that he has maintained his sobriety.
In November, he celebrated one year of sobriety. However, according to Amber, he is no longer stone-cold sober.
When a Facebook friend asked Amber if Butch was using again, Amber replied, "He's smoking weed again."
She also revealed that she is worried that Butch's alleged dabbling will lead to yet another relapse for him.
"He drinks a couple beers here and there as well," Amber wrote. "He thinks he can manage all this but it will progress into something big again. That's what this disease does."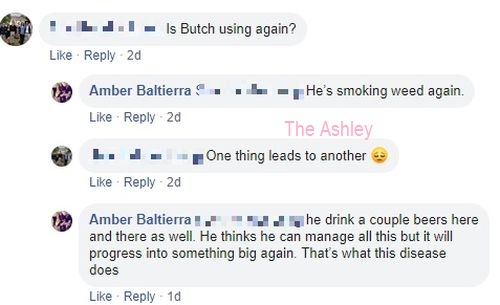 (The Ashley would like to point that Butch has not confirmed that what Amber said is true.)
Amber— who also went to treatment in 2018 and is working a program to remain sober—is currently living in Austin as well.
In January, Tyler took to Instagram to proclaim how proud he is of his sister and father for maintaining their sobriety.
"Writing this with tears in my eyes because words can't express the amount of peace & joy I feel in my heart," Tyler captioned a photo of himself with Amber and Butch. "After seeing these two at their lowest & now seeing them sober & steadily climbing, I just can't say enough how proud I am of both of them! I am a firm believer that the power of unconditional love in a family can truly transform the dynamic & I'm just so happy to call these two my family…I love you both SO MUCH & I'm SO PROUD OF YOU!!!"
In November, Butch admitted that he was struggling to "just say no" to weed and alcohol.
"Do I have obsessions? Yes I do. I think about smoking marijuana, I think about drinking every now and then," he told his Instagram followers in a video. "I'm not a big drinker, but I've been thinking about it," he said. "It's not all that easy but I know it's easy when you work a program, do H & I's, and go to meetings. That's all I wanted to say!"
Yesterday on his personal Facebook page, Butch posted about the 12-step program he uses, so it appears that he is actively trying to remain sober.
RELATED STORY: 'Teen Mom OG' Star Butch Baltierra Celebrates One Year of Sobriety