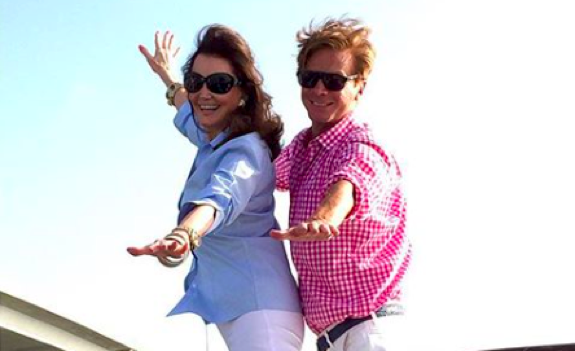 Another day, another lawsuit involving a Southern Charm cast member… but hold on to your polo helmet—this one does not involve Thomas Ravenel!
According to Charleston's Live 5 News, 'Southern Charm' matriarch Patricia Altschul has filed a lawsuit against former cast member K. Cooper Ray (known as Cooper on the show) for engaging "in a consistent and extended course of attacking and maligning" Patricia via public comments, videos, quotes to the media, publications on social media channels and more.
The lawsuit goes on to claim that Cooper—who appeared on Seasons 2 and 3 of 'Southern Charm' as a recurring cast member—"continues to wage a persistent campaign of verbally abusing, defaming, and taking other action to harm Ms. Altschul and her reputation."
Patricia alleges that Cooper is making these false statements with actual malice and with knowledge that they "were false, or at least, with reckless disregard of whether they were false or not."
Cooper is also accused of making claims that Patricia has "substance abuse issues, is a cheater and liar and that she did not author her own book." Patricia claims Cooper is also using her likeness to promote his own business—including using video clips, images and text to imply that she endorses his 'Southern Charm' tour services.
Cooper's actions amount to slander and libel, according to the suit, and have resulted in "emotional and irreparable harm" for Patricia.
Patricia is seeking actual and punitive damages.
Fans of 'Southern Charm' may recall seeing Patricia and Cooper's friendship begin to unravel back in Season 3, around the time of Patricia's famous Flamingo Party—the one in which Patricia called Cooper a "poor man's Truman Capote."
Around this time, Cooper had been buddying up with Kathryn Dennis whom, as you may recall, Patricia was not a fan of. Cooper told The Daily Dish at the time that his relationship with Patricia was "estranged" for different reasons.
"Her estrangement toward me is due to Kathryn," he said. "My estrangement toward her is because she insulted me this summer."
For the record, Cooper said the Truman Capote comment wasn't what upset him, but rather the comment Patricia made during the episode about him gossiping about everybody.
Cooper ultimately took to Instagram later that year to announce his "retirement" from the show.
As The Ashley previously told you, Season 6 of 'Southern Charm' premieres May 15.
(Photos: Bravo, Instagram)