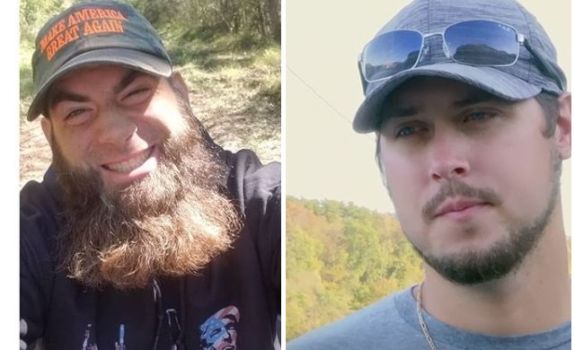 David Eason got caught trolling on his former Teen Mom 2 co-star Jeremy Calvert's Instagram on Thursday and when Mr. Jenelle Evans tried to insult Jeremy, he clapped back with an epic response!
Jeremy— who has been quite outspoken in the past regarding his feelings about David– posted a photo of himself last weekend at the 'Teen Mom 2' Season 9 Reunion. David apparently found himself with some extra time on his hands on Thursday (go figure) and was scrolling into Jerm's old pics. David (using his new Instagram handle @BigOlHonky) was not a fan of Jeremy's look and decided to let him know.
"Well ya look like a bitch so there ya go," David wrote on Jeremy's photo.
Many of the other 'Teen Mom 2' stars have been the victims of David's social media trolling, and most of the time they let it pass without responding. Jeremy, however, had some stuff to say back to David, launching an epic online rant that attacked David for not having a job and for being stupid. Jeremy also expressed his, um, distaste for the way Jenelle's lady garden looks.
He also accused David of being a product of inbreeding…as you do.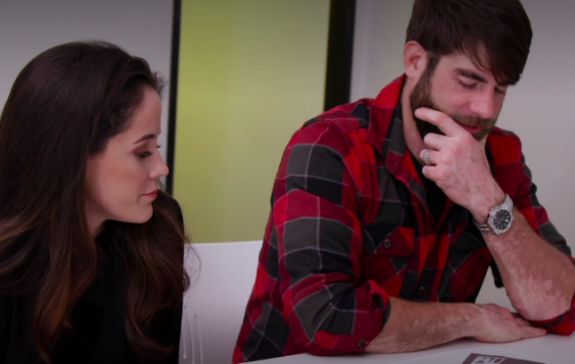 "Dear dumb f**k," Jeremy's comment starts out. "I wish people told parents back in the day not to do drugs while pregnant, maybe then kids wouldn't have turned out so f**king stupid like you. And sorry to say but your parents have to be related for you to come out so f**king stupid."
Jeremy then let David know that– unlike some of the other 'Teen Mom' dads— he's not afraid to hop a flight (since he can afford the plane ticket, after all, given that he does have a job), and fill David "with upper cuts!"
"And p.s. keep f**king with me and I'll fly my ass to NC and I'll show you what kind of bitch I am, pretty boy!" Jeremy wrote. "I'll bitch slap your stupid f**king ignorant ass, got it mother f**ker?"
Next, Jeremy went in on the fact that David is currently sans employment.
"I can buy and sell your dumb f**king ass," Jeremy wrote, adding, "you non-working piece of s**t."
Finally, Jeremy insulted Jenelle.
"F**k you and f**k your wife," Jeremy wrote before adding in the zinger, "and Jesus any leftover money needs to go to a vaginal surgeon. #thats**tisbeat #goddamn #rough"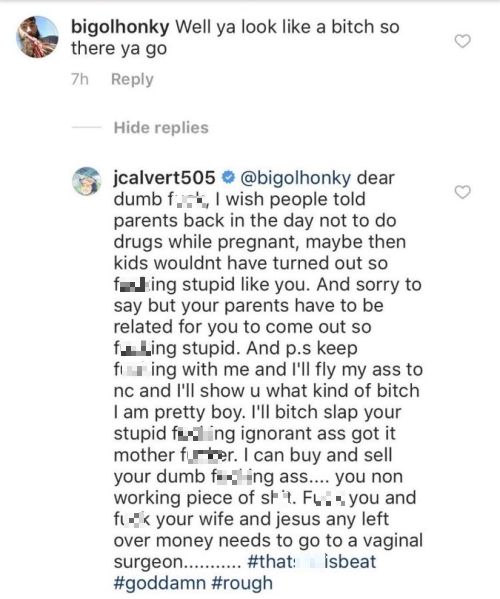 If Jenelle were to take Jeremy's advice and have work done on her hoo-ha, she'd be the third 'Teen Mom' star to do so. (As you'll remember, both Farrah Abraham and Briana DeJesus have had their "pickle pockets" made over.)
Anyway, not surprisingly, 'Teen Mom 2' fans seemed to side with Jeremy in the Instagram brawl.
"I would be so embarrassed if my grown 30 year old of a husband was unemployed and acted like David," one person wrote in the comment thread.
"Dude, why the f**k are you creepin on other people's IG?!" another person wrote. "Go get an f'ing job and grow up!"
This is not the first 'Teen Mom' dad that David has feuded with. Over the past year or so, he has come for Javi Marroquin, Corey Simms, Cory Wharton, and of course Jenelle's ex Nathan Griffith.
RELATED STORY: Jenelle Evans' Ex-Fiance Gary Head Tries to Get in Touch With Her Via Social Media; Jenelle's Husband David Eason Threatens to Break His Neck
(Photos: MTV, Instagram)