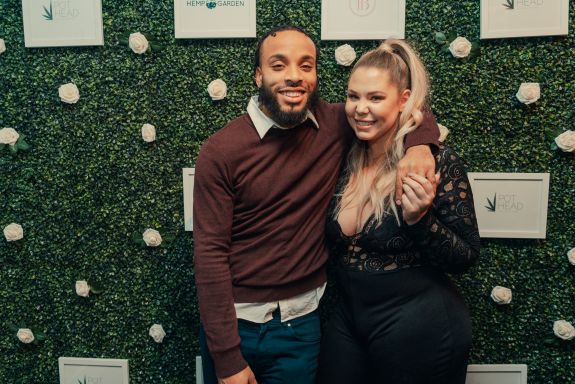 Just when you thought Leah Messer's podcast was the most-painful Teen Mom 2-related podcast to listen to…here comes Kail Lowry's baby daddy Chris Lopez to take that title!
The elusive Chris—– who fathered Kail's youngest son Lux and recently made his first ever, non-blurred appearance on the show a few weeks ago—– posted the first episode of his new Everybody Hates Lop podcast, where he talks about everything from his son, to how MTV screwed him over and why he doesn't like "those people" who are on TV. (Although he talked a lot about Kail, he never once mentioned her name which is…interesting.)
Chris' podcast was incredibly hard to understand (due to his tendency to mumble worse than Corey Tyler Simms with a mouth full of marshmallows!) but The Ashley took one for the team and translated some of the most-interesting parts of the episode for you!
Here's what Chris had to say about a variety of 'Teen Mom 2'-related topics!
On his feelings about 'Teen Mom 2':
Chris was very blunt while talking about how ridiculous the 'Teen Mom' shows are now, and why he doesn't want to be a part of any of it.
"I honestly just don't want to be on, especially that show. Gimme my own show," he said. "Don't put me on a show that don't even follow the purpose of what that show is for. That's not to knock them but it's just true.
"Y'all are supposed to be promoting safe sex and s**t like that but, no offense, kid after kid is poppin' out! That's no shock. I've got a beautiful son out of the situation but…what's the point of this s**t? Drama and storylines…people don't want to be associated with that s**t. Maybe other people do."
On how he says MTV tricked him into being on the recent 'Teen Mom 2' episode:
Chris says he never actually gave permission to the show's producers to show him at Kail's Pothead Hair Care launch party, which was featured on an episode earlier this month.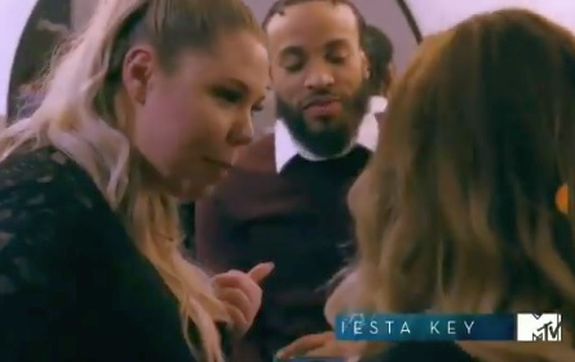 "I basically made my first official appearance on that show. But it was not something I agreed on," Chris said. "I want to make that clear. I made it on the show, or whatever, but it wasn't something that I wanted to be a part of or something that I signed off on. They found a loophole. They was thirsty, and when you're thirsty enough or hungry enough, you're gonna do what you've got to do to get it.
"I'm not mad, because, you feel me, they caught me. I was [attending Kail's event] out of love and support so I'm not mad about that," he continued. "But I ain't gonna lie; if you had told me, 'They can film you and they can unblur your face,' not gonna lie, I might not have shown up. No disrespect, but I'm just trying to let people know that I just don't want no part [of the show]."
Chris went on to explain that MTV told him that, because he was at a public event, they didn't need his permission to show his face in the footage from that night.
"My head is a bit confused because it's like, y'all have been blurring my face out for two years and now all of a sudden you can randomly unblur me," he said. "They say it's a public event and that's why you can unblur my face. To me, how was it public? They said it's a 'public' event.
"They put me on the show before and they blurred my face out…But the event I went to where my face was shown, that was for a launch party, I guess. That wasn't really a public event, though. That was kind of a private event. You had to RSVP and they was checking names at the door to see if you was on the list. So that ain't public. That is a private event."
(The Ashley wants to interject here to explain something. Any time the 'Teen Mom' crew— or any show for that matter– is filming at a public place, signs are posted at the event door informing everyone who enters that filming is happening and by entering the venue, they are consenting to be filmed. So Chris did not read the signs.)
On the possibility of him making future appearances on 'Teen Mom 2':
Chris assured his listeners that that appearance was the one and only time they will see his mug on 'Teen Mom 2.'
"I really don't want nothing to do with the show," Chris said. "Stop reaching and respect that. I feel like that's where problems come in. People don't respect certain s**t."
View this post on Instagram
"For future reference, for everyone saying 'He's going to be on it now,' I ain't gonna be on that s**t no more!" he said. "I'm trying to make sure they can't even get me on there with my face blurred! I'm over it. That's all I'm gonna say. I'm trying to move on from the situation…I want that s**t to be dead."
Chris added that he understands that, because he decided to spawn with a 'Teen Mom 2' cast member, he will always have to deal with MTV drama.
"I will always be bound, tied into it because I've got a child with that person and that's their life, but understand, that's not mine," he said. "I don't want that. Just because that's their life, doesn't mean that's got to be mine. That's [Kail's] life and that's going to continue to be their life."
On not taking the money he was offered to do 'Teen Mom 2':
Chris said he has been offered a 'Teen Mom 2' contract several times, but he has never accepted it and signed on.
"Not all money is good money, people!" Chris said, before assuring us that he's not hurting for cold hard cash. "I have touched money in my life. I might not have touched that much money in my life but I was never really pressed for money. I get money regardless. I ain't gotta sign my soul away.
"That's how I feel; I feel like I would sell my soul for a f**king MTV check that wasn't even worth it," he said. "That check was some bulls**t. I could probably sell articles to magazines and s**t and make more money what they were about to offer me. I could probably do like to interviews with Radar Online or something and make the money that 'Teen Mom' was about to offer me."
Lovely.
Chris then stated that he never signed the contract with MTV, and is angry that they still showed him on the show regardless.
"That s**t was weak, and I still got their contract. That's what is so funny to me. Unsigned. And I'm like, 'Damn these n***ers got me on TV and s**t,'" he said.
On dealing with Kail and having his dirty laundry aired on the show:
"I'm not gonna lie to y'all. Dealin' with a person who is on TV and s**t, it left a bad taste in my mouth," Chris said. "It just made me feel like the things people do is strictly for TV. And that's sad."
View this post on Instagram
On how things that "famous people" (cough, Kail, cough) do affect his life:
Chris apparently has little use for people who are on TV or just famous in general.
"That's what I mean about public figures—- or whatever they call themselves these days—- famous people, TV people, when you associate yourself with that type of people, people like that, that's in the entertainment business, I don't think that they realize that the s**t that they do affects not only them but the people involved with them," he said.
Chris then implied that people around the famous person in his life (who we can assume is Kail) often tell her whatever she wants to hear.
"If it embarrasses you, what makes you think that the people that you deal with aren't going to be embarrassed for it?" he said. "If you do something embarrassing and your people don't check you, then those aren't really your people. If you've got a bunch of 'yes men' in your corner, that's not good for you. You need some people that's going to check you and tell you you're f**king up."
"You can only deal with so much," Chris added. "I feel like it's even more frustrating when you're a person that don't wanna deal with the spotlight, or the bulls**t or the drama that comes with that TV show. So, you try to stay away from it but it's constantly brought to your attention. You're dragged into s**t."
On having more kids:
Kail has repeatedly stated in the past that she'd like to have another kid with Chris (and was even considering asking him for some of his sperm to create another Spawn 'o' Chris), but it sounds like Chris is not interested in any more procreating.
"I don't want no more kids right now, I'm good," Chris said. "I'm just going to focus on mine. I'm honestly just focused on my one kid I've got right now. I just want to enjoy that. Maybe later down the line, hopefully when my son can talk and can give me some feedback; he can actually tell me if he wants another sibling or something. For now, I think I'm just going to focus on him, and maybe becoming a better dad.
"I'm not in the right place for another kid right now," he added.
View this post on Instagram
On his current relationship status:
Chris confirmed that he is not currently dating Kail— or anyone for that matter. (However, with his ability to incorporate the word 's**t' into each and any sentence, he should have the ladies lining up to date him in no time! #Talent)
"My relationship status, I'm single and it's weird…being single is weird as s**t right now," he said. "For the first time in a long time I'm like 'single single.' I ain't got nobody. That s**t get lonely and s**t. But I'm trying to figure my s**t out."
Chris then implied that "people" need to stop bugging him to date them. (Hmmm…I wonder who he's talking about?)
"I think I'm done with the dating game for a minute, though," he said. "I don't think people understand that I just don't want to date. It's not like I'm just shutting everyone out. I'm not going to let my bad experience f**k me up and let me be shut down, nah…but it's gonna be a little while. I don't want no rebound s**t.
"Don't pressure me," he added. "Don't put no timetable on me. Pressuring me into doing s**t. I don't work well when people try to boss me around and tell me what to do. Do your thing and I'll do my thing and leave me the f**k alone."
RELATED STORY: 'Teen Mom 2' Star Javi Marroquin Says Jenelle Evans Burning Kail Lowry's Haircare Product Peace Offering Was "Pretty Funny"
(Photos: MTV Anthony Serrantonio); Instagram; MTV)