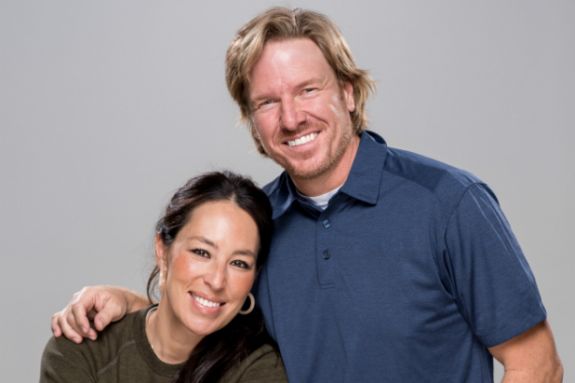 Discovery's DIY Network is out and Chip and Joanna Gaines' network will soon be in!
Discovery Communications announced earlier this week that the former Fixer Upper stars will be getting their cable TV channel that will take over the spot that the DIY Network currently occupies.
"Discovery, Inc. and Magnolia, the home and lifestyle brand led by the couple, announced that in summer 2020, the Gaines' new network will replace Discovery's DIY Network, currently in more than 52 million homes," a press release stated.
The network will continue to focus on Chip and Joanna's bread and butter: community home, garden, food, wellness and design.
"We're thrilled to officially announce a media joint venture with Discovery," Magnolia spokesperson John Marsicano told People. "Our goal for this multi-platform media company is to deliver a unique, inspiring, and family-friendly content experience rooted in honesty and authenticity- the kind of programming that helps bring people together. We believe Discovery is the perfect partner for this joint venture and we are excited for what lies ahead!"
Joanna announced the venture on her Instagram after the news originally broke.
"Exciting week here at Magnolia! I wanted to take a minute and share about the launch of our network with @discoveryinctv coming summer 2020," Joanna wrote on Instagram. "Whether it's design and renovation, cooking, gardening, wellness, community, entrepreneurialism or relationships – our hope is when you come to our network it feels like home. We cannot wait to show you all the things we've been dreaming up! It's gonna be good."
Chip and Joanna became household names after 'Fixer Upper' premiered on HGTV in 2013. It was the highest-rated series on the network before the couple ended its run in 2017.
Their still-unnamed channel will have the "Chip and Jo" touches their fans expect, People stated.
"The multi-platform media company, to be named soon, will comprise a linear television network and TV Everywhere app," People stated. "The venture has plans for a subscription streaming service to debut at a later date. All services will be inspired by Magnolia and driven by the Gaines' creative vision."
Chip and Joanna will, of course, serve as Chief Creative Officers for the venture.
David Zaslav, CEO of Discovery, also released a statement about Chip and Joanna.
"Through this joint venture, Discovery is proud to extend our relationship with them. They've got authenticity and relatability, that special something that is so difficult in our business to find," he said. "People love them, their taste, their business- they've built an ecosystem that aligns perfectly with our vision at Discovery for fueling people's passions."
Chip and Joanna also released their own statement discussing how excited they are for their new venture.
"Our intention with this network is to create and curate content that inspires, encourages, and helps to build bridges across our communities. We want honest, authentic programming that brings families together," the couple said. "We believe David Zaslav and the team at Discovery are the perfect partners for this ambitious joint venture, and we know Allison Page is the right person to lead this charge. We're ready to get started and are expectant for all that's ahead."
Chip expressed his excitement about their new venture.
"*PLEASE SEE THE TELEPROMPTER!" Chip captioned a photo of him and Joanna announcing the channel. "Y'all.. we just launched a network!! #SoWeWentALittleLong.."
(Photos: Discovery, Instagram)