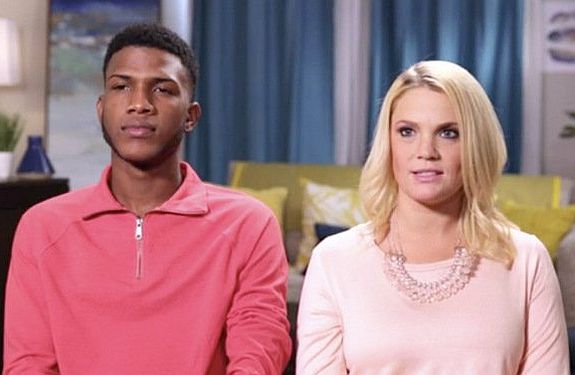 For the second time in four months, Ashley Marston is sticking a fork in her marriage to Jay Smith!
The 90 Day Fiance star— who is set to appear on the upcoming season of the show's Happily Ever After? spin-off— filed documents on Tuesday in Cumberland County, Pennsylvania, to obtain a divorce from Jay (whose real name is actually Conroy Saint Christopher Smith…who knew?!)
The documents, which were posted to the social media accounts of "90 Day Fiance" blogger John Yates, state that Ashley is suing Jay and that he must take immediate action if he wishes to defend himself against the claims Ashley made in the documents.
This marks the second time Ashley has filed for divorce this year. In January she filed, but withdrew the petition 11 days later.
The documents also state that the couple— who were officially married in May 2018—have the right to request the other party attend counseling sessions. However, Ashley wrote that she feels the marriage is "irretrievably broken."
The reason for that is, according to what Ashley wrote in the documents, that Jay allegedly committed adultery during their marriage.
While the documents did not go into further detail about the adultery, Ashley did on her social media accounts. As Starcasm previously reported, Ashley has claimed that Jay knocked up another woman during their marriage. (There's even text messages that were supposedly sent between Jay and his future baby mama, as well as a sonogram of their lovechild floating around the Interwebs!)
Ashley's divorce papers continued. #90DayFiance #90DayFianceHappilyEverAfter pic.twitter.com/ojybLJGdxN

— John Yates (@JohnYates327) April 24, 2019
Fans have been skeptical to believe both the baby story and that Ashley sincerely is divorcing Jay, given that it appears that Jay's own sister didn't know about either thing.
"Are these true?" Jay's sister wrote in the comment section of the post with the divorce documents, tagging Ashley's Instagram handle.
"Call your brother?" Ashley replied. "Did he not tell you he has a whole new family?"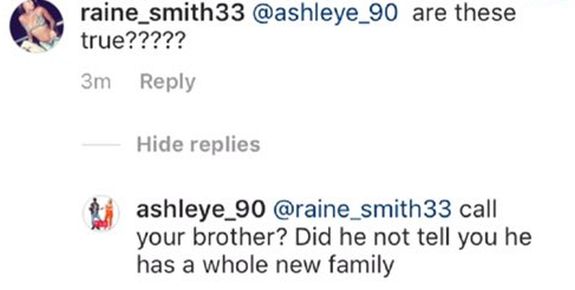 An impending divorce is not the only problem Jay is currently facing. On Monday, John Yates posted copies of an arrest warrant that the Department of Homeland Security reportedly issued for Jay. On the document, it states that Jay– who is from Jamaica– was only permitted to stay in the United States until June 2018 and has overstayed his welcome, in a sense.
"You remained in the United States beyond June 3, 2018, without authorization from the Immigration and Naturalization Service or its successor the Department of Homeland Security," the document states.
He is required to go before an immigration judge on May 8 to answer to the warrant.
Ashley and Jay will be appearing with several other notable "90 Day Fiance" couples on the upcoming fourth season of "90 Day Fiance: Happily Ever After?" which premieres April 28 on TLC.
RELATED STORY: "90 Day Fiance" Stars Ashley Marston & Jay Smith Back On…and Hanging Out with 'Teen Mom 2' Star Jenelle Evans in New York City
(Photos: TLC, Twitter, Instagram)