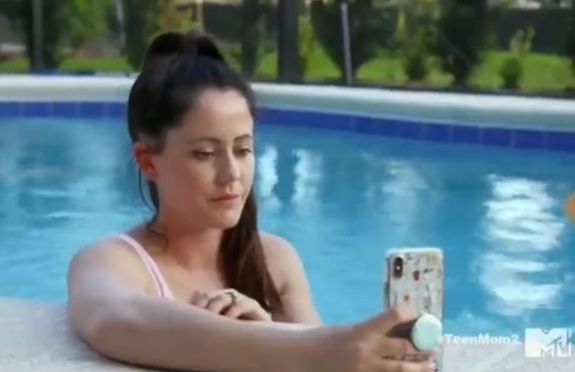 The Teen Mom Universe has been in an uproar over the past week, with some longtime viewers of the show vowing to stop watching Teen Mom 2 until MTV removes Jenelle Evans from the show, following the brutal murder of her dog at the hands of her husband David Eason.
As The Ashley previously reported, numerous major advertisers have pulled (and are continuing to pull) their ads from running during 'Teen Mom 2,' due to the backlash from the dog's murder and Jenelle returning to David following the incident.
The first ratings for Monday's 'Teen Mom 2' episode are in and…it appears that the show's protesters are going to be very disappointed.
According to cable ratings posted by Show Buzz Daily, Monday's episode was actually watched by more people than the previous two weeks' episodes were!
The most-recent episode was the 10th-highest ranked cable show of the night (down one ranking from last week), but clocked in with 930,000 viewers, which is up 20,000 viewers from last week's episode, and up a whopping 45,000 viewers from the 'Teen Mom 2' episode that aired two weeks ago on April 22!
The episode also did well with the coveted 18-49 year-old viewers, getting a .49 ratings share in that market. Last week's episode garnered a .50 ratings share, and the April 22 episode received a .47 ratings share, so there was virtually little change in that market as well.
'Teen Mom 2' has been one of MTV's best-rated shows for years, and continually beats its big sister, Teen Mom OG, as well as its little sister, Teen Mom: Young and Pregnant in the ratings.
MTV has yet to comment on the incident involving Jenelle's dog, despite numerous 'Teen Mom 2' cast members speaking out against David and his actions.
RELATED STORY: EXCLUSIVE! Nathan Griffith Speaks Out About Death of Jenelle Evans' Dog, Custody Issues, MTV & More