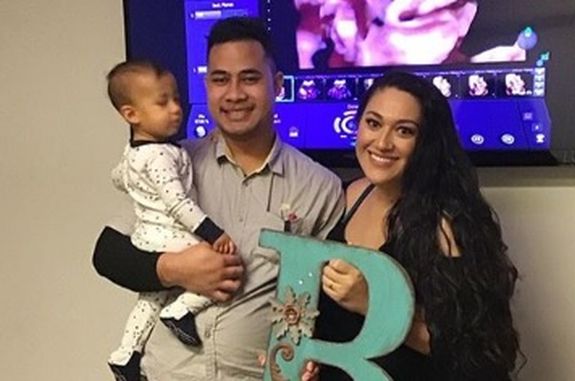 It's (another) boy for 90 Day Fiance stars Asuelu Pulaa and Kalani Faagata!
The couple— who starred on the show's sixth season—announced the arrival of their second child, a baby boy they named Kennedy, on Tuesday.
""He's finally here!" Kalani wrote in the description of a YouTube video she posted to the couple's channel that showed her labor and delivery of Kennedy.
Kalani also revealed that Baby Kennedy was born less than three hours after she arrived at the hospital.
"I labored at home from 11 pm (5-6-19) to 6:30 am," she wrote. "We arrived at the hospital at 6:40 am (5-7-19) and he was born at 9:11 am."
Kennedy weighed 8 pounds 15 ounces, and measured 21 inches at birth. He is the second child for the couple, who are also parents to 16-month-old Oliver.
Kalani wrote on YouTube that she gave birth without pain relievers, just as she did with Oliver.
"Thank you to the supportive and sweet staff who helped me through another medicine free birth! Happy National Nurses Week to you all!" she wrote.
In the vlog posted to YouTube, Kalani is shown going through contractions after arriving at the hospital. It also shows the moment Kennedy was born (minus most of the blood and graphic stuff), and the moment Asuelu cuts the umbilical cord. The video also shows Oliver meeting his baby brother.
Kalani and Asuelu appeared on "90 Day Fiance" Season 6 after they met in Asuelu's native Samoa. He was working at the resort that Kalani was vacationing at, and the couple "did the nasty" at some point during Kalani's stay, resulting in her getting pregnant with Oliver. On the show, Kalani stated that she lost her virginity during that encounter with Asuelu.
They got married in December 2018, shortly before announcing that Kalani was pregnant again.
Watch the vlog showing Kennedy's birth below!
(Photos: Instagram)