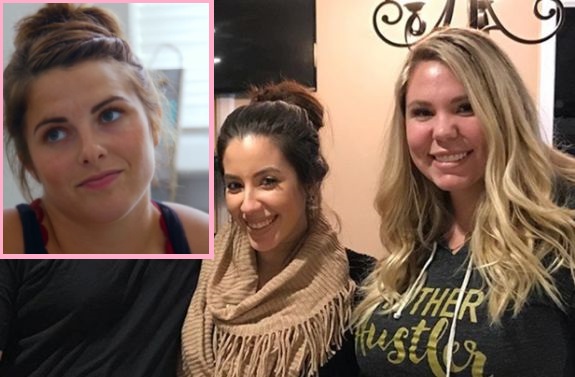 Kail Lowry says doesn't want to be pals with Lauren Comeau, the woman currently dating Javi Marroquin, and she wants her Teen Mom 2 producers to stop trying to force them to associate!
During the latest episode of her Coffee Convos podcast, Kail explained to her co-host Lindsie Chrisley why she doesn't see herself ever becoming friendly with Lauren, even though she has been able to, over the years, warm up to Vee Torres, who is the now-wife of Kail's first baby daddy, Jo Rivera.
Kail stated that this was a topic she discussed on-stage during the recent 'Teen Mom 2' Season 9 Reunion.
"[They asked me] why can't I have a relationship with Lauren like I have with Vee?" Kail said. "I'm going to tell you…They want to make it something that it's not and it's frustrating because…the relationship with me and Lauren will never be what it is with me and Vee."
"Vee and I grew up together," Kail explained. "That's what it is. I became a mom and I had to navigate those feelings [I had about Vee]. Did I want Jo? No, I didn't want him, but I also didn't want anyone else to have him but I was 18 years old."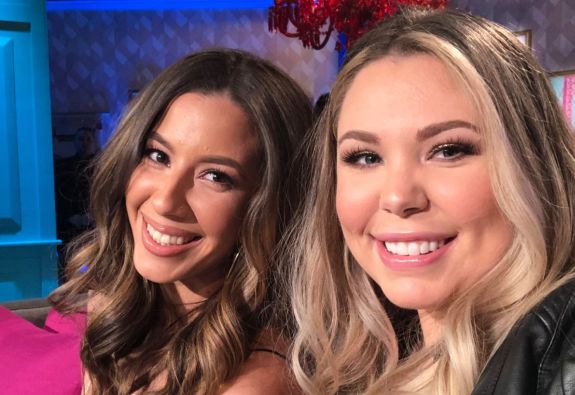 'Teen Mom 2' fans will remember that, in the early years of Vee and Jo's relationship, Kail refused to get to know Vee, even leaving the stage during one Reunion because Vee was brought out. Kail said it took her a while to get past the negative feelings she had for Vee.
"I needed to grow the f**k up. I had never seen co-parenting before," she said. "I didn't know what the f**k that was so I didn't understand it. It was a lot of learning and trying to figure things out. Once Vee and I figured things out, it's great. We get along, we can hang out, we can get the kids together and she can tell me when she's feeling a certain type of way and vice versa."
Kail told Lindsie that the 'Teen Mom 2′ producers constantly try to "sneak in" conversations about Javi and Lauren. She also called out the producers for not making the other girls on the show talk about their exes' new baby mamas, including her co-star Leah Messer, who does not associate with Miranda Simms, the wife of Leah's ex-husband Corey.
"Tell me how my entire season, [the topic of] Javi and Lauren [is] in my segments, but nobody talks about the fact that Leah and Miranda don't talk," Kail said. "They don't make anybody else's segments about that."
Kail stated that, even though Javi and Lauren now have a child together– Eli, who is her son Lincoln's half-brother– she feels that they are not a big part of her life.
"She is very minimally a part of my life, very minimally," Kail said. "I have nothing to do with Lauren and Eli. I need to co-parent with Javi for Lincoln. Yes, Eli is Lincoln's sibling and I always talk him up…I don't need to communicate with her and I constantly feel like I'm being forced from the show and people to talk about them when they're not part of my life."
"I don't need to talk to her, I don't need to be a part of her everyday life. We don't need to do that," she added.
Kail stated that she is particularly skeptical about Lauren because, according to Kail, Lauren pulled some shady stuff on Javi the first time they tried dating.
"I do know that Javi and Lauren tried to date [once before] and she did some foul s**t that I don't approve of," Kail said. "It wasn't my business but at the time, it was like 'that is my ex-husband and don't do him dirty.' Like, I'm the only one who can talk s**t, and I did him dirty and now I feel like it's my job to protect him."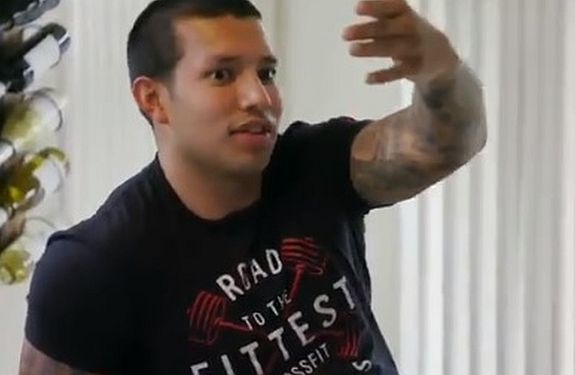 On an episode of 'Teen Mom 2,' Kail said that she went through Javi's phone and found texts from Lauren in which Lauren called Kail some nasty names.
"First impressions are a lot and when she's calling me a tw*t right off the bat, never met me and doesn't know me, then Javi's little hookup triangle or whatever the f**k it is," Kail gave as reasons she's not fond of Lauren.
The 'Teen Mom 2' Season 9 Reunion will air in a few weeks.
Listen to Kail's full podcast episode below:
RELATED STORY: David Eason Takes To Social Media To Body-Shame Kail Lowry: Here's A Look at All His Feuds With 'Teen Mom' Stars
(Photos: MTV, Instagram)