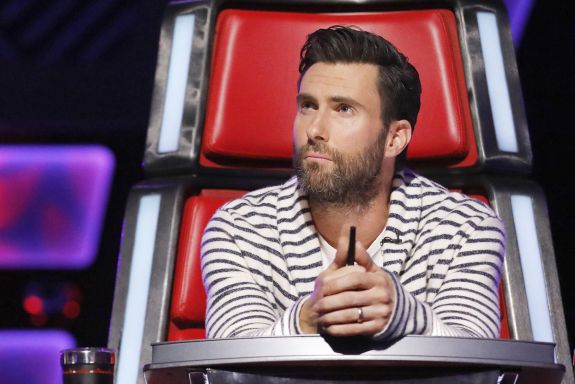 Adam Levine has pulled out of appearing on the upcoming 17th season of The Voice— just weeks after he was officially announced as one of the season's coaches!
Carson Daly revealed the abrupt changes on the Today Show on Friday.
"After 16 seasons, Adam Levine, our beloved coach and friend, has decided to leave 'The Voice,'" Carson said. "Adam was one of the original coaches that launched the show, winning the competition three times and inspiring many of the artists he worked closely with over the years."
NBC also announced on Friday that Gwen Stefani will return to the show to fill Adam's spot for Season 17. (The original Coach lineup for Season 17 was previously announced as Adam, Blake Shelton, Kelly Clarkson and John Legend.)
"Our friend and coach Adam Levine made the decision not to return next season," a tweet posted by the official Twitter account for 'The Voice' reads. "We're going to miss Adam, but 'The Voice' is family and with family it's 'see you soon,' never 'goodbye.' Gwen Stefani returns with Kelly, John and Blake on the 'Voice' stage this fall. Join us in welcoming back Gwen, and sharing our gratitude to Adam!"
— The Voice (@NBCTheVoice) May 24, 2019
While Adam did not reveal why he abruptly quit the show he's anchored for the past eight years, Us Weekly noted that Adam "looked less-than-thrilled to be there" while performing with the other 'Voice' coaches during the NBC Upfront presentation on May 13.
A group of Coaches so good we need an encore.😏✨

This iconic squad is returning to #TheVoice next season. 🎉 pic.twitter.com/dqtv663cPT

— The Voice (@NBCTheVoice) May 10, 2019
On social media, the other coaches expressed their shock and sadness about Adam's departure from the show. Blake— who, like Adam, has starred on 'The Voice' since its beginning— seemed particularly upset by the change.
A rare moment of tenderness. ❤️ pic.twitter.com/z6fF7WKuWk

— Adam Levine (@adamlevine) May 21, 2019
"Having a hard time wrapping my head around @adamlevine not being at @NBCTheVoice anymore," Blake tweeted. "After 16 seasons that changed both of our lives. I only found out about this yesterday and it hasn't set in on me yet. Gonna miss working with that idiot."
Kelly, who worked with Adam on Season 16, commended Adam for staying with the show from its inception.
"Found out last night about @adamlevine leaving The Voice & while I get that he's been doing the show 4 a while & wants to step away, it will be weird showing up 4 work & he's not there," she tweeted. "To start an amazing show from the ground up is a big deal!"
Adam also posted a long message to his Instagram account. While he didn't reveal what caused him to quit 'The Voice,' he did thank those who have helped him on the show along the way.
"About 8 years ago, Mark Burnett convinced us to sign up for this show where you sit in a big red chair with your back turned away from the singers on the stage," Adam wrote. "First thank you must go to Mark. We had no idea what we were doing or where it was going. After the first day of shooting, I sat there, stunned. I said to myself 'theres some magic here. Something is definitely happening.' It went on to be a life shaping experience that will be close to my heart forever. Thank you NBC for signing me up. I am truly honored to have been a part of something I'll always cherish for the rest of my life."
He also acknowledged his special "bromance" with Blake.
"And, BLAKE F**KIN' SHELTON. I couldn't hide my love for you if I tried," Adam wrote. "Seriously. I tried. Can't do it. Our friendship is and always will be one for the books. Whatever this whole surreal experience was, Im just happy I got to experience it with you. You're my brother for life. Kelly and John, take care of the cowboy and I'm sure I'll be back to say hi very very soon. So much love to you both."
Read his full post below:
(Photos: NBC, Twitter, Instagram)