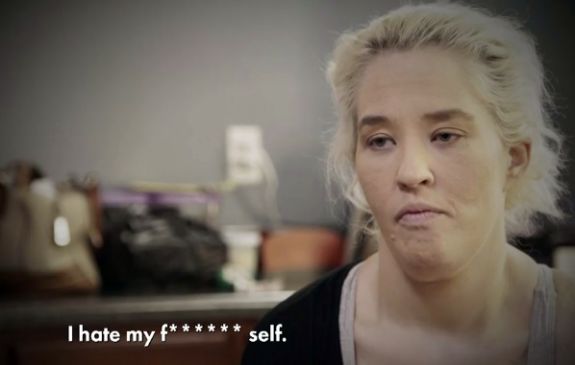 The next episode of Mama June: From Not to Hot may be the most intense one ever!
In a sneak peek of Friday's episode of the WEtv reality show, Mama June Shannon's family gathers together to try to get June to get help for what appears to be an escalating drug problem.
In the clip, posted by TMZ, June seems to resist her family's attempt at an intervention, despite her daughter Alana (aka "Honey Boo Boo") sobbing about what a mess June has become.
"If this intervention doesn't work, she's either gonna wind up in jail or she's gonna die," June's daughter Pumpkin tells the cameras.
Mama June— who is missing teeth and standing there in a disheveled sweatsuit– is defiant, even as she is confronted by Marriage Boot Camp star Dr. Ish Major.
June's sister DoDo is concerned that Mama June may be looking at some serious time behind bars after her March arrest for her gas station brawl/drug bust with boyfriend Geno Doak.
"They're either gonna let the charges go or her ass is gonna go to prison!" DoDo says.
(Hey, on the bright side, perhaps there's a "Miss Prison Yard" pageant that June can compete in?)
Alana seems to be taking June's downward spiral the hardest, though. The teenager tries to explain to her mother that she's been forced to leave the home she shares with June.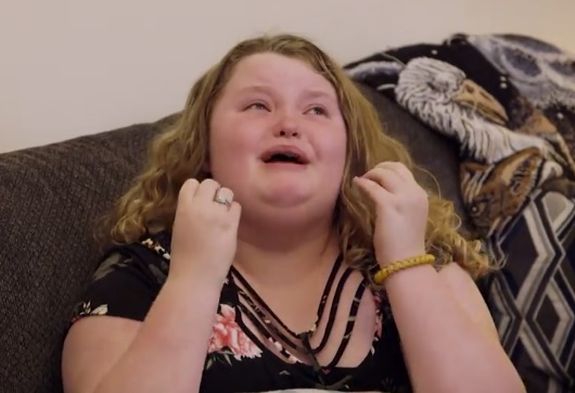 "Do you understand that I am staying with my sister? And that's not by choice?" Alana tells her mother before bursting into tears.
We also see Pumpkin tell Alana's dad, Mike "Sugar Bear" Thompson, that she wants to take temporary custody of Alana but his wife, Jennifer, disagrees.
"I say no, because I think if anybody has temporary custody over you, Alana, it should be your daddy," Jennifer says.
However, Alana has been outspoken about Sugar Bear being a less-than-devoted father. In fact, she recently confessed that she rarely, if ever, sees her dad unless they are filming for the family's reality show.
Mama June appears to know how dire her situation has become.
"I hate my f**king self," she is heard saying in the video below. "I want to f**king kill the person I am now!"
In another video, Pumpkin reveals what really happened on the day Mama June and Geno were arrested.
"They were coming down the Interstate, and they were arguing of course," Pumpkin says. "They always are when they're drivin'. Apparently, it got really heated so Geno pulled over at the store and got out and went inside and got a Red Bull.
Tale as old as time…
"Apparently while he was in the store, Mama called the police twice and hung up," Pumpkin continued. "There was a white SUV behind them that I guess had followed them from the Interstate. He come back outside and, sure enough, [the SUV] was an unmarked police vehicle, and that's what got them."
Geno allegedly threatened to kill Mama June at some point during the argument.
"You've got to be scared…enough to call the po-lice!" June's sister Dodo says. "She knows what's going on isn't right, but she's never known how to get out of it."
"She really needs to get it together," Pumpkin adds. "Seriously."
As fans know, Mama June was ordered not to have contact with Geno following their arrest. However, the "soulmates" have been seen together multiple times at an Alabama casino since the arrests, and June even tried to beg the judge to drop the no-contact order so that Geno could continue to be her caretaker. (June is partially blind.)
Click here to watch Pumpkin and Dodo discuss June's state of mind and arrest.
RELATED STORY: Alana "Honey Boo Boo" Thompson Says Her Dad Sugar Bear Only Sees Her When They Film; Reveals Sad Reason He Neglects Her
(Photos: WEtv; Instagram)